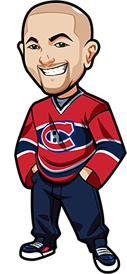 Written by Graeme on Friday, February 6th, 2015
Follow @BetNHL
Very frustrated with myself yesterday, as I think I got too fancy.
There's been a lot of "obvious" plays lately that haven't came in but that's mostly variance. However they wear thin on you, and with a game like Stars vs Lightning, obviously the "obvious" play was to bet the overs. I even said both teams should light it up. However it's one of those things where I overthought it, and decided to go with the Stars to win instead. A real kick in the teeth there.
I'm feeling better about today though. After being in Vegas for those few days, I spent most of yesterday just catching up on the NHL. Watching the extended highlights of every games, reading the recaps, looking at stats etc. It honestly all got a bit too much, and when it came to the tips – I'll openly admit I was drained.
I've had a goods night rest after watching last nights NHL action, and I'm ready to bring it tonight and get a nice winning night under our belt.
Leafs vs Devils Betting Tips:
Being in Canada, it's hard not to get upset at the way the Leafs are playing at the moment. Their run is just horrendous and we keep getting caught up in "they have to win this one" then they….lose.
It makes it harder to pick against the Leafs because we know they're better than the way they have been playing. But we just have to bet against them here. Devils are coming into this off the back of a couple of good wins. They also just beat the Leafs in OT a few days ago and have beaten them previously this season.
Unfortunately, the win with overtime/shootout isn't that great at 1.66. Leafs took the Devils to OT and that was the first time they've went to OT in a long time. We'd prefer that bet, but we'll go with Devils in regulation at 2.10 odds.
Flames vs Penguins Betting Tips:
This is quite an interesting one. You have to go back to 2005 for the last time the Flames beat the Penguins. The Penguins have won 8 straight. But really – can you actually factor that in? This years Calgary Flames are a hell of a different team than the Flames of previous seasons.
I do think the Penguins are a tough matchup for the Flames, and if you're betting the Penguins tonight I couldn't argue against that. I think there is plenty of reasons to do that – essentially the fact that the Penguins are just the better team.
But the way the Flames have been playing – if they go into ANY game as home underdogs, I think it's hard not to pick them. Especially against the Penguins whose form has been shaky at best at the moment.
I'm going to take the Flames to win tonight, at 2.00 odds. I'd LOVE to take them in regulation, but Penguins have taken a lot of games to OT – where the Flames currently have the best record in the NHL for overtime goals.
Blues vs Blue Jackets Betting Tips:
This is quite a tricky one. At a first glance, the Blues should dominate Columbus. They are red hot.
However when you look at the schedule, you realize how much of that is due to being at home. 7 home games in a row. That certainly helped.
We do think they have what it takes though. They're playing some very solid hockey at the moment. Tarasenko is one of the funnest players to watch. And Blue Jackets have shown nothing to suggest they can win.
Take the Blues in regulation at 1.90 odds.
$25 risk free bets on player prop, in-game bet and $50 risk free mobile bet. Available for NEW customers only at BetOnline.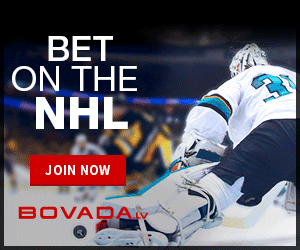 Follow @BetNHL
BetNHL.ca » Tonights Tips »