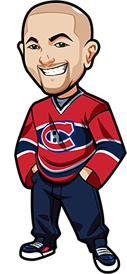 Written by Graeme on Saturday, February 6th, 2021
Follow @BetNHL
Welcome to a slightly less busy Saturday than usual.
Funny – I've been cursing COVID and hating what it has been doing to this season. So frustrating. But I guess I have to look at the positive – seeing a slate like this on Saturday compared to the usual? Not so bad! I'll take it.
One line pick yesterday didn't work out. Predators lost to the Panthers 2-1. The Predators started the game well and got a goal. That seemed to get the Panthers fired up unfortunately and they racked up 20 shots in that first period.
I was hoping that with no goals there they would falter a bit but that wasn't the case. Rinne did the job I was hoping for. Alas the Preds offense were extremely disappointing. 1 goal ain't going to win you a hockey game.
Very frustrating to watch as the Panthers stifled that Preds offense with ease. Panthers were clogging up that neutral zone and Preds just didn't seem to know how to handle it.
Bruins got the job done as they have the Flyers number. Knights came back from their break strong with a big win over the Kings. Sharks and Ducks had a banger.
Super Bowl is tomorrow. I'm conflicted on that one. As a Pats fan, I want the Bucs and Brady to win big time. But I just can't bet against Mahomes. Chiefs are superb and Bills game was men against boys. The bet I am making for that one is the Chiefs outright. I'll eat the juice because I'm cheering on the Bucs regardless and I'd rather that than a nightmare scenario of Chiefs winning by 2 and making it a lose-lose game.
Quick heads up that I am a bit tight for time today so I wasn't able to spend the usual time on these as I usually do. Basically after deciding on picks I do a second round of analysis playing devils advocate and I wasn't able to do that today. In situations like that I personally bet half of my regular unit size so just a quick note for those who do follow blindly.
Coyotes vs Blues:
So this is leg 3. Coyotes pulled off the upset in the last game. Can the Blues bounce back?
I took Blues in reg in that game. The question is if that game made my change my mind enough not to back them here?
I don't think so. I've got to think we see a much better performance from the Blues here. They seem angry at that result. They're going to be more hungry etc. With the fixture changes it gives them a fun chance of unexpected retribution.
I'm good to go back to that one again.
Blues in Regulation
Canada: 1.95 Odds at Bet365 (Americans: We recommend http://www.bovada.lv.
USA: -110 Odds at BetOnline..
Everyone Else: 1.95 Odds at Bet365 (Americans: We recommend http://www.bovada.lv.
(Odds correct as of 2021/02/06 10:53:23 AM EST but are subject to change.)
Leafs vs Canucks:
Canucks will hope for a better game here. Maybe lack of rest was an issue in that last game for them. I guess when you are playing 4 games in 6 days against a team coming off a 4 day break that would be a factor.
We were temped by the over in the last game and were discussing it right up until posting. Decided not to go with it which alas proved to be the wrong move. From everything we've seen we are happy to back this. Leafs offense just seems to still be ticking strong and the Canucks I'd hope would be up for this one more and make a game of it. If this is one of those random games where the Leafs decide they can just show up and that's good enough – then so be it. Gotta have faith in a motivated Canucks here to get it going.
Over 6.5 goals incl OT/SO
Canada: 1.83 Odds at BetOnline..
USA: -120 Odds at BetOnline..
Everyone Else: 1.83 Odds at BetOnline..
(Odds correct as of 2021/02/06 10:53:23 AM EST but are subject to change.)
Oilers vs Flames:
This is one of those games where the form book is thrown out the window, similar to Habs/Sens.
Big rivalry obviously. Flames offense has been very disappointing although at home they have got the goals going.
This one we are very conflicted on. The over is tempting but I also wonder with the Oilers having more rest if the Flames show up depleted. Oilers are slight underdogs which on paper is a ton of value. But man it is the Oilers and backing them to win a game is so hard to do. I need a few beers before I can do that.
Let's hope both teams are up for it and we get a classic Battle of Alberta. None of that defensive shit like we saw in that first Oilers/Leafs game please.
Over 6.5 Goals incl OT/SO
Canada: 2.06 Odds at BetOnline..
USA: +106 Odds at BetOnline..
Everyone Else: 2.06 Odds at BetOnline..
(Odds correct as of 2021/02/06 10:53:23 AM EST but are subject to change.)
Canadiens vs Senators:
I'd like to think the Habs bounce back but not at this price. Rivalry game, Sens always play up to the Habs. I'll be watching it and will probably throw a bet on the over I think just for entertainment. But nothing I can advise here.
Penguins vs Islanders:
Just two teams I have no confidence backing anything right now.
Sharks vs Ducks:
Honestly after last nights game I've no idea what to make of this one. That was a hard fought battle and I could see more but could also see them being weary. No bet.
Follow @BetNHL
BetNHL.ca » Tonights Tips »