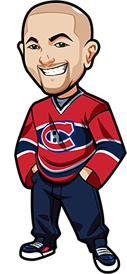 Written by Graeme on Thursday, February 7th, 2013
Follow @BetNHL
Well only 3 games on the board yesterday made for a quiet night of hockey. In the Habs/Bruins first meeting of the season Boston came out the victor. It wasn't an easy victory though, and Rask in particular really saved the Bruins. It was the physical game I expected it to be, although unfortunately the Habs gave up the first powerplay with Bourques interference on Rask.
We've got a full board tonight with 12 NHL games in action. Some really interesting games too – Leafs vs Jets should be a fun one. After the physical game at home last night, the Habs travel to Buffalo and the Sabres will be looking forward to that one. Capitals vs Penguins – ahhhh, remember when that was actually a big game? Yep a lot of good games tonight, let's get on with the February 7, 2013 NHL Betting Tips.
Habs vs Sabres Betting Tips: Sabres To Win
As I'm writing this the Habs vs Sabres odds aren't up yet so this isn't a cemented pick just yet. It all depends on what the Vegas odds are for this one. With the standings the way they are, I'm hoping this will be a -120 line at worst for the Sabres – and anything above that is a bonus.
Montreal are coming off a tough game against Boston. Should Montreal have one? Probably. They were the better team but Rask stopped them time and time again – that's just the way hockey is. Now instead of riding momentum, Montreal have to travel to Buffalo after an extremely physical and demoralizing game against the Bruins.
They're taking on the Sabres who of course are struggling – the Habs beat them 6-1 a few days ago – but Buffalo will be out for revenge, and there's absolutely no better time than now to get that revenge. While the Sabres have looked poor they haven't looked too shabby at home.
This one is dependent on the odds – I have a feeling Buffalo will end up about +110 favourites which would be really nice. Keep checking our NHL Betting Odds page and pick the best sportsbook to bet at.
Flyers vs Panthers Betting Tips: Flyers -1.5 Puck Line
I love riding a team with momentum, and that's what I'm going to be doing today with the Philadelphia Flyers. Is their win over the Tampa Bay Lightning a sign that they're about to get a resurgence in form after a poor early start? Or is it just a blip, before they go back to their below average play? I think we have to ride the Flyers here – they looked very impressive against the Lightning.
Every team has a cap in terms of quality – and I think we're seeing that with Florida, who are already on a tricky road trip. They barely beat the Sabres and despite a great performance still weren't good enough to beat the Jets.Bryzgalov is looking solid, and I like the Flyers to get the shutout here in a 2-0 or 3-0 victory. As I write this you can get +200 odds at 5Dimes on the Flyers. You need to register there to see the odds, but it's a great price and one with a lot of value. My tip of the night.
Blackhawks vs Coyotes Betting Tips: Blackhawks to Win
Really, what is there to say here? Blackhawks are the best team in the NHL at the moment and look virtually unstoppable. Even when a team is beating them they don't give up – as San Jose found out. Blackhawks have had a ridiculous schedule too with 8 road games so far, and this being their 9th. Yet being on the road doesn't seem to upset the Hawks.
Coyotes will put up a good fight, and it'll be a tight game but I love the odds of -111 on the Blackhawks to win and that's what I'm going with here.
Follow @BetNHL
BetNHL.ca » Tonights Tips »