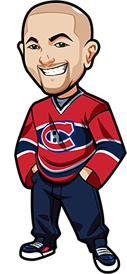 Written by Graeme on Wednesday, February 8th, 2017
Follow @BetNHL
Hi guys,
First let me apologize for the delay in tips today. I've been on vacation for the last 2 weeks in New Orleans and Las Vegas, and just got back on Monday.
I spent yesterday and today getting all caught up on NHL. For whatever reason when I'm on vacation I just automatically tune out from sports for the most part. Not sure why that is I think I just generally use it as a break from them considering I watch a ridiculous amount of sports.
Big thanks to Scott for solely covering the tips while I was gone.
Just the one game tonight which is nice to ease myself back into it. I'm a bit rusty and not fully knowledgable of teams momentum etc at the moment. A lot of betting is general "feeling" so it can make it trickier.
More of a Stats based tip tonight.
Blackhawks vs Wild Betting Tips:
I'm going to take Over 5.5 Goals.
No Dubnyk for the Wild tonight and Kuemper is in net. Games go over the majority of the time with him in net, and Crawford is also still extremely leaky.
Fatigue is a slight issue for the Wild and from what I saw last night I wasn't fully happy with their performance. In saying that, it doesn't take much for their offense to click and it's a rare occasion when they don't.
This is a pretty huge game for both teams. Blackhawks coming off the back of two high scoring road victories know that with Dubnyk out it's winnable and will be playing strong offensive hockey. The Wild meanwhile simply need to breathe on the puck at home and it goes in the back of the net.
Most signs point to Over 5.5 Goals in this one.
Sorry again about the delay. After consuming 10 days of hockey(watching, reading etc) in about 36 jetlagged hours it'll be nice to chill back with a beer and focus on just the one game.
Good luck tonight!
PS: WTF is going on with my Habs????
Follow @BetNHL
BetNHL.ca » Tonights Tips »