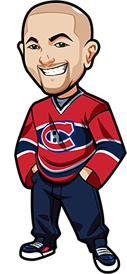 Written by Graeme on Saturday, February 9th, 2013
Follow @BetNHL
The Dallas Stars picked up a big win last night, opening the first period with two power play goals relatively quickly and completely owned the first period. The Ducks were always on the backburner after that and couldn't turn things around.
We've got a full board of games tonight, and man I am excited. 12 games in total, and a real thriller expected with the Leafs visiting Montreal. Both teams are doing solid this season, and this really could be a huge game that dicates their form for the rest of the season. I'm also looking forward to the Bruins taking on the Lightning, and Oilers vs Red Wings is always a great opportunity for goals.
Let's get on with the February 9th, 2013 NHL Betting Tips:
Grand Salami Betting Tips: Over
I'm loving the Grand Salami bet tonight. If you're not sure what that means – it basically means betting on the total amount of goals that will be scored today by ALL teams – as in every goal in the NHL today counts towards the Grand Salami. The Grand Salami Bet Is Available At 5Dimes.
Generally when teams get rest it usually means goals. Tonight we've got 23 of the 24 teams playing with at least one days rest. These are teams that are going to be full of energy and just raring to go.
Also a lot of good match-ups too with a lot of goals in previous games. Penguins vs Devil Game 1 had 6, Flyers vs Hurricanes had 8, Senators Jets had 5 goals, Coyotes vs Sharks had a 5-3 game etc. I can see the Grand Salami going over by at least a good few goals, and by the time the Flames vs the Canucks take to the nice we should already be home and dry with the win.
Bet the Grand Salami Today at http://www.5Dimes.eu.
Flyers vs Hurricanes Betting Tips: Flyers To Win
Honestly I almost ignored this game. I really like the Flyers here and I assumed the odds would just not be anywhere near enough to bet on them. I'm also not a fan of the puck line bet here as I can see this being a close game with one goal in it.
Initially I was proved correct when I saw the line at -140 at most sportsbooks for the Flyers to win. Then I checked out Pinnacle – and they have the Flyers at just -124 to win. These are just fantastic odds that can't be ignored.
Flyers have been horrendous on the road, but they've looked extremely solid at home. The odds here of -124 simply dictate the Flyers win bet – you can get those odds over at Pinnacle.
Sabres vs Islanders Betting Tips: Over 5.5
This was another line that surprised me. I really expected the spread on this one to be at least 6 and that it would still have value – but a 5.5 line? Sweet!
This is a game that just looks ripe for goals. It helps that the Sabres on the road and the Islanders at home have been piss-poor; it just makes more of a chance for goals. Sabres are currently averaging over 3 goals per game and conceding almost 4 goals per game. The Islanders have similar stats. This is also a game where both teams obviously realize the importance of a victory so if they go even 1 goal down they're going to be pushing up aggressively.
This one could be over by the end of the first period! Take the special bonus at Bodog to really up the ante on this one.
Follow @BetNHL
BetNHL.ca » Tonights Tips »