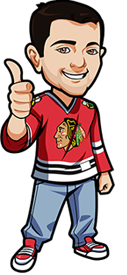 Written by Scott on Friday, November 1st, 2013
Follow @BetNHL
Hope everyone had a fun and safe Halloween, the weather was brutal here but kids will do anything for free candy. Well a rough night of betting for us as we went 1-2. Our win came from the Phoenix Coyotes who, after giving up 3 unanswered goals, stormed back to win 6-5 in what was a great action packed game.
Our losing picks for the the night were the Ducks who lost a close game to the Bruins capped of by a late Zdeno Chara Powerplay goal then the shootout victory for the Bruins. Our other loss was our value bet with the NY Rangers beating the Buffalo Sabres 2-0. This bet was one that we had to make only on the odds alone.
Tonight we have a much better slate of games to watch and bet on with 8 taking place. Of the 8 there are a few that have the potential to be fantastic. The Islanders vs Senators promises to be a close game and the Capitals vs Flyers could be a high scoring game with both teams looking to move ahead in the standings.
Bodog Divisional Dynasty
We went 1-1 last night in the Bodog Divisional Dynasty betting. We won with the Coyotes but lost with the Sabres. We picked the Sabres as, on paper, this was the game that they had the best chance of winning before the deadline. For tonight we don't have any games to bet on as when we broke it down, for us to bet on all teams and to win as many as possible tonight was an off night. Tomorrow we have 4 teams picked so be sure to check in tomorrow for the Bodog Divisional Dynasty Picks.
Islanders vs Senators: Senators To Win
Well one of these teams is going to snap their respective losing streak and in the end it will be the Sens. With no injuries and a hungry home crowd the Sens will sap their 3 game losing streak
The Islanders are missing Visnovsky and with the addition of Vanek the team is going to take a little bit to find some chemistry. So lets bet against the Isles before they find their stride
Bet the Sens To Win at Bovada for Americans and http://www.Bet365.com for everyone else. for 1.71 Betting odds
Avalanche vs Stars:Avalanche vs Stars : Avalanche To Win
The Avalanche are of to an incredible start this year and will continue their hot play tonight. With the recent mess that Avs goalie Semyon Varlamov has gotten himself into off of the ice and the fact that despite that he is still going to play tonight we see the Avs rallying around him for a big road win.
Colorado has yet to loss on the road and against the 2nd last place in the Western Conference Stars this should be an easy win.
Bet the Colorado Avalanche to Win at Bovada for Americans and http://www.Bet365.com for everyone else. for 1.91 betting odds
Red Wings vs Flames: Over 5.5
The Flames have shown all year that they can and will put up goals. The Red Wings, who are playing bad as off late, can also score. Both teams are in need of wins to climb the in the standings and both view tonight as a game they can win.
Both teams give up lots of goals as well so tonight had the potential to end with a 7-8 total. So lets bet that this game will go over 5.5 goals combined
Bet Over 5.5 goals in the Red WIngs vs Flames game at http://www.5Dimes.eu for Americans(Need to register to see lines) and and http://www.Bet365.com for everyone else. for 2.05 betting odds
Entertainment Bet: Grand Salami Under 44.5
With no Bodog Divisional Dynasty Picks for tonight, this is a great night to take advantage of this fun way to make some money. The Grand Salami is the combined goal totals from all games on the night. With the obvious exception of the above mentioned Wings – Flames game, there are a bunch of games that should end with a low score.
Montreal vs Minnesota and St Louis vs Florida are just some of the games that could end really low. When you throw in the last game results of the Lightning vs Hurricanes game and that Ovechkin will be out in the Capitals vs Flyers game this is a good and fun bet for the night.
Bet the Grand Salami Under at http://www.carbonsports.ag
Follow @BetNHL
BetNHL.ca » Tonights Tips »