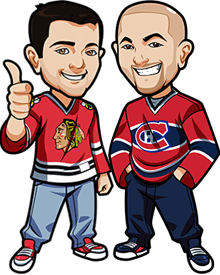 Written by Graeme & Scott on Monday, June 24th, 2013
Follow @BetNHL
Well – the NHL season is almost over. We're at Game 6, and the NHL 2013 season could end tonight.
However the betting tips won't end. During the off-season, there will be a variety of prop bets based on players and coaches leaving as well as the draft. So be sure to subscribe to our tips so you get all of those tips.
On top of that – we're also offering CFL Betting Tips. The Canadian Football League starts this week, and we are BIG fans of it and have been betting it for years and are finally building a website around it.
So during the NHL off-season, be sure to follow our CFL Betting Tips. Even if you're not a fan of the CFL – you like making money right?
The website is http://www.BetCFL.net and we already have week 1 CFL Betting Tips up, as well as a ton of futures.Hopefully you will join us there and follow the CFL with us.
Wow! Game 5 was just a crazy physical battle. Patrick Kane scored the first 2 goals of the game as the Chicago Blackhawks won 3-1 and now have a 3-2 series lead heading into game 6 in Boston.
Should the Blackhawks go on to win the series, has Kane locked up the Hart trophy as playoff MVP? I would have to think that's a no brainer. He has been scoring big goals when they count and putting them up in bunches.
But for both teams the physical toll has hurt both teams. Jonathan Toews sat out the entire 3rd period with what coach Joel Quenneville called a upper body injury but there a rumors circulating that he has a concussion. The injury happened when Boston defensemen Johnny Boychuk completely flattened Toews in the 2nd period. Quenneville is "optimistic" Toews will be ready for game 6. Lets hope he is ready and able to play because he is extremely important to the Hawks success.
Boston may be without the services of arguably their best player. Patrice Bergeron left the game after playing 2 shifts in the second period and was taking to hospital with what is being called, that's right you guessed it, an upper body injury. Rumors on the internet say he injured his spleen. No word yet on if he will be able to play in game 6.
So now here we are. The Hawks are one win away from capturing their 2nd Stanley Cup in 4 years. But Boston won't just roll over and accept defeat. This will be a great game and has the potential to get out of hand with all the bad blood that has been building up.
Here is the Tip for tonights Game 6 of the Stanley Cup Final between the Chicago Blackhawks and The Boston Bruins:
Blackhawks vs Bruins: Over 4.5 goals
It was hard to find a valuable tip to go with but we think this is the safest bet. Both teams are going to be coming out flying. Boston will want to push this to a game 7 while the Hawks would like to wrap it up tonight.
Bet that this game will be a high scoring one and go over 4.5 goals at
Follow @BetNHL
BetNHL.ca » Tonights Tips »