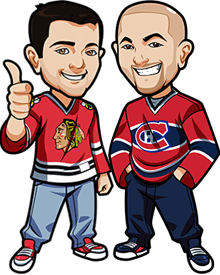 Written by Graeme & Scott on Friday, June 25th, 2021
Follow @BetNHL
THE MONTREAL CANADIENS HAVE MADE THE NHL STANLEY CUP FINALS!
An absolutely amazing accomplishment by this team, in what has been quite the season.
They have been the ultimate underdogs for all of the NHL playoffs and have continued to confound critics and the sportsbooks with victory after victory.
Awesome stuff.
They will face the winners of the Tampa Bay Lightning and New York Islanders series so we will find out their opponents tonight, and get a schedule going.
We'll find out who that will be tonight.
Lightning vs Islanders Game 7 Betting Tips:
Scott: It's the perfect ending to this series, a game 7. 
The Isles came back to win 3-2 in OT a game after they got destroyed 8-0.  Mayfield cross-checked the playoffs leading scorer Kucherov and wasn't penalized on the play.   Kucherov left and didn't return.  If Kucherov is going to miss time then it will devastate the Lightning.
With game 7 in Tampa and after they put on a clinic in game 5 there I like the Lightnings chances to move onto the finals.   But with Kucherov hurt can they do it without him?  Will the team come together and rally around him missing or will they crumble with him out?  Will the Isles ride the momentum of winning after getting pounded?
So many questions about this game.  I would lean towards a Lightning win but to get any value it would need to be at least a regulation win and after game 6 needing OT I don't have a pile of confidence in them doing that without Kuch.
Another game where I'll just watch and enjoy.
No Bet
Graeme: As a Habs fan I think I want the Islanders to win. Or for the Islanders to continue to batter Tampa and give us a weakened opponent. Man I dunno.
Islanders are the right mathematical play I would say at about 2.45 odds. Much like yesterday with the Habs.
Buuuuut that one little issue is right there – last time they were in Tampa. Game 5. We saw how that went.
So for me I'd say Islanders are still the right mathematical play. But I don't think I can risk it myself.
Personally at 1.76 odds on a Game 7 I'd say screw it go with Over 5 incl OT.
Follow @BetNHL
BetNHL.ca » Tonights Tips »