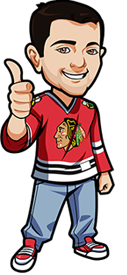 Written by Scott on Tuesday, January 10th, 2023
Follow @BetNHL
Only had 1 tip yesterday and we went 1-0. Of the 4 games yesterday there was 3 shutouts.
I had the Kraken win in regulation against the Canadiens and they did when they shut the out 4-0
The Flyers shutout the high scoring Sabres 4-0. I was nervous to tip this game as I wanted to take the Sabres but Ersson has been good. He made 28 saves in his first career shutout.
The Preds shutout the Sens 3-0 with Saros making 38 saves for his first shutout of the season.
The Kings beat the Oilers 6-3. The Kings chased Skinner out of the game and Fiala had 2 goals and 2 assists.
A busy night with 10 games for us but despite the amount of games I could only come up with a couple of tips.
Wild vs Rangers
Fleury had to take some time off for personal reasons and should be back for this game.
Both teams have similar records over the last 10 with the Wild going 6-3-1 and the Rangers 6-2-2.
They both are middle of the league in goals per game and in the top half for goals against.
I feel better skipping this game. Both teams are in similar spots and both still have lots of work to do to climb the standings and get themselves in better position moving forward.
Canucks vs Penguins
Either team is playing very well at the moment. The Canucks are 4-6-0 and the Pens 3-5-2 over last 10 games.
They played once this season and that was back in October when the Canucks won 5-1.
The Pens won their last game but had dropped 6 straight before that.
I would lean towards a Pens win but it would need to be in regulation and with their results over the last 10 I have to skip this game.
Jackets vs Lightning
I'm not sure there is any reason to go into this game.
The odds are heavily in the Lightnings favor so much so that it's unplayable. Would have to take Lightning -2.5 so it's an easy skip.
Kraken vs Sabres
Both teams played last night. The Kraken shutout the Habs and the Sabres were shutout by the Flyers.
The could and should be a high scoring game with the Sabres ranked 1st and the Kraken 3rd in GPG. And both teams can't stop the opposition from scoring with the Sabres allowing 3.45 per game and the Kraken 3.10.
I expect the Sabres to come out flying after getting shutout for the 1st time this season.
Over 6.5 incl OT/SO
Ontario: 1.85 Odds at Sports Interaction (SIA) - Non-Ontario bet $10 get $200
Rest of Canada: 1.85 Odds at Sports Interaction (SIA) - Non-Ontario bet $10 get $200
USA: -115 Odds at BetOnline.
Everyone Else: 1.85 Odds at BetOnline.
(Odds correct as of 2023/01/10 9:09:16 AM EST but are subject to change.)
Devils vs Hurricanes
The Devils won their last game but are 4-5-1 over their last 10. The Canes have lost their last 3 games but before that they had won 11 in a row.
Statistically speaking the Devils are still doing well. They are ranked 8th in GPG, 3rd in shots per game, 4th in GAPG and 2nd in shots allowed per game. But the Canes are also doing well ranking 1st in shots per, 1st in shots allowed and 6th in GAPG.
Both teams have good records when playing from where they are with the Devils going 14-2-1 on the road and the Canes 12-4-1 at home.
I'm having a hard time finding an advantage for this game for either team.
Jets vs Wings
The Jets are rolling right now winning their last 5 games outscoring their opponents 20-11 over that stretch.
The Wings have lost 3 straight and 4 of their last 6. They are at home here where they haven't been that good going 9-8-3 in Detroit.
The Jets have an ok road record going 10-7-1 and are on this winning streak. I like their chances to continue that tonight.
Jets win incl OT/SO
Ontario: 1.71 Odds at Bet365 (Americans: We recommend http://www.bovada.lv
Rest of Canada: 1.71 Odds at Bet365 (Americans: We recommend http://www.bovada.lv
USA: -133 Odds at BetOnline.
Everyone Else: 1.71 Odds at Bet365 (Americans: We recommend http://www.bovada.lv
(Odds correct as of 2023/01/10 9:09:16 AM EST but are subject to change.)
Stars vs Islanders
The Stars are still in 1st in the Central but just barely with the Jets only 1 point back with 1 less game played.
The Isles are tied for 5th in the Metro but are 5 points back of the Rangers who are in 4th and 6 back of the 3rd place Capitals.
On the road the Stars are 12-7-3 and at home the Isles are 12-6-0.
Both teams can help themselves in the standings here which should make for a good game. But I can't find anything to help take either team for this game.
Flames vs Blues
Similar records over the last 10, and their home and away records are also close with the Flames going 7-7-6 and the Blues 7-8-2.
The played once already this season and the Blues won 5-2. They play again in 2 days.
The Flames rank 4th in both shots in goal and shots on goal allowed so I would lean towards them to win this game but they are on the road so I can't and have to skip this one.
Sharks vs Coyotes
There is nothing I like from this game.
Both teams are in 7th place in their respective divisions. The Sharks have lost their last 2 and are on the road where they have gone 8-10-2. The Coyotes have lost 5 in a row and are at home where they have gone 7-4-2.
Panthers vs Avalanche
Both teams have fallen short of their expectations. We are coming up on the half point of the season and both teams are currently out of the playoff picture. If you would have told that before the season had started I would have called you crazy.
The only stats that these teams rank in the top 10 for are shots on goal with the Panthers ranked 2nd and the Avs 6th.
I know there is lots of time left for both teams to get themselves back into the playoff picture but I don't know who is going to win this game.
Follow @BetNHL
BetNHL.ca » Tonights Tips »