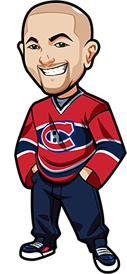 Written by Graeme on Thursday, January 11th, 2018
Follow @BetNHL
Another winning night last night with our 0.5u play on the Sens/Leafs Over 6.
Speaking of – a quick clarification about unit/confidence betting after a bunch of comments/e-mails yesterday – this will not affect your ability to follow us or make bets based on our tips.
All we're doing is advise you bet different amounts depending on our confidence levels for games. That's it.
So if you normally bet $10 on every tip we give out, if we advise you bet 1u that means you'd bet $10. If we advise 2u, you bet $20. If we advise 0.5u, you bet $5.
You don't even need to pay attention to that! You can simply ignore the unit betting and bet as per usual. Everything will be the same – the only difference is we're giving you our level of confidence per bet.
We had some people saying their sportsbooks "dont offer unit betting" but there's no such thing – it's something you would be doing, just deciding how much you want to bet on a game. Basically all you're doing is varying your bet amounts based on confidence.
Hopefully that clarifies but like I said yesterday – leave a question in the comments or hit me up at betnhl.ca@gmail.com and I'm happy to help.
Anyway a good winning start and games like that are why we added the unit betting system – normally Leafs/Sens would not have been a play. As it was, it was a fairly close one that eked over and got us the win which was nice.
I have to say that betting "over 6" and then seeing the game go to 3-3 is probably my favourite thing ever. Because we're guaranteed a win but it's still not hit yet – and it's just a nice feeling at that point after sweating the game – being able to relax and just enjoy it while you wait for that inevitable 7th goal to win your bet officially.
It's another quiet night in the NHL with just 3 games. I'm fine with that! Since coming back from Scotland I've been swamped with work so it's been nice to have a few quiet nights to really get caught up.
Only the one tip today and it's goalie dependent:
Capitals vs Hurricanes Betting Tips:
The Capitals have quite the home run going at the moment. They're coming up on their bye week with back to back games against the Hurricanes then they're off.
With the last home game before the bye week you'd think THAT would motivate the Caps here along with keeping their run going.
Holtby is expected to be in net which indicates they're focused on this one. He has a solid record against the Canes.
The Canes are a team I respect, however if Holtby is in net it shows the Caps are taking this game seriously. I'm concerned too about the Caps having to go to OT so often but this is a game they should really take in regulation. Canes had that close game against Tampa but they can't rely on PPGs like that all the time.
Capitals in Regulation if Holtby is in net
Canada: 2.13 Odds at BetOnline..
USA: +105 Odds at Bovada.
Everyone Else: 2.13 Odds at BetOnline..
(Odds correct as of 2018/01/11 9:46:33 AM EST but are subject to change.)
Unit/Confidence Betting Tips:
(We are experimenting with adding unit/confidence to our betting tips. For more details see this post.)
0.5u: 1-0 (+0.48u)
1u: 0-0
2u: 0-0
Capitals in Regulation – 1u.
Follow @BetNHL
BetNHL.ca » Tonights Tips »