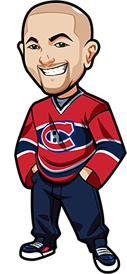 Written by Graeme on Friday, January 11th, 2019
Follow @BetNHL
A perfect 3-0 last night!
Game of the night for me was the Hurricanes vs Lightning game and not just because our bet won in a fun fashion. It was just a really intense game with a hot crowd and it reminded me of playoff hockey. It was just one of those games where a win by Tampa was something that crowd was living and dying for. Great game, and I hope the Canes bounce back.
We won with the over in Islanders vs Rangers. Islanders got a 4-3 win but the Rangers battled hard as expected.
We also had the Capitals to beat the Bruins. Boston did what they could in this one but just couldn't break their hoodoo.
It was a good night of hockey action. Leafs got back on track with a win. Sharks made it 5 in a row with a win over the Knights. Ottawa make it 2 in a row. Maybe the Sens will run the board! And props to the Oilers for a much needed and hard fought victory.
Quick note – I'll be bringing OHL, WHL, AHL etc tips back very soon now the Juniors are over with. I'm just wanting to take a bit of extra time with them to make sure everything is running smoothly before I advise anything.
In saying that, I know many of you are degenerates such as myself who don't want to wait. These are what the system likes tonight – not official tips however so proceed with caution.
OHL: 67s in reg (1.67), Wolves in reg (2.10), Greyhounds in Reg (1.55 so might want to add it in a double somewhere), Storm in reg (1.82).
WHL: Tigers and Silvertips in reg – double is 2.13.
AHL: Valley Phantoms in reg (1.75), Stars in reg(1.80), Barracuda in reg (1.62).
Like I said not official tips as I'll want to wait at least a week to make sure everything is good but I get a lot of people asking for non-NHL action so here ya go. Best places to bet the non-NHL stuff is at:
Canadians: Bodog and 888 Sports.
Americans: Bovada.
Everyone Else: 888 Sports.
4 games tonight on the board. Hurricanes aren't a bounce back team but the Sabres odds just aren't enough for me here. I'd rather be on the Sabres here but I'd need a better price. In saying that if you like playing the risks, throwing something on them in regulation would probably be fine.
Jets are someone I'd like to bet on to bounce back however their 2nd leg of B2Bs have been weak. The bet would have to be Jets -1.5 and I just don't have the confidence. The over is 6.5 but that's too high just seems like one of those games where one of the offenses just won't show up.
Flames are a team I really want to back tonight. It's the type of thing where I have spent most of the morning looking at reasons to back them. But I just can't pull the trigger. Rittich had to be at his best against the Avs yet still conceded 3. Flames are leaking goals a lot no matter who is in net and I'm a bit wary of backing their offense. Panthers are on a back to back after a hard fought loss. Their recent B2B 2nd leg record is good but it's just one where I think at the odds, Flames is too risky.
Peters raged on the team at practise on Thursday which was good. That was almost enough to convince me and I'll probably kick myself for not taking the Flames tonight but it just feels very risky.
Penguins vs Ducks Betting Tips:
My spidey sense is really tingling on this one.
I don't like backing the Penguins here at all. But I feel obligated to.
I mean lets look at the Ducks. I guess they did perform better against Tampa. So they can raise their game against opponents which is good to see.
John Gibson is in net. We know he can pull off big performances. Ducks overall home record isn't bad either at 10-6-8. They've taken 3 out of their last 5 games to overtime. I feel bad for Gibson. Rakell is back though which is helpful.
Thing is if they were going to take a stand, it should have been against the Senators. I just feel like this team is really lacking cohesion and that Carlyle has lost the locker room.
Then you have the Penguins who have a better road record than a home record. They've got one of the best offenses in the league, with some sick accuracy. A tight defense and a goalie who is restoring confidence in the team.
Their offense is on fire. Crosby is killing it as well and Murray will want to keep his own winning streak going. Penguins haven't shown any complacency lately which is very nice to see.
Pens have the West Coast road trip and this kicks it off. Looking at past years there's really no consistency in regard to results so that's not a factor.
Despite all that like I said – my spidey sense is tingling. Sometimes there is extremely "obvious" plays in the NHL that I love, and sometimes there are extremely "obvious" plays in the NHL that just smell like a trap. The fact that the Penguins aren't more heavily favoured also has me leaning on the latter.
So an extremely wary 0.5u on Penguins to win incl OT/SO if Murray is in net.
Canada: 1.72 Odds at BetOnline..
USA: -145 Odds at GT Bets..
Everyone Else: 1.72 Odds at BetOnline..
(Odds correct as of 2019/01/11 8:17:11 AM EST but are subject to change.)
Follow @BetNHL
BetNHL.ca » Tonights Tips »