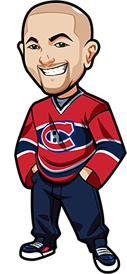 Written by Graeme on Saturday, January 11th, 2020
Follow @BetNHL
A 1-0 night last night with the NHL Tips.
We had the Carolina Hurricanes to defeat the Arizona Coyotes in regulation. That was a nice and easy one. Hurricanes were up 3-0 in the 2nd and Coyotes just couldn't get back in the game.
That one was a dominant victory but at least the other two games were tight from an entertainment perspective.
Again you all were correct with the "Best Bet of the Night" as the #1 voted game was the Penguins/Avs to go over. I also really wanted to take the Penguins in that one as I felt there was a ton of value and it was coinflip odds. That was the right read as the game went to OT – the ultimate coinflip. Penguins got the win there.
A lot of people got burned backing the over in the Red Wings/Senators game. That featured the worst and 3rd worst defenses in the NHL. However the Red Wings have the worst GFA and the Senators are 22nd ranked.
One thing that has really stood out for me this season is offense and whether they are reliable to me or not. I have a list of questions I ask myself when finalizing a tip and one is "can I rely on this offense to produce the goals this evening?". This season, that question has seemed more important than ever.
Quick recommendation for my Ontario friends – check out the craft beer Prince Eddy's Chin Dropper Pale Ale. I can take or leave most craft beers but had this one the other night and it's now one I'll be looking out for at every tap in the province.
So it's Saturday, January 11th and we've got 11 games on the board. It all starts at 1pm ET with Canucks at Buffalo. Then nothing till 7pm ET. Tampa looking to make it 10 in a row. We've got a potential hot battle of Alberta with Oilers looking to go 4 in a row, and Flames 5 in a row. Stars are also looking to make it 7 in a row with a win over the Sharks.
Should be some great hockey on the night. Let's do the poll first and get that out of the way. Keep up the great work I've been betting a lot of them myself. I said yesterday I also liked the Pens over and with that being the winner of the poll I backed it:
We will feature the following games:
Bruins @ Islanders
Lightning @ Flyers
Stars @ Sharks
[poll id="72″]
$25 risk free bets on player prop, in-game bet and $50 risk free mobile bet. Available for NEW customers only at BetOnline.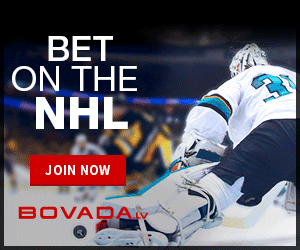 Speaking of – I was very close to taking Bruins/Islanders over today. Both teams really wanting to get runs going here and get over their slumps. Seems like one where they would both fight hard. However looking into it it just feels like a very high variance play.
My betting system is yelling at me to take the over 6 goals in Blues vs Rangers today. I'm not going to though. Just one of those where while on paper it has the potential to go over, I'm not totally sold and I feel there are better picks out there.
I said 2 days ago that BetOnline.. have really stepped up their game in terms of odds. Yet again for all three tips today, they are the best odds whether you are in USA, Canada, Europe etc. Well worth getting an account there, and they have a 50% to $1000 signup bonus plus risk free bets. They have been getting a lot of pre-game NHL action lately.
Kings vs Hurricanes Betting Tips:
The Hurricanes had that win over the Coyotes yesterday now host the LA Kings. This is the last game of this incredibly long homestead prior to a couple of games on the road. Hopefully that gives them energy to finish it strong.
They are of course on a back to back. Last time they were on the 2nd leg they beat the Caps 6-4. They actually haven't had too many B2Bs but on the 2nd leg prior to that they also beat Tampa in Tampa. Impressive stuff.
I assume they will be starting Reimer today who has been absolutely horrific his last three games. So the offense know they are going to be relied on heavily for the win today.
You've got two of the top teams in terms of xGF/60 who also rank high in the other advanced offensive metrics (CF/60 and FF/60). Goals wise of course it is different with the Kings one of the worst GF/60s but what that generally means is we are going to see lots of chances.
Kings goal production has been weak but they come in bursts like against the Knights and Philly. Philly in particular have similar defensive advanced metrics to the Canes. The Kings were talking about how when they score first they seem to play better so I think they will start fast here and look to get a goal early. Which will also help rattle Reimer.
Unless Reimer pulls a blinder(and it is possible – a month ago he logged a shutout against the Flames and held the Avs to 1 both games on the road) I like this one to go over.
0.5u on Over 6 Goals incl OT/SO if Reimer is in net.
2.03 / +103 odds at BetOnline..
(Odds correct as of 2020/01/11 11:11:23 AM EST but are subject to change.)
Flyers vs Lightning Betting Tips:
Tampa are one of those teams I've had serious issues with betting this year. During this run I've generally stayed away from them simply because they've let me down a lot this season.
I mean overall their offense is killing it, but early in the season there was those few nights where they didn't show up and it seemed to be when I had backed them. However I've taken a good look back at all their games this season over the last few days and I've reassessed things and am ready to back their offense again.
If they draw a blank tonight I'll probably throw my TV through a window. I managed to avoid backing the over last weekend when they played the Canes and that one went under – so hopefully when I actually back them, it comes through.
They're on an awesome run right now. They want to keep it going. Their offense is really peaking at the moment in terms of chances created and converting them.
The Flyers are an incredible home team this season. One of the best records in the league at 14-2-4. They're well aware of that and play better at home. They will be super up for this game having burst out of their own slump with a win at home to Washington. Granted that felt a bit more on the Capitals – but the Flyers will be motivated to keep their home run going.
They'll be missing Gostisbehere as well as Braun so the offense needs to bring it. This one is very close to a 2u play for me. I just still have a few qualms with the Flyers, and Tampa have hurt me before.
1u on Over 6.5 Goals incl OT/SO
1.90 / -110 odds at BetOnline..
(Odds correct as of 2020/01/11 11:11:23 AM EST but are subject to change.)
Oilers vs Flames Betting Tips:
You know the drill. Battle of Alberta. Rivalry game. First thing to do is to look at the over. Always what we look at. And I like it here.
Like I said in the intro (which was about 1000 words ago – sorry but man I just LOVE writing about hockey) – both teams are coming into this one on winning runs. That's always something for a team to keep them motivated and pushing for the win all the way to the death.
The Flames have had a couple of quiet games lately but were lighting up the scoreboard at both ends prior to that. They're at home where they will be fighting hard. Oilers got thumped 5-1 back in December at home to Calgary so will be out for revenge.
Oilers offense is flying high at the moment and feeling good.
A lot of Battle of Albertas have actually been disappointing in goals. If they were all set at "over 6", only 1 in the last 7 would have went over although there is 2 pushes in there. That's just enough for me to go with a smaller unit size. I get the feeling this will be a fiery game and go over with ease though but hey the Oilers have let us down before.
0.5u on Over 6 Goals incl OT/SO
1.94 / -106 odds at BetOnline..
(Odds correct as of 2020/01/11 11:11:23 AM EST but are subject to change.)
Follow @BetNHL
BetNHL.ca » Tonights Tips »