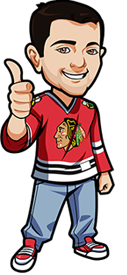 Written by Scott on Tuesday, January 11th, 2022
Follow @BetNHL
3 games yesterday and we had 1 tip and it was a win.
We had over 5.5 in the Bruins vs Capitals game and we didn't even need the Caps to go over here as the Bruins did that themselves.  The Caps got out to a 2-0 lead just past the midway point of the 1st but it was all Bruins after that.  They scored 6 unanswered and won 7-3. Matt Grzelcyk had a 5 point night for Boston which was incredible as he had only 8 points all season before last night.
Avoided the Kraken vs Avalanche and glad I did.   The Kraken kept it close and were up 3-2 after the 2nd but the Avs scored twice in the 3rd for the 4-3 win.  The Kings beat the Rangers 3-1.
A much busier night of NHL action tonight with 7 games scheduled.
Blackhawks vs Jackets Betting Tips:
Both teams are playing bad.  The Hawks have gone 3-4-3 over last 10 and the Jackets 3-6-1.
It's tricky to predict a winner when both teams are in a slump.
I would think that with the Jackets at home this would be a game they win as they have been good there going 11-5-1 but the Hawks have had similar results of late and Fleury has been decent with a 9-4-2 record over his last 15 games.  Too hard to call so I'm skipping this one
Canucks vs Panthers Betting Tips:
This will be the Canucks first game since January 1st and that is a long time off for a team who has points in 9 straight games.
The Panthers are at home where they have been amazing going 18-3-0 and over their last 6 games, home and away, have gone 5-0-1.
I like the Panthers to win here as they look to be playing at a different level.  They're in 1st in the Eastern Conference and the League.  The extended break for the Canucks may hurt the momentum they gained.
Panthers in regulation
Canada: 1.71 Odds at Bet365 (Americans: We recommend http://www.bovada.lv
USA: -140 Odds at BetOnline.
Everyone Else: 1.71 Odds at Bet365 (Americans: We recommend http://www.bovada.lv
(Odds correct as of 2022/01/11 10:22:49 AM EST but are subject to change.)
Lightning vs Sabres Betting Tips:
This game should be all Lightning.  The Sabres have dropped 5 in a row.  And the Lightning will be looking to get some revenge against the Sabres who beat them 5-1 back on October 25th in their only meeting this season.  Since that Sabres win they have gone 6-17-5 since.
To get any value on the Lightning it would need to be a -1.5 but they have had a bunch of games go to overtime this season 12 already.   I do like the Lightning to cover but with 12 of their 37 games played this season needing extra time I can't make it a tip.
Avalanche vs Predators Betting Tips:
This is a huge game. The Avalanche The Predators lead the Central with 48 points in 36 games,  the Avalanche are in 3rd in the Central with 46 points in 32 games.  So they are only 2 points behind the Preds with 4 extra games to play.
Colorado has won a franchise record 12 straight at home but are on the road here and they did play last night.   From December 6th until now the Avs have won every game except 1, they lost to the Predators on December 16th.
This will be a good game.  I was leaning towards an Avalanche win but they played last night and the Preds have been playing great of late winning their last 4 games and are at home where they have gone 10-5-0 this season.  Just find it easier to skip this game and instead watch what is sure to be a good one.
Leafs vs Knights Betting Tips:
The Knights are on a slide right now.  They have lost 3 of 4 at home but are still in 1st place in the Pacific Divsion.   At home this year they have gone 12-9-1 which isn't good and for a team that is a contender they need to fix this.  Thankfully for them they still have time.
The Leafs had their 4 game win streak snapped when they blew a 4-1 lead in the 2nd to the Avalanche who stormed back to win 5-4.  The Leafs play again tomorrow night but that time it's against the Coyotes.
Another game where it's tough to predict.  The Knights are slumping at home and the Leafs just had their win streak snapped and are starting the front end of a back to back.
Penguins vs Ducks Betting Tips:
The Penguins had their 10 game win streak snapped in their last game.  It must have stung even more for the Pens as they were 18-0-1 after leading through 2 periods but the Stars scored 2 quick goals and held on for the win.
The Ducks are 4-4-2 over their last 10 games.  They have traded wins and losses all this month.
The Penguins have Rust still in Covid protocol and that sucks as he was on fire scoring 7 goals and 4 assists in 3 games since returning from injury.  But the Pens are a team who plays better when a key member is out which is such a strange thing.  I think they have a great chance to get back into the win column here.
Penguins in regulation
Canada: 1.99 Odds at Sports Interaction
USA: -115 Odds at BetOnline.
Everyone Else: 1.85 Odds at BetOnline.
(Odds correct as of 2022/01/11 10:22:49 AM EST but are subject to change.)
Wings vs Sharks Betting Tips:
The Wings have gone 1-3-1 since the Christmas break with the win coming against the Sharks,  the Sharks have won 2 straight and are at home where they have gone 9-7-1.
I have no idea who wins this game and it's an easy skip for me here.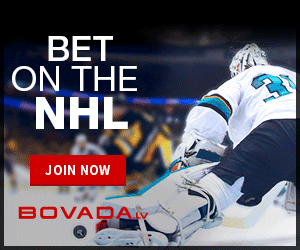 Follow @BetNHL
BetNHL.ca » Tonights Tips » January 11th, 2022 NHL Betting Tips