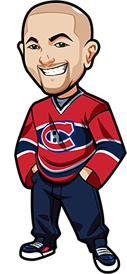 Written by Graeme on Wednesday, January 13th, 2021
Follow @BetNHL
Well hello everyone. And welcome to the beginning of the NHL 2020/21 Season!
This is the first night in I believe 116 consecutive nights of hockey. It's going to be a fun few months.
For all the new people reading – I'm Graeme, and the other guy who writes for the site is called Scott. I'm a Habs fan. He's a Blackhawks fan.
We have been writing tips here since the 2012/2013 season. We have an overall profitable record, and we had a winning record in every season bar last season. In saying that if you factor in the COVID playoffs then we just scraped into profitability. However with big question marks over the playoffs, we decided before it began to not include them in our stats whether we profited or not. The same goes for this season – you can find the stats updated regularly on our stats page but we won't be counting them in our overall record, win or lose.
Either way – we know hockey pretty darn well, we love hockey, and we love betting hockey even more!
One of us do the write-up each day but both of us go into deep discussion about it. We factor in so many things when it comes to tips. From watching the games to advanced metrics to news to motivation levels to whether it's a dads trip or not etc. We put in an absolute ton of work on this. However we're always learning new things etc. For example last season we implemented unit sizing into our tips however we're throwing that out the window this year as we felt we were tipping scared. Never stop learning.
All tips are free. There's no premium level and we're not trying to sell you tips or any of that nonsense. So you never have to worry about that.
The only thing I ask before I jump into the tips for the opening day is don't follow us blindly. We don't guarantee wins. Follow our advice sure – but make your own mind up. Make your own decisions. It's the only way you'll get better.
Hockey is a very high variance game. Look at our win record over 8 years. 53.5% win ratio. That means almost half our picks lose! That's the way it is in all sports. So there's going to be wins and there's going to be losses. Some of it will be down to variance, some will be down to luck (good or bad).
Believe me – sometimes we feel like bosses with the correct pick. Other times we know how lucky we are when we tip the over due to it being a highly competitive game and then one team drubs the other 7-0.
Just don't blindly trust us or think that following us = guaranteed profit as that's not the case at all.
Especially this season with it being a high variance season. We've had months where we have lost 12u or 15u but it's balanced out over the course of the season. With a shortened, high variance season like this? It's the wild west baby.
Okay last thing and most important –
best odds
. Below each pick we make are the best odds for that bet. For individual games it may not seem like much but over the course of the season, it's vitally important that whatever you bet – you bet the best odds. It was literally the difference between a winning and losing season last year(if we incl playoffs).
If you don't want to spread your money over various sportsbooks then that's cool. But at the very, very least open up an account at BetOnline.. They came out of nowhere last season and rocked it with the best odds more often than any other sportsbook. They use the same provider as BetOnline. so hell open accounts at both, clear the bonus etc. I guarantee that we'll be advising them as having the best odds a LOT this season.
As an example today – Leafs are 1.74 there. Other sportsbooks have them at 1.68, 1.65. Make like 12 of those bets at better odds and you've just profited an entire unit!
Alrighty let's see what we've got. There's 5 games so I might as well write a bit about each one and decide whether or not we're going to pick or not. We've got no metrics. We've got no pre-season data. It's a total crapshoot! Some may consider it irresponsible betting this early on but for me I think there can be opportunity and it also forces you to learn. I went 10-3 in my game bets in the first week of NFL – I have no qualms here.
Penguins vs Flyers Betting Tips:
The sportsbooks have this one as a 50/50 game. Penguins are coming in fired up it sounds from listening to Malkin. They are motivated after last seasons failure in the playoffs and want to start off strong.
Rodrigues will be out to prove himself too and it will be interesting seeing how the chemistry is on that line.
I lean the Penguins here. Just from everything I've heard they sound like they are on a mission this season. Of course we've heard that before and whether it translates to the ice or not is a whole other story. I don't have enough confidence in them to back them but I have a feeling their motivation and anger at last season will drive them to some early victories this season including this one.
Penguins have burnt me before with that thinking though multiple times after a humiliating loss so I just can't back it.
Canadiens vs Leafs Betting Tips:
With no pre-season games, there has been no chance to build team chemistry. Honestly that may benefit the Leafs.
Often they are out there working as individuals instead of a team and it's a negative. But maybe it will be a positive.
Of course if we look at the playoff series against the Jackets, that wasn't the case was it? They lost their first game 2-0. Habs stunned the Pens with the OT win as they showed a lot of drive.
Habs have owned the Leafs recently too. So that's certainly a big concern and I can see why money is going on the Habs.
But at this point of the season? It's all about following the gut I think. My gut says it likes the Leafs. I've probably followed the Habs & Leafs more than any other team during the off-season so I'm fine with following it here.
Leafs To Win incl OT/SO
Canada: 1.74 Odds at BetOnline..
USA: -134 Odds at BetOnline..
Everyone Else: 1.74 Odds at BetOnline..
(Odds correct as of 2021/01/13 11:16:43 AM EST but are subject to change.)
Blackhawks vs Lightning Betting Tips:
Hawks look like a dumpster fire and now they are taking on last seasons Stanley Cup Champs. No Crawford will make things interesting.
Hawks I find are one of those teams that often rise to the quality of their opponents and it makes for some fun, high scoring games. That could be the case here if they are able to do just that.
At this point in the season, a handicap is too much of a risk. I actually think we'll see a high scoring game here. Think of that Blackhawks vs Oilers Game 1 for example in the playoffs. I could see similar here. But 6.5 is the line and with zero data etc – no bet for me. That's what I'd go for though. Although on paper, Lightning -1.5 is the play. I'm super close to backing that but the Blackhawks man -plus Kucherov out. I'll wait.
Canucks vs Oilers Betting Tips:
Oilers are the favourites here. Canucks have Holtby which is a nice pickup. They have bolstered their defensive ranks quite well. They'll be hoping to get in the top half for least GAA.
Canucks are going to be without J.T. Miller too.
I like the Oilers. We know what they are capable of. We know their issues. It'll be a competitive game for sure. Games between these two are always highly competitive. But I feel good that the Oilers can take this one. I think they can start strong this season.
Oilers to Win incl OT/SO
Canada: 1.74 Odds at BetOnline..
USA: -134 Odds at BetOnline..
Everyone Else: 1.74 Odds at BetOnline..
(Odds correct as of 2021/01/13 11:16:43 AM EST but are subject to change.)
Blues vs Avalanche Betting Tips:
Colorado generally had the Blues number last season. The Blues have made quite a few changes and losing Pietrangelo will be a big loss regardless of Krug. Missing Tarasenko obviously sucks.
Already backing two heavy favourites, I have decided not to take the Avs here although I am very close to doing so. They have an excellent offense and I feel like they will play fast and force the Blues to abandon their slightly conservative style. But I think back to how good the Blues were prior to COVID. I mean they were top of the West and looking great.
If we go by the Blues who showed up in the playoffs then the Avs whoop them. But if we go by regular season Blues? Not the case.
No bet for me here.
WELCOME BACK PEOPLE!
Follow @BetNHL
BetNHL.ca » Tonights Tips »