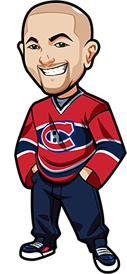 Written by Graeme on Friday, January 13th, 2023
Follow @BetNHL
It was a 1-1 night last night with the NHL Tips.
We had the Lightning vs Canucks game to go over and it did so with the Lightning getting a win in a banger of a game.
We lost with the Preds beating the Habs in regulation. Nashville pulled quite the surprise on us going with Askarov in net for his first game start. I had missed the news about him being recalled for precautionary reasons, and Lankinen ended up being too sick to play.
That was unfortunate, and the Habs were able to put 4 past him. Frustrating one that. When I saw it was confirmed Askarov was in, it was way too late to post anything and retract the play. Welp. That's hockey.
Kraken pull off a big win over the Bruins. That was impressive. Neat to see my system was correct in Avs not getting over 2.5 goals. Still a fair bit of work to do on that but I have high hopes for it.
Let's look at Fridays games:
Penguins vs Jets:
Penguins have racked up two wins in a row and their offense looking good as they host Winnipeg, who are on a B2B. The Jets beat Buffalo last night. Rittich will probably start for them.
Pens are pretty heavy favourites which I don't really agree with. I guess Jets on the road, on a B2B and Rittich in net would make them favourites but not as heavy as they are.
I'd lean the over 6.5 here except in recent 2nd leg B2Bs, Jets haven't really had the energy it seems.
Rittich isn't a slouch by any means, but I think when he is in net you can play against the Jets. Penguins without Letang again of course. But I think the Penguins have what it takes to beat what is a hopefully lethargic Jets team.
The big concern is DeSmith of course. He is a liability. I left analyzing him until last as he is a big factor – and unfortunately, it makes it a no play for me. I do think regardless, Pens will get the win in regulation and will be betting it. But cannot advise it.
Ducks vs Devils:
Ducks host the Devils and are big underdogs. This will be their 10th home game of this stretch, and the last one before they go on the road.
Devils are just not really backable at the moment, especially -1.5 on the road. Not seeing a play on the goals market.
Sharks vs Oilers:
Sharks come in with some very inconsistent results, and that road loss to the Kings.
Oilers also very inconsistent at the moment. They got that big win over the Ducks.
I think this game has a good chance to go over. GF & xGF all points that way. SCGF/SCGA not as much but still close. Too high CF/60 teams, both of whom have good HDGF/60 ratios.
Campbell confirmed for the Oilers too.
The two problems for me are: (1) the odds are utter crap. About 1.76 for over 6.5 it's bordering on over 7, and (2) the inconsistencies of both teams.
Those two are related to each other, and put me off this bet. The over is probably fine but I'd need better odds to gamble on it.
Follow @BetNHL
BetNHL.ca » Tonights Tips »