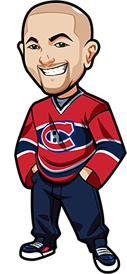 Written by Graeme on Thursday, January 14th, 2021
Follow @BetNHL
Welcome to night 2 of the NHL!
It was a thrilling start to the NHL season with a couple of absolute bangers. Both the Penguins/Flyers and Habs/Leafs games were 9 goal thrillers with the Habs/Leafs game going to OT. Funnily enough based on the advanced metrics, both Habs and Pens deserved to be the winners.
We also had a couple of upsets as the Canucks and Blues both won, defeating the Oilers and Avs respectively.
Chicago vs Tampa….that went pretty much as everyone expected.
Betting wise the only real big surprise was the Avs losing. Oilers pick in retrospect I'm not too happy with as I underestimated the Canucks there. We toyed with the over in Flyers/Pens but 6.5 on Day 1 decided to skip. Was nice to see it go over though.
We have a whopping 10 games on the card today. While it was fun – and good – to go through every single game yesterday – I am not going to do that today. Well – not to that much detail. I'll still be looking through the games of course but I am just going to do random quick thoughts and leans, and if I see a bet I like I'll add it.
BTW don't be reactive this early in the season. That's a mistake many make. I've seen so many people saying they are going to blindly bet the overs etc. Don't do that. Just like always; analyze each game and decide if it's worth betting it or not.
So let's look through tonights slate:
Bruins vs Devils:
Bruins are heavy favourites here. They're also the favourites to win the East while Devils are least favoured. It's hard to see anything other than a Bruins win but just don't feel comfortable betting handicaps this early. Plus Chara gone could be quite the adjustment in the locker room. No Pastrnak either. Devils are primarily young boys with no pressure on them they could pull out a few upsets this year. Value is actually on the Devils here I think.
Islanders vs Rangers:
This is one where I am happy to bet the over. I mean one thing I think we learned from yesterday is these teams are hungry(and sloppy!). These two obviously want to battle hard against each other so it should be an all out game.
Rangers were a fun team last year with the worst xGA of the season. Both converted their high danger chances well, and both had high HDCA. Now if we're factoring in the Covid Cup, it was a different style of Islanders. The Flyers series was explosive for the most part but the rest was a bit quieter. Definitely a concern.
Rangers were also a disappointment in August as well. So if we're basing picks on that, then it's probably a skip. I just feel like this is a good one to go over and it will be a highly contested game. I must admit I really wanted to back one over today and this seems the best choice.
FYI some books have this listed at over 5.5 with lesser odds. I did the math on that during the off season, and based purely on last years data betting over 6 with the possibility of a push was better value than over 5.5.
Over 6 Goals incl OT/SO
Canada: 1.99 Odds at BetOnline..
USA: -105 Odds at Bovada.
Everyone Else: 1.99 Odds at BetOnline..
(Odds correct as of 2021/01/14 8:48:49 AM EST but are subject to change.)
Capitals vs Sabres:
Washington are playable favourites as they take on Buffalo. I really see no reason not to bet Washington right here. I mean you look at this team and they can still contend to win the East. I actually like Buffalo and feel bad for them this year. Any other season this team might scrape together the points to make the wild card. In this division? It's going to crush them.
Motivation is always a big factor for Washington. After the disappointing performances in August I'd like them to come out here. I think the division reshuffle will even revitalize them. Sabres are actually a strong starter to seasons if I recall correctly.
Caps are certainly not a "lock" or "free money" or any of that nonsense but I think that line is decent value and will bet Capitals incl OT/SO.
Canada: 1.74 Odds at Bovada.
Everyone Else: 1.73 Odds at BetOnline..
(Odds correct as of 2021/01/14 8:48:49 AM EST but are subject to change.)
Hurricanes vs Red Wings:
Not much to say there. Should be a dominant victory by the advanced metric kings, the Carolina Hurricanes. On paper they should crush them. I'd be all over Hurricanes in regulation here but I just can't bet anything like that with confidence at this point.
Flames vs Jets:
Flames are slight favourites in this one. It's a tight one. A rematch from August. The Jets just fell apart in that series. Will they be motivated and out for revenge or will the Flames take them? I actually think the former. But not enough to bet on it.
Jackets vs Predators:
Preds are slight favourites here. They're a very solid team although I have questions about their goalie. Top line, defense, all solid. Jackets showed a lot of grit in the playoffs with that win over the Leafs. Even though they were eliminated 4-1 by Tampa, by god did they ever give them a run for their money.
Preds of course surprisingly lost to the Coyotes.
I actually really like the Jackets here, and am restraining myself from a bet. This is the closest non-bet I have.
Sharks vs Coyotes:
Coyotes favourites here. They've got a solid team and I'd like to back them – I'm going to be rooting for them this season. But I need to see them play more. Sharks also have the core group that on their day can be tremendous. No bet.
Canucks vs Oilers: A repeat from last night. Oilers were about 1.70 yesterday and are still favoured today at 1.80. Smith will be in likely. When you look at the overall metrics, yesterday was a very close game. It wasn't like the goalies were really a factor for example. The xG is so close for the entire game. I mean look at this credit of Moneypuck:
This is one where my gut says the Oilers will bounce back. Heart vs head though. My head is telling me not to bet it for a variety of reasons (if it's that close yesterday then betting the favourites is a dumb decision; if we go on the Oilers vs Canucks and the Hawks series that contradicts the bet etc) so I won't bet it. I mean Canucks looked damn good in the COVID Cup so could be a legit contender this year.
Ducks vs Knights:
Knights overwhelming favourites. No bets here.
Wild vs Kings:
Wild are decent favourites here but I am surprised by how little. I expected them to be in unbettable odds. I guess it's because the bookies except them to take a little bit of time to gel? I don't know – it seems like a decent value for the Wild. But looking at analytics sites many see it very close to 50/50 so I'm going to stay away from that one.
Who is everyone betting? Post in the comments below. We always love chatting and seeing others analysis. And it's a safe space – trolls will be kicked the F off. 😉 No toxicity allowed here.
Follow @BetNHL
BetNHL.ca » Tonights Tips »