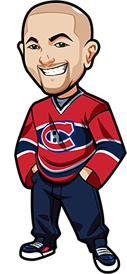 Written by Graeme on Friday, January 15th, 2016
Follow @BetNHL
It was a 2-0 night last night, with the Capitals vs Canucks game being a push.
We got extremely lucky with that one, with a flukey empty netter in the dying seconds. It was one of those games where, after looking at my analysis for it, I was thinking maybe Capitals to cover the point spread could have been a play. So I'm glad it was at least a push as otherwise I would have been kicking myself this morning.
We won with the Islanders beating the Rangers. Rangers took the lead in that one, but the Islanders stepped up big in the 3rd period and won 3-1 with an empty netter to put the final stamp on the game.
We won with the Blackhawks defeating the Canadiens. The Habs fought well but the Hawks put in a great performance and deserved the win.
Really cool thing about that one was the stars of the game:
Nice touch.
NHL Betting Tips:
Today is a rare day on BetNHL.ca because we don't have any tips for you!
We have went through and thoroughly analyzed all of the games and yeah – there's nothing we like. We've tried to convince ourselves, we've said stuff like "If we were to take the Leafs tonight how would we justify it" and went through that, we've played devils advocate with each other and at the end of the day – there's nothing we feel strongly about.
With 6 games I'll provide analysis of each one below. But we've also got OHL Betting Tips and our weekly chat with Sports Interaction. Here's some brief analysis of the NHL games today:
Bruins vs Sabres: Lehner is possibly starting and that's a variable that really puts us off this game. Boston are a great team on the road but haven't looked too good lately. Buffalo can't really score at home but have won the last two. Very iffy – would lean slightly towards Sabres.
Leafs vs Blackhawks: This is one where we'd normally feel strongly about a Leafs win – except for their last performance without JVR. Until they prove they can play without JVR we have to stay away.
Canucks vs Hurricanes: Just don't see the value in the odds on the Hurricanes. They probably should win. but just can't pull the trigger. My experimental overtime betting system suggests overtime, which is 3.50 odds and I'll probably do a small play on that.
Penguins vs Lightning: Both teams have their issues. Based on the stats, I personally like the game to go under. Based on the potentially explosive and strong offenses, Scott likes it to go over. So we're staying away. Another one where my system suggests overtime.
Jets vs Wild: You'd think Wild will be focused and will win – but the Jets got a huge morale boosting victory last night. Can momentum carry them on to win this game? Very possible. We weren't convinced either way and will stay away.
Ducks vs Stars: I could just write the word "inconsistent" about a million times and it'd sum up both teams. If you're betting it may as well go for the over because both teams have the potential to go off.
OHL Betting Tips:
We're going to take the Sault Ste Marie Greyhounds to beat the Sudbury Wolves at -120 odds tonight.
We're also on Guelph Storm +115 to beat the Owen Sound Attack. Guelph have been playing some solid hockey the last few games and it's been a long time since they lost in regulation time at home(December 13th).
Bet the OHL at:
Canadians: Bodog and 888 Sports.
Americans: Bovada.
Everyone Else: 888 Sports.
Weekly Chat with Sports Interaction:
Thanks as always to Sports Interaction for doing this. Canadians – sign up with them:
BetNHL.ca: With the all star break coming up we're starting to look beyond that, and the futures. Thoughts on the current Stanley Cup odds?
Sports Interaction: The Washington Capitals are clear-cut favourites at the moment at +475. They look absolutely dominant and that's no surprise. They are 2nd for goals scored per game, 1st for goals conceded per game and everything looks like they're going to be the team to beat.
BetNHL.ca: Thoughts on the Bruins? They turned things around but it's all starting to go to crap again.
Sports Interaction: They're in a very tough division in the Atlantic – it's so tight and it will possibly go all the way to the very last game of the season. Bruins can score and kill on the power play but they just can't stop the goals going in. Chara is past it and they need to make some changes in the defensive end or there will be no playoff games in Boston this year.
BetNHL.ca: Other than Patrick Kane who do you think can take the Hart Trophy?
Sports Interaction: We like Erik Karlsson, the Senators captain. 4th in the league scoring and has 45 points with just 44 games played – pretty darn impressive for a defenseman. If Kane has another hot streak he'll run away with it but if Senators make the playoffs and Karlsson continues this way – he has to be in with a strong shout. Other possibilites include Seguin and Benn.
BetNHL.ca: Where was the action this week?
Sports Interaction: The Panthers got a lot of betting action. This was a bit of a surprise honestly because you might think hot streaks always means bets but that's not always the case. Really outside the Original Six, we rarely see a lot of betting action on a hot team. But everyone was betting them. We're also seeing more action on the Kings lately.
BetNHL.ca: Thanks as always. Canadians – do yourself a favour and sign up at Sports Interaction:
Follow @BetNHL
BetNHL.ca » Tonights Tips »