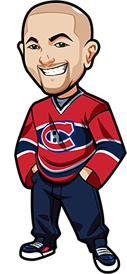 Written by Graeme on Friday, January 15th, 2021
Follow @BetNHL
Welcome to Day 3 of the NHL 2020/21 season.
It was another great night of hockey. Some real thrillers such as the Flames vs Jets, Wild vs Kings and Sharks vs Coyotes all of which went to OT.
For me the game of the night was the Capitals vs Sabres though. I just loved that those pesky little Sabres just wouldn't go away! Although I had tipped the Caps, I actually found myself cheering on the Sabres slightly when they scored either side of the 3rd period.
Betting tips night it was a 1-1 night. Brings our record to 2-2 for a -0.52u loss. The Caps won of course. Our other bet was the Over 6 in Rangers vs Islanders and that one didn't happen.
Rangers just couldn't get the puck in the net and were shut out there. We almost got lucky with that Islanders 5th goal in the 3rd period. Alas after initially allowing it, Rangers won the challenge for goalie interference. It was the correct call in my opinion.
I really liked the Jackets yesterday but luckily didn't tip them as they ended up losing to the Preds. My gut was right that the Oilers bounced back They were dominant from the get-go there.
Man – can I just say that yeah it's good for hockey to be back but I'm so much more happy at advanced metrics being back? I just love all that junk and looking at the charts etc. For example the 10 goal thriller with Caps vs Sabres? A total xG of 4.32. Just nuts.
We have a slightly quieter day of 5 games on the board today. I'll continue to analyze each game. I actually don't mind doing that honestly. Not saying I will keep doing it after the initial weekend but it's certainly tempting and I think good to look back on. (I make most of those notes in short form privately with Scott anyway).
Let's look through the games:
January 15th, 2021 NHL Betting Tips
Lightning vs Blackhawks:
These two meet for the second time in two days. Tampa absolutely demolished the Blackhawks 5-1 in the first game. What did we learn from the first game? Well the win was pretty much on par with teh game. This is one where obviously you look at a line like Lightning -1.5 and have to decide whether it is worth betting it or not?
The price is just a wee bit below 50%. Can the Blackhawks make the adjustments so they don't get blown out again? Lightning came out fast and hard but they still played solid the rest of the game and didn't really let up. They were a tad sloppy but with that quality it just doesn't matter. Subban did not look good either.
But this was just a generally dominant game and I'm fine going with that handicap here tonight. If you are able to put it down to first game nerves for the Blackhawks then so be it. I just can't talk myself out of going with Lightning -1.5 here. I'd think they would be a little bit stung Vasilevskiy didn't get a shutout and that will keep them motivated.
Canada: 1.93 Odds at BetOnline..
USA: -115 Odds at BetOnline..
Everyone Else: 1.93 Odds at BetOnline..
(Odds correct as of 2021/01/15 11:33:33 AM EST but are subject to change.)
Flyers vs Penguins:
It's difficult enough making bets when you only have data for one game between the teams. It's even more difficult when it's a game where they played each other! That's of course what we have here with the Pens vs Flyers. The line for O/U is 6 which is interesting as it was 6.5 on Wednesday and that's why me and Scott decided to stay away. Now after a 9 goal thriller it drops?
xG was below 6 in that one so makes sense. The Flyers offense looked the sharper with Hayes, Farabee and Giroux looking good. This is one of those spots I'm familiar with when it comes to the Penguins. I can give you about 10 reasons as to why they will be motivated to win. The loss last time. They won't play Philly again until like March etc. Really out for revenge. However they disappoint a lot in that spot.
Flyers had no issues with putting their 4th line against the Pens top line either which was impressive. On the ice, Pens just didn't do enough for me to warrant backing them. Not sure we can factor in as much sloppy play or defensive mistakes like in Game 1. I'll skip this one, although the over is very tempting.
Senators vs Leafs:
The Battle of Ontario. Leafs have won the last three between these two. We haven't seen the Senators yet this season. The Over is the most tempting play. Sens should be right up for this game with it being the first game, and also it being against the Leafs. The Sens defense looks like it is going to take a pounding tonight though and the question is whether their offense can dictate the goals.
Leafs should feast on the Sens. I just don't know if the Sens have what it takes to make up the goals if that's the case. Last season they scored 2, 1 and 3 against the Leafs. You might think based on my thoughts that Leafs -1.5 would be the play but I just don't have that level of confidence in the Leafs for that. So no play.
Sabres vs Capitals:
Really no play on this one. It was messy yesterday and now on a B2B against each other? Nah I'm going to stay away. The Caps though – I think they will be pretty darn solid this year once they get things figured out. The defense looks to be playing a much bigger part in offense and that will be good for them once they all gel.
Samsonov looked nervous as hell but that's understandable. That's the type of thing to think about and what a big factor it is early on but won't be later on.
Avalanche vs Blues:
No bets for this one either. Blues were dominant throughout and deserved their win. Advanced metric wise it was Fenwick and SCF where they really stood out. Based on yesterdays game, Blues are probably a good bet mathematically. If we look at last seasons Avs, they were slightly positive for the bounce back. Not enough to dub them a bounce back team though.
That first period – man. Grubauer was the one that saved it from being a demolition job. Avs just came out flat and they looked like they had no chemistry at all. I gotta say the absence of EJ was really noticeable last night. There was also a tremendous save Binnington made when it was 2-1 with a couple minutes left in the 2nd that could have changed the game.
Based on everything I saw yesterday, I think the Blues are a solid value bet tonight altho that might be only if Binnington is in net. I just can't bring myself to advise it here. It's such a different situation right now and I feel I have to be cautious.
Follow @BetNHL
BetNHL.ca » Tonights Tips »