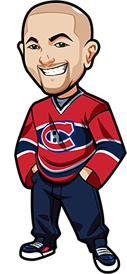 Written by Graeme on Saturday, January 16th, 2021
Follow @BetNHL
The Toronto Maple Leafs were practically coinflip odds favourites to win the NHL North Division.
The Ottawa Senators were 100/1 odds to win.
Just thought I'd throw that little fact out there after the Ottawa Senators toasted the Leafs last night! A 5-3 thrashing. Absolutely glorious.
One of my friends who is one of those Leafs fans explained to me this morning that the reason for it is the Leafs are just too good. Yeah that makes sense. I know last night as that 5th goal slipped in to essentially a wide open net, I turned to my wife and said "Goddamn just give the Leafs the cup already".
Boy did I ever love that.
Another fun night of hockey. Flyers and Lightning dominated their opponents again, and the Avalanche got a wee bit of revenge on the Blues with an 8-0 thrashing.
Sabres absolutely dominated the Capitals and so of course – lost 2-1. You couldn't pay me to be a Buffalo fan.
Ton of games today and it all kicks off at 1pm EST. Let's look through the games:
---
Devils vs Bruins:
These two teams had a tight one with the Bruins winning thanks to a shootout.
Bruins deserved the win I'd say although they didn't really blow me away. Rask was in net then and Halak is in net now. Rask was the overall better goalie last season so that's better news for the Devils.
I'd like to back the Devils here and I think they are going to have a decent season once they gel more based on that first game but I just don't have the confidence. They're missing a few players, and it's a new coach and a new system etc. Going to take time to adjust.
I think Devils are an okay value bet today. I just don't have enough confidence to back them here.
---
Coyotes vs Sharks:
Sharks won in a shootout in the last game. It was an extremely tight game that could have went either way. I'd say Coyotes were the better team though after a tough start.
Odds wise Coyotes aren't worth a play here though – I just don't see the value based primarily on hype. I'd like to take the over as I think Coyotes will start off better and stronger. Sharks will also be confident after that last performance. That's all just a gut feeling though and I don't have the data to back it up.
---
Red Wings vs Hurricanes:
The first game between these two was just an incredible dominant performance from the Canes. A well deserved 3-0. It started slow for them despite the early goal but they really got their groove on a few minutes into the 2nd period and didn't look back.
I see similar tonight. I'd much rather take them in regulation tonight just based on how early it is in the season. However when I look at the strength of the teams and what we expect from them this season, as well as that last performance, I've got to give the Canes more than a 50% chance of covering the spread.
Therefore Hurricanes -1.5. It's 2.10 / +110 pretty much everywher.e
Canada: 2.10 Odds at Sports Interaction (SIA) + free $20 bet.
USA: +110 Odds at GT Bets..
Everyone Else: 2.10 Odds at Casumo
(Odds correct as of 2021/01/16 10:49:02 AM EST but are subject to change.)
---
Oilers vs Canadiens:
This should be a banger of a game. If the Habs play like they did against the Leafs it should be a nice high scoring game. Oilers actually haven't had too high an xGA yet this season despite the goals against.
I think this game is high scoring and if you look at the recent games between the two, it's likely. They match up well in that regard.
You have no idea how badly I want to back that over 6.5 in this game. I basically spent 20 minutes trying to convince myself not to. However the only thing that is truly stopping me is the odds. The price just isn't there to back it. If it was like 2.20 or something I would see some value in it but mathematically, I just don't think it's there.
---
Rangers vs Islanders:
Game 1 did not go as I expected. It was an utter dominant victory from the Islanders. Like a ridiculous domination.
Is that a one off? Rangers will give Georgiev a chance here. They'll have to stop giving up so many penalties.
Honestly when you show me a performance like that, and then you essentially give me coinflip odds on them? I'm not going to overthink it. To me it's a relatively easy bet to make until the Rangers prove themselves.
Islanders Win Incl OT/SO
Canada: 1.86 Odds at BetOnline..
USA: -115 Odds at BetOnline..
Everyone Else: 1.86 Odds at BetOnline..
(Odds correct as of 2021/01/16 10:49:02 AM EST but are subject to change.)
---
Senators vs Leafs:
No bet here. I think Campbell being in net will be a good thing for the Leafs. They were not a bounce back team last season. However do you remember when they got blown out by the Pens then came back 2 nights later and put on an absolute clinic? I have a gut feeling they do something similar tonight. Not backing them though and I hope they get gubbed.
---
Predators vs Blue Jackets:
Preds got the 3-1 win in the opener. That Domi line for the Blue Jackets was brutal. Will be interesting seeing if Torts can find the magic touch for this one. Honestly I don't think so and I lean Preds here. Curious to see if it was a one off for the Jackets or if they are going to continue to struggle.
---
Kings vs Wild:
Wild got the 4-3 win in OT but I don't think it was really deserved. I was impressed with the Kings who I felt were just unlucky in that last period. Kaprizov should give the Wild confidence though. He was looking great.
Honestly looking at the last game, I actually think the Kings have value here. Here's the one issue: mentality. After that big comeback, combined with the overtime goal and the performance from Kaprizov? Wild are going to be on a freaking high and loving life. For me that could be the deciding factor.
So on paper, I think Kings have value. But I think when we factor in player mentality, Wild should take this one.
---
Knights vs Ducks:
Absolutely no value on the Knights here. Ducks are a massive price. I wouldn't hate on anyone for betting on them. But based on everything we have so far the Knights should be taking this one.
---
Flames vs Canucks:
So nice to see a game between two teams who didn't just play each other. Canucks beat the Oilers then lost to the Oilers. Flames had that thriller with the Jets.
Over at 6.5 is too high for me. Honestly the Canucks are tempting at their price, and I think they are a borderline pick. Problem is if the Flames key players step up they should be able to take it. I mean you had guys like Lucic just playing one of their worst ever games etc. Flames are on paper the better team.
It's very borderline. Flames generally were pretty decent on the bounce back last year though so I'm going to stay away.
Follow @BetNHL
BetNHL.ca » Tonights Tips »