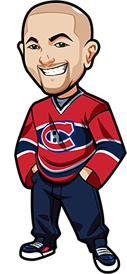 Written by Graeme on Friday, January 16th, 2015
Follow @BetNHL
1-2 last night.
Our win was with the Ottawa Senators, who beat the Montreal Canadiens 4-1, and ended the Habs awesome winning streak on the road.
The losses, in retrospect, were a lot more interesting.
I tipped the Sabres to win, and of course they got drubbed 7-0. Full credit to the Wild there as well, but that was a very poor showing by the Sabres. They just didn't look into it. It's sad as I watched every Sabres game during that epic home run 6 weeks back, and I know what they're capable of so it was very frustrating watching that.
We also lost with the Over in Dallas vs Winnipeg – but that's a bet where I'd make time and time again. There's just nothing you can do when a goalie stands on his head as Pavelec did last night. 1 goal by the Stars in that 2nd period would have opened that game up.
Was hilarious though as I'm waiting that Stars goal, and they get a 4 minute power play and it's like "Here it is"….and then Winnipeg score. Amazing stuff.
Anyway – it's Friday, Friday, Gotta Get Down on Friday, and it's time for our weekly chat with our friends over at Sports Interaction where we get their perspective on betting manners.
Let's get to it:
BetNHL.ca: The All-Star break is coming up. Always an interesting time – some teams barely hanging on to make the playoffs, others already given up and rebuilding. What should we be looking for betting wise at the moment?
Sports Interaction: It's a very interesting time in the NHL – because yeah, in the next few weeks the GMs have to decide if you're going to make that strong push for the playoffs, or just give up. So we'd recommend splitting the teams into those sort of groups, then betting accordingly based on that.
Oilers, Hurricanes and Sabres have already pretty much given up, and it looks like with Dubnyk leaving the Coyotes that they're also doing the same thing. You can't really trust those teams at this point of the season – as you guys unfortunately learned last night! Speaking of – the Wild are a team to focus on over the next little while. They've paid a good amount of money for the team they have, yet haven't shown that at the moment. This is a team we think will start picking up the wins over the next couple of weeks.
BetNHL.ca: One thing that I find with a lot of new bettors is they focus purely on picking winners. Some won't even bet on over/under or factor in the puck line. I've sat there with friends and told them about the 30+ bets Sports Interaction offers every game and their eyes just glaze over. Thoughts on that?
Sports Interaction: I think the best thing to do is to educate them and start them off slowly. Show that there are really 3 basic betting options they should factor in. Moneyline, puckline, and the total, with 6 options to bet on. Then start getting them to focus on more than just the money line. I mean look at Graemes team, the Habs. Moneyline you don't get a lot of value on them, but they've been huge on the puckline all season, and also great when it comes to the Unders, with a 22-13 record for the unders.
BetNHL.ca: What's happening with the Kings at the moment?
Sports Interaction: Obviously they're not doing the business, but with 2 cups in 3 years, you have to remember they are a team that can still turn it on when needed, which they've did in the last few years. It is concerning how many goals they're giving up though. We'd like to think they are on the tail end of this bad run, but it might be wise to stay off them until after the all-star break.
BetNHL.ca: Thanks guys. Everyone should sign up at http://www.SportsInteraction.com due to the amount of bets that they offer and the fact that you get up to $125 free on your first deposit. Now onto todays tips…
Rangers vs Blue Jackets Betting Tips:
Going to go with Under 5.5 goals here. Currently 1.70 at http://www.5Dimes.eu for Americans(Need to register to see lines) and and http://www.Bet365.com for everyone else..
Rangers are really struggling to score the last couple of games. The thing with the Rangers too is a lot of it depends on how they come out to approach a game. I mean against the Sharks, Kings & Ducks they come out flying and ready to go. But after playing last night we think they'll come out a bit slow, which is where they really struggle. Blue Jackets battled well against the Habs, and have had the day off to rest. Bobrovksy is in net too tonight – and really when you have two quality goalies in net who you know can perform – it's always nice to back the Under.
Capitals vs Predators Betting Tips:
Have to go with the Capitals at a nice price of 2.30 odds.
Capitals are playing some excellent hockey at the moment. So are Nashville, but that's on the back of Pekka Rinne who has been bloody amazing. He's injured, and you have to think that will hurt their confidence a lot. Predators are still an excellent team, but without Rinne I see this game as more of a coinflip and will take the Capitals for the win at that price at Bovada for Americans and http://www.Bet365.com for everyone else..
Blackhawks vs Jets Betting Tips:
Will take Blackhawks -1.5 at 2.25 odds.
Jets have beat the Blackhawks twice already – both times in Chicago. Fairly impressive. Blackhawks are nice and rested, and you have to hope are really focused on this game. Jets are coming off that long, hard game against Dallas last night.
I think the Blackhawks will take the Jets to school tonight.
Follow @BetNHL
BetNHL.ca » Tonights Tips »