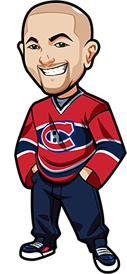 Written by Graeme on Wednesday, January 17th, 2018
Follow @BetNHL
It was a 1-1 night last night with the NHL tips, and a real kick in the crotch night too.
Things were looking great for a 2-0 night with the Rangers game going over easily in the 2nd, and the Islanders/Devils putting up 5 goals early on. Unfortunately the Devils/Islanders surprisingly went 0-0 in the 3rd period.
In situations like that, it's a good time to remind you that the online sportsbook Bet365 (Americans: We recommend http://www.bovada.lv has a cashout feature which allows you to cash out your bets early on at a reduced price. When all odds are equal, I personally bet at bet365.
In saying that, the odds for that one probably wouldn't have been worth cashing out at that point but it's still something handy. To use an example from soccer recently – I was out at a restaurant with a friend watching the Arsenal vs Chelsea game. Arsenal scored to go up 1-0 at the 63 minute mark.
For fun we bet on Chelsea to win at 8/1 odds. Sure enough Hazard scores 4 minutes later then Mendoza scored with 5 minutes left to play. I'd bet $150 to win $1200 and I could cash out for an $1181.30 return at that stage. I was quite happy to do that and did so: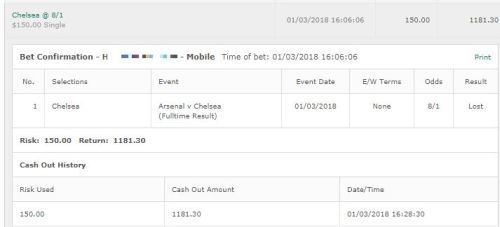 And if you follow soccer you'll know that Arsenal scored in injury time causing the bet to be a loss – but as I cash out, I was all good.
I don't take advantage of it too often in hockey but there are times where I'll do a multiple unit bet, regret it after watching the game but then see a favourable spot to cash out. If I had the Leafs last night for example to win, I might have considered a cash out if I had a feeling they were shaky and that the Blues might score.
Another nice reason to bet at B365 is their early payout offer. If you bet a team to win on the money line and they go ahead by 3 goals they pay out the bet! Even if they end up losing. I've won money on that before as they have the same rule with the NFL – if a team goes up 14-0 they pay out the bet immediately.
I personally can't recommend Bet365 (Americans: We recommend http://www.bovada.lv enough for little things like that. Like I said above if the odds are equal, I find myself betting at B365 more than any other book.
Alright it's January 17th, 2018 and we've got just two games on the board. Bruins vs Habs and Ducks vs Penguins.
No Tips Today. Nothing we feel strongly enough about to even wager 0.5u on it. Some quick analysis:
Bruins vs Canadiens: To back Bruins we'd have to take it in regulation and we aren't too sure on that one. We were both very concerned with their performance against the Stars. It's probably a blip and they'll dominate against a trash Habs team but throw in the rivalry between these two and that's a bit off putting. We looked at the over with it being a rivalry game and all but they have played 5x in the last 2 seasons with 3 of those games going under. Throw in Bruins home stats and Habs road record – last 4 on the road they scored 0,1,1 and 1 and it's just not worth advising. Granted a couple of those games involved a GOOD Carey Price so we'd lean over.
Penguins vs Ducks: Scott likes the Penguins tonight but I still don't have confidence in them. Maybe they're coming off the bye week and hitting the rest of the season hard but I need more than home wins over the Rangers and Red Wings to have faith in them at this point. As underdogs and possibly out for revenge(Ducks beat them 4-0 on the 23rd) it's very close to a 0.5u play but I just can't pull the trigger. Best I can get is 2.10 odds and I think I'd need at least 2.15 to play it.
If you're Canadian, this is an excellent spot to back the Penguins by using the $20 free money line bet available at Sports Interaction. If you're not Canadian – man, don't move here. I can't remember the last morning I woke up without having to shovel piles of snow in -30 weather. It sucks.
OHL / WHL / AHL / KHL Betting Tips:
(All below systems are based mainly on mathematics and statistics with very little human input and are deemed experimental. )
WHL Betting Tips (19-16, +1.70u): Swift Current Broncos incl OT/SO at 1.74 odds.
AHL Betting Tips (13-14, -1.22):Syracuse Crunch in reg 1.72.
OHL, WHL & AHL & KHL Betting:
Canadians: Bodog and 888 Sports.
Americans: Bovada.
Everyone Else: 888 Sports.
Follow @BetNHL
BetNHL.ca » Tonights Tips »