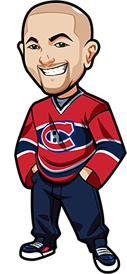 Written by Graeme on Thursday, January 17th, 2019
Follow @BetNHL
It was an 0-2 day yesterday with the NHL Tips although a 3-0 day with the OHL and AHL Tips. Hopefully some of you followed those!
There was some discussion yesterday in the comments in regard to the playoff race being "on" – in terms of teams know who they are, where they are and whether they are capable of the playoffs or not. I never had the chance to chime in yesterday so thought I'd write my thoughts here.
First – my own opinion is that it really doesn't begin until post all-star weekend. Teams are more just looking towards that break. I think that it truly begins after that with no more interruptions until the season ends.
It's always an interesting time. One of the biggest traps you can fall into is believing a team must win or their playoff hopes are dead. Two examples from last season for that would be the Calgary Flames and the St. Louis Blues. The Flames had a few critical games that they needed to win but lost and got blown out.
One particular one comes to mind – they had just been beaten by the Sharks 7-4 then the Knights 4-0 and were going up against the Coyotes. A lot of bets were on the Flames that game (we tipped it too) knowing it was a must-win as they were 4 pts behind the final wildcard spot. Coyotes thumped them 5-2 and that led to a much longer losing streak.
Always be careful of that. The Flames is a very interesting one to study. If you look deep into February and early March they weren't showing a lot of fight in the games they were losing. If you're a playoff team you need to be showing that fight in every game and also getting the puck in the net.
On the flip side look at the Florida Panthers. We made a good bit of money on them last season going down the stretch. I backed them a lot in late Feb/March as they were a team showing a lot of fight and someone who most likely deserved to be in the playoffs.
Remember too that in cases of a team who is looking to fight right till the end of the game – if they have tough opposition, that's where overs can be more likely. Because they're going to keep pounding away.
And of course a lot of the bigger teams can have complacency. It's where live betting can be profitable too. Look for those teams that go down a goal or two and go in at the end of the 1st losing before fighting back. Capitals can be like that a lot of times.
Simply knowing teams are pushing for the playoffs doesn't make for easy bets. But March has been more biggest winning month for 3 of the 5 full seasons we've been doing these tips and there's a reason for that – being able to spot those trends and avoid the "must win" games. February has also been a very profitable month for us and we've never had a losing February yet. Let's hope that continues. No guarantees, but post all star break is always my favourite time for betting and watching hockey.
Blackhawks vs Rangers Betting Tips:
My favourite thing in sports is when a coach rips a team apart and they immediately respond. It happens the majority of the time and I was so happy to see that happen with the Rangers after that loss to Columbus. They responded big time with that 6-2 win over the Canes.
The Rangers offense comes in with 11 goals in their last two games. They are fired up. Blackhawks are the Blackhawks. Fighting every game and putting up the numbers.
1u on Over 6.5 incl OT/SO
Canada: 1.91 Odds at Sports Interaction + free $20 bet.
USA: -110 Odds at Bovada.
Everyone Else: 1.90 Odds at Bet365 (Americans: We recommend http://www.bovada.lv.
(Odds correct as of 2019/01/17 9:17:53 AM EST but are subject to change.)
Leafs vs Lightning Betting Tips:
The Leafs are in somewhat of a slump and now they get to take on the NHLs best team in the Tampa Bay Lightning.
I must admit I have my concerns about the Leafs and their fight at the moment. In saying that, I've usually been able to count on them to bring the goods against the elite teams in the NHL. They may not win, but their opponents will know they've been in a fight.
So it is with caution that I go with the over in this game. It's a risky one of course with Vasilevskiy a quality goalie, Andersen back and shaken off the rust, the Leafs performances etc. However the team let Andersen down in that Avs game and I've got to think they'll step it up. Sure that means their defense will step it up too but Leafs defense isn't the biggest worry.
0.5u on Over 6.5 Goals incl OT/SO
Canada: 1.76 Odds at BetOnline..
USA: -140 Odds at Bovada.
Everyone Else: 1.76 Odds at BetOnline..
(Odds correct as of 2019/01/17 9:17:53 AM EST but are subject to change.)
Just the two plays tonight. I was extremely close to taking the Islanders and had write-up all done. However I started diving into the advanced metrics for both of these teams and their performances in games going back to just after the Christmas break and it turned me off. I think Devils have a strong chance at taking that one, however I'm just not ready to take a risky bet against a confident Islanders team.
OHL / WHL / AHL / KHL / Czech Extraliga Betting Tips:
(All below systems are based mainly on mathematics and statistics with very little human input and are deemed experimental. )
OHL Betting Tips (14-11, +0.91u): 0.5u on Sault Ste Marie Greyhounds in reg at 1.89 odds.
Where To Bet the Non-NHL Leagues:
Canadians: Bodog and 888 Sports.
Americans: Bovada.
Everyone Else: 888 Sports.
Follow @BetNHL
BetNHL.ca » Tonights Tips »