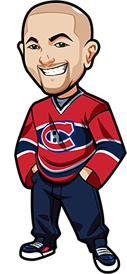 Written by Graeme on Wednesday, January 18th, 2017
Follow @BetNHL
What a crazy night of hockey it was last night.
One thing you'll rarely see here is us tipping the Unders in an Over/Under. We generally have to be extremely confident for us to go with the unders. Yesterday when we looked at the games and lines we both had a feeling the Stars/Rangers game might go under.
So we looked into it to see if we'd do a rare under bet(first of the season I believe) and all the stats matched up. Everything pointed towards an under and we went with it.
So I hope you all enjoyed our first and LAST under tip of the season. Holy shit. Soon as that first goal was scored in 20 seconds we just knew how that game was going to go.
The Leafs salvaged the night for us slightly with a battling performance against Buffalo. They were down 2-0 but came back to win it. More and more these days they're looking like a playoff team. I'm very conflicted because on one hand living in Ontario I pay attention to the Leafs more than most teams, and I'd like them to make the playoffs. On the other hand they probably have some of the most unbearable fans out there(next to the Oilers) so there's part of me hoping they crash and burn.
We move onto Wednesday, January 18th.
Canadiens vs Penguins Betting Tips:
I saw a lot of media touting up the Habs "better defense" after the game against the Red Wings but I'm not sure if that's the case. There were some improvements but the Wings aren't exactly an offensive juggernaut.
The Habs offense is my main concern but they're on fire at the Bell Centre while the Penguins concede a ton on the road. The Pens are playing some really open games at the moment and I just hope after that Capital games their offense can keep it going. We've seen them drop before – beat the Rangers 7-2 then lost 7-1 to the Jackets for example – but that was a big win for them and they'll be doing everything they can to keep the momentum going.
Over 5.5 Goals.
That's the only tip we have tonight. We were extremely close to taking the Red Wings over the Bruins but after examining the stats fully we just couldn't pull the trigger despite the Wings being a nice price at home.
Mathematical/Experimental Betting Systems:
(All below systems are based mainly on mathematics and statistics with very little human input and are deemed experimental. Previous Records: OHL 15/16 28-15 (+17.15u)
WHL Betting Tips(22-21, -3.02u):
OHL, WHL & AHL Betting: Kelowna Rockets in regulation at 2.10 odds.
Canadians: Bodog and 888 Sports.
Americans: Bovada.
Everyone Else: 888 Sports.
Follow @BetNHL
BetNHL.ca » Tonights Tips »