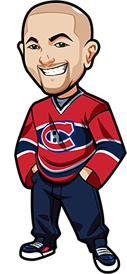 Written by Graeme on Friday, January 18th, 2019
Follow @BetNHL
A 1-1 night for a profit last night with our 1u play winning and our 0.5u play losing.
Our OHL play won with ease as well. Hope some of you followed!
Our win was with the Blackhawks vs Rangers game going over. That one trended that way but it was a nervy ending with us having to rely on an empty net goal with 18 seconds left then a Blackhawks goal with two seconds left. Always nice when you're on the right side of those ones.
We also had the Leafs/Lightning game to go over 6.5 goals but alas that didn't happen. It looked good after the 2nd period but only one goal was scored in the third.
I also was extremely close to taking the Islanders yesterday but after looking at advanced metrics/ice workrate etc talked myself out of it. Wish I hadn't as they performed a demolition job on the Devils. A fast 1st period put them up 3-0. Funnily enough looking at the metrics I expected that but was worried complacency would set in. It didn't as the Islanders held on and won 4-1.
Stars lose again. What a mess of a team they are. And what a win for the Jets. That was a big win for a team fired up about their whole "easy schedule".
Let's get to the tips for Friday, January 18th:
Red Wings vs Flames Betting Tips:
The Calgary Flames are such an interesting team. One of those teams who have generally lost faith in their goalies so have to go all out offense pretty much every game. That didn't stop them going on a nice run that was halted by the Buffalo Sabres.
There's no trend that indicates following a loss the Flames tighten up so that's good to see. They are going against the Detroit Red Wings who are playing some of their best hockey lately. They are fighting every game and throwing in a lot of great performances. They're actually not doing too shabby at limiting chances either although the Flames offense should find a way through.
Flames hopefully have their eye on this game and not the Battle of Alberta that takes place tomorrow night.
Random thing – but even though we decided to go with 0.5/1/2u plays this season, we just aren't comfortable going with 2u plays. We may bet bigger ourselves but when it comes to the tips, we generally like to stick to 0.5/1. For the record I wanted to do Rangers/Hawks 2u yesterday, and I also want to do this one 2u today too. I think when there is a "2u" play that I'd like to tip I'll just start mentioning it even though it will still be a 1u play in our stats, and maybe that will help us be more confident in advising it.
1u on Over 6.5 Goals incl OT/SO
Canada: 1.95 Odds at Sports Interaction + free $20 bet.
USA: -115 Odds at Bovada.
Everyone Else: 1.86 Odds at Bet365.
(Odds correct as of 2019/01/18 8:53:06 AM EST but are subject to change.)
Leafs vs Panthers Betting Tips:
A couple of woeful performances from the Panthers lately as they didn't seem to enjoy that Canada road trip at all. Man who would think a bunch of players who spend most of their lives in the sunshine state would have a miserable time in -15 degree weather.
They're back at home now where win or lose you can usually count on a solid performance from them.
Leafs are the Leafs. Coming off a back to back win against Tampa. Last back to back game they played saw that 4-0 loss against the Islanders but I saw that one coming. I don't feel that way with the Leafs today. I think they'll be up for this game and the offense will feel confident.
1u on Over 6.5 Goals incl OT/SO
Canada: 1.80 Odds at Bet365.
USA: -135 Odds at Bovada.
Everyone Else: 1.80 Odds at Bet365.
(Odds correct as of 2019/01/18 8:53:06 AM EST but are subject to change.)
Capitals vs Islanders Betting Tips:
Trotz returning to Washington. Being honoured. Islanders on fire.
I know how the Caps are. They're mean bastards. They'll probably want to score 50 goals and celebrate each one right in front of Trotz.
Holtby is expected to be back which is huge news for the Caps but who knows if he is 100% and if he is rusty.
Either way I think this one is worth a small play at the price.
0.5u on Islanders incl OT/SO
Canada: 2.45 Odds at Bet365.
USA: +145 Odds at Bovada.
Everyone Else: 2.45 Odds at Bet365.
(Odds correct as of 2019/01/18 8:53:06 AM EST but are subject to change.)
OHL / WHL / AHL / KHL / Czech Extraliga Betting Tips:
(All below systems are based mainly on mathematics and statistics with very little human input and are deemed experimental. )
OHL Betting Tips (15-11, +1.36u): 0.5u on Sudbury Wolves incl OT/SO at 1.91 odds.
WHL Betting Tips (25-9, +7.58u): 0.5u on Seattle Thundebirds incl OT/SO at 2.20 odds.
Where To Bet the Non-NHL Leagues:
Canadians: Bodog and 888 Sports.
Americans: Bovada.
Everyone Else: 888 Sports.
Follow @BetNHL
Best America Sportsbooks for NHL
BetNHL.ca » Tonights Tips » January 18th, 2019 NHL Betting Tips