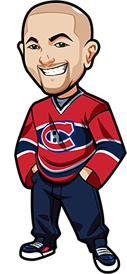 Written by Graeme on Thursday, January 19th, 2023
Follow @BetNHL
No tips yesterday.
It was a good night of hockey. Tampa got a good 5-2 win on the road in Vancouver. Sharks vs Stars was a banger with the Sharks coming out ahead, and the Avs got a bit of a surprise win over the Flames.
Big performance from Georgiev and a tad frustrating for me as I mentioned last week briefly, I'm working on an over 2.5 team goals parlay system. Had 3 picks last night and Tampa and Ottawa both delivered. Just needed the Flames, so frustrating watching that one.
Still – happy with the system so far. With no fine tuning yet, it's at about a 74% win ratio and currently profitable (albeit with only a few weeks worth of data and a 12/1 parlay coming in). Think with fine tuning, selective picks etc it can be an overall profitable betting system. I don't know if I'll have anything from it this season, but may roll it out in March if I feel good about it.
It's a busy Thursday so let's get right down to business. A note that Bovada is currently down for maintenance as I do the odds so they might have better ones and worth checking Bovada when they are back up.
Jackets vs Ducks:
Jackets favoured. Neither team really someone you want to back though are they? I'd almost rather take a shot on the Ducks. If the metrics agreed with it, I'd give it a shot. Alas, the Ducks defensive metrics are too brutal to do so. Their saving grace here is the Jackets struggle to score.
Big gamble though and not one I'm interested in.
Rangers vs Bruins:
Rangers come in with one regulation win in their last five. That was a 3-1 road win away to the Jackets and they have a loss to the Habs in there. What a disappointment they are this season. Coinflip odds against the Bruins, who played last night.
Metrics have Bruins as the better team no surprise although Rangers have a much better Corsi, slightly better Fenwick, and better xGF.
The B2B isn't really a concern based on Bruins past 2nd leg B2Bs. Rangers are expected to have Kreider back which will be a bonus, but looking at it all I think the Bruins are an +EV bet.
Bruins to win incl OT/SO
Ontario: 1.92 Odds at Sports Interaction (SIA) - Non-Ontario bet $10 get $200
Canada: 1.92 Odds at Sports Interaction (SIA) - Non-Ontario bet $10 get $200
USA: -104 Odds at BetOnline.
Everyone Else: 1.96 Odds at BetOnline.
(Odds correct as of 2023/01/19 8:14:20 AM EST but are subject to change.)
Flyers vs Blackhawks:
Flyers rebounded from that thumping by Boston to defeat the Ducks at home. Now they're going against a Blackhawks team who have been pretty darn good lately actually. Seems we see this every season from Chicago. There comes a time where the pressure is off and they just start banging. Then you have faith in them and they let you down.
Philly should get the win here though. They're playing well. We're seeing them work good together. Better metrics across the board pretty much. It's tricky as part of it feels goalie dependent – but on Ersson, not Hart. Hart is still a liability although I do think it's opponent dependent and he should be fine if playing tonight.
In saying that, Flyers in Regulation if Ersson in net. I'm not ready to trust Carter quite yet especially with the Blackhawks consistently scoring.
Ontario: 1.80 Odds at Bet365 (Americans: We recommend http://www.bovada.lv
Canada: 1.80 Odds at Bet365 (Americans: We recommend http://www.bovada.lv
USA: -145 Odds at BetOnline.
Everyone Else: 1.80 Odds at Bet365 (Americans: We recommend http://www.bovada.lv
(Odds correct as of 2023/01/19 8:14:20 AM EST but are subject to change.)
Canadiens vs Panthers:
The Habs have strung two regulation wins together!!!! Hand us the cup. Only the 2nd time all season. Habs hockey sucks right now.
Florida still have that inconsistent tag for me. By all accounts, they should beat Montreal but their defensive metrics are concerning and no way in hell am I taking them -1.5 on the road. The over is slightly tempting but the Habs offense and the Panthers SCGF/60 put me off.
Hurricanes vs Wild:
Canes come in off that SO loss to the Canucks. Wild come in on a couple of nice results including a 4-2 road win over the Caps.
Don't see anything I like in this one.
Leafs vs Jets:
Leafs got back on the winning track on Tuesday with a 5-4 win in OT against Florida. The Jets put up a stinker in Montreal.
It's tricky as I like the over in this one. Both powerful offenses with great metrics. But despite a couple of blips, Hellebuyck can be tough. Samsonov – who is projected – you don't really have to worry about too much although he does have the ability to show up, as we saw in December with two shutouts in a row against the Ducks and Kings.
The Leafs didn't have any trouble putting the puck past Connor back in October though.
I think there's enough to go with Over 6 OT/SO which is -113 / 1.88 odds at BetOnline.. I know some other bookies are doing 2.00 odds for over 6.5 but I'm going with the over 6 myself.
(Odds correct as of 2023/01/19 8:14:20 AM EST but are subject to change.)
Sabres vs Islanders:
Buffalo struggling a bit at the moment. Islanders as well. Neither really has any appeal. Nothing on the over either.
Blues vs Predators:
Bookies have this almost as a flip. Blues logged a tight 2-1 win over the Sens. Preds ended their long road trip badly, and regrouped slightly with two 2-1 wins over the Jackets and Flames.
Neither team really overwhelming me at the moment. Looking at the metrics, you could maybe make a case for the Preds but not enough for me to back it.
Oilers vs Lightning:
Oilers on a nice 4 game winning run. Tampa also surging, although on a B2B on their 4th road game in a row. Both powerful offenses but GA/60 and even the other defensive metrics cancel that out somewhat. Nothing I see here.
Coyotes vs Capitals:
No. Just no. I mean the metrics scream this is where the Caps get back on track, In regulation price is nice. It's begging for a play. But the Caps are not the team to back in this type of spot. They also lost to the Coyotes last time they played.
I mean they really, really should win here. But their offense is in a bad slump as is their power play.
Golden Knights vs Red Wings:
Knights two losses in a row. The metrics don't even make them stand out that well here. Easy skip.
Kraken vs Devils:
Not touching this one. Don't have the confidence yet in the Devils. Kraken are streaky so they LOOK like they're going to go on a 6 game losing run now but it's hard to ignore that ridiculous road trip, and by the metrics last 10 they're the better side.
Kings vs Stars;
Kings a few days rest after that Devils lost to regroup. Dallas on a B2B after losing to San Jose. I expect Wedgewood will be in net.
Kings price seems nice. Their metrics look good. Getting the goals in. It will regress slightly but this should be a good matchup for them.
Kings do have quite a few injuries in the offensive ranks which is tough. But then the Stars also without Hintz. We gotta take the Kings here and I'll go with Kings incl OT/SO as concerned a tad about the quantity of goals conceded lately, so Dallas could push them.
Ontario: 1.80 Odds at 888 Sports.
Canada: 1.80 Odds at 888 Sports.
USA: 1.82 Odds at BetOnline.
Everyone Else: 1.80 Odds at 888 Sports.
(Odds correct as of 2023/01/19 8:14:20 AM EST but are subject to change.)
Follow @BetNHL
BetNHL.ca » Tonights Tips »