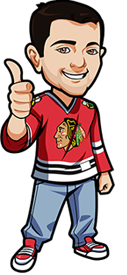 Written by Scott on Wednesday, January 1st, 2020
Follow @BetNHL
Happy New Year. Hopefully you had a great time celebrating.
We had two tips yesterday and both were losses. With the way betting has been the last month, I can't say im surprised.
Had the Bruins to win in regulation against the Devils but the Devils won 3-2 in a shootout. The Bruins were up 2-0 early in the 2nd period but the Devils came back to force a shootout out. This needed 6 rounds and it was Damon Severson who sealed it for New Jersey. The Bruins have had success against the Devils all year so I still feel like I made the right call even though it was a loss.
The other tip was the Panthers to beat the Blue Jackets. Zach Werenski scored in the first period and two more in the third when the Jackets won 4-1. Elvis Merzlikins got the start for the Jackets and picked up his first career NHL win. Bobrovsky took the loss for the Panthers and this was his first return to Columbus after leaving as a free agent. The odds were great for a Panthers win and all stats pointed towards a Florida win but what can you do?
There is only one game today. Its the Winter Classic at the Cotton Bowl between the Nashville Predators and the Dallas Stars. I'm going to avoid making a tip for this game. Outdoor games are far to tricky to predict and so many things come into play. The weather is hard to predict, the ice surface will pose a problem and for the players playing outside instead of an NHL arena is something they aren't used to. The outdoor games look nice and it's a great time the city I'm sure. But when these games count in the standings one team will hate the results and when it comes down to the end of the year it would be terrible if you missed the playoffs by a couple of points knowing that the outdoor game had something to do with it.
I'll avoid a tip and instead just enjoy watching. Like I said these games always look great. If you had too much fun celebrating last night then today is a perfect day to relax on the couch.
Let's hope 2020 is a new start for us and the games start to play out like the should.
Follow @BetNHL
BetNHL.ca » Tonights Tips »