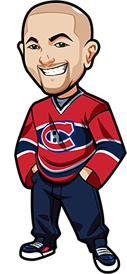 Written by Graeme on Saturday, January 1st, 2022
Follow @BetNHL
We end 2021 on a winning note, as we went 2-0 with the NHL Tips.
Hope everyone had a good New Year. We did thanks to the Knights yesterday, who got the nice and solid win over the Anaheim Ducks.
The Rangers/Lightning also added to that one with the over 6.
We've got a pretty busy Saturday so let's get into it. Short write-ups because still trying to get back into the swing of things, plus I may have had a few too many last night.
Bruins vs Sabres:
Haven't seen Boston since the 16th. Probably a full strength team. Anyway the odds are ludicrous for them. They're not even a team you can really rely on this season. I'd rather risk money on the Sabres if anything.
Blue Jackets vs Hurricanes:
Jackets coming off that win over the Preds. They've had better performances lately. Canes have had a few tight ones on the road. Would have to be Canes in regulation and don't feel confident enough in it. They likely do cover that though.
Panthers vs Canadiens:
Panthers coming off that big win over the Tampa Bay Lightning. Montreal still with a hefty COVID list. We'd have to take Panthers -2.5 and no thanks – they haven't covered that too often. Twice in their last 14 games I believe. No thanks.
Predators vs Blackhawks:
Not betting the Preds right now.
Islanders vs Oilers:
Oilers struggling a fair bit. Coming in on a B2B. Islanders off until January 13th after this so have to expect a big effort from them. Islanders have Aho and Nelson out due to COVID Protocols.
Seems like a good spot for the Islanders. Obviously the Oilers are no pushovers. Koskinen expected in net. An upgrade on Mike Smith for sure but he was quite leaky last few times we saw him.
Yeah I like the Islanders here. Their record is primarily due to all those injuries and they have played generally better the last few weeks.
Sure Oilers will be fired up as well after that Devils loss – and actually just studying the last 5 here advanced metrics wise it's offputting.
Darn it – was hoping they would back the play up. Well this is more just a gut play than anything – Islanders win incl OT/SO.
Canada: 1.93 Odds at BetOnline..
USA: -107 Odds at BetOnline..
Everyone Else: 1.93 Odds at BetOnline..
(Odds correct as of 2022/01/01 11:46:30 AM EST but are subject to change.)
Leafs vs Senators:
Been awhile since we saw the Sens. They were playing well back then. Of course even longer since we saw the Leafs.
Sens missing quite a few players including Norris and Ennis. Leafs might be without Reilly, Muzzin and Nylander although Marner is expected to play.
Leafs -1.5 is probably the bet to make but Battle of Ontario plus the long layoff I am fine with skipping.
Wild vs Blues:
Winter Classic. Skipping.
Kraken vs Canucks:
No bet here. I expect Canucks win but with the streak over with that can mess with a teams head. See if they can bounce back.
Kings vs Flyers:
Nice price on the Flyers here I have to say. They came back from their break with a win over the Kraken, but were dominated by the Sharks. I think fatigue was an issue there.
Flyers without Couturier though which is tough.
I dunno I don't hate that Flyers price at all. Just not seeing enough to back it.
Follow @BetNHL
BetNHL.ca » Tonights Tips »