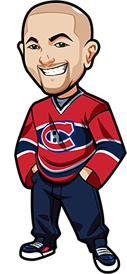 Written by Graeme on Sunday, January 1st, 2023
Follow @BetNHL
We end the year on a winning note, going 2-1. Happy New Year!
Caps handicap came in with ease. Stars one wasn't AS easy but still came in quite comfortably.
Lost with Flames/Canucks over which is one you could probably tell I wasn't in love with. Both teams showed in the 2nd that they had the capabilities to go over the total, alas they could not.
Let's get onto Sunday small slate.
Devils vs Hurricanes:
Devils got the big win over the Penguins Their metrics are still solid as mentioned and I thought that could happen. Now they're going against an advanced metric juggernaut in the Hurricanes.
I'm very happy to skip this game. I think we're going to see Devils start to put in some good results but gotta pick our spots. I could see a win for both sides here so happy to skip it. Plus man an earlyish game on New Years Day? You know these guys weren't tucked up in their bed at 9pm last night.
Panthers vs Rangers:
Just two very weird teams. If you go just by goals for and against, Rangers win to 3 or something related to that is a decent bet. But you dive deeper and there is a bit of a concern there. Panthers should be scoring more, and Rangers should be conceding more and those two could collide here.
My gut says Rangers take the win here but at about 2.10 odds, there isn't enough value.
Senators vs Sabres:
Ottawa come in stumbling somewhat. Buffalo come in crushing it yet are underdogs. It makes sense looking at the metrics. The Sabres offense is really overperforming. Goaltending overperforming as well. Sens offense underperforming.
It's one of those things where it's going to all come crashing down for Buffalo eventually. Is this the game?
Senators had a 2-0 lead against the Wings then threw it away.
Yeah I just don't feel good enough about this one. I think if Sabres were like 2.25 or something I may reconsider but 2.10 is too thin for me, and Buffalos B2B record ain't something I love.
Blackhawks vs Sharks:
Eh. By the metrics, the Sharks might be a play. But do you really want to be backing a team like them right now? Especially with Kahkonen apparently in net?
Just not feeling it.
Kraken vs Islanders:
Kraken come in on a losing slump with some disappointing offense. Islanders come in on a winning run and their recent road performances haven't been too bad. Very hot and cold really.
I'm not seeing any play that really jumps out at me. If you want a value play – Islanders to win the race to 3 at 2.35 is good. I'd price that one at about 2.00 myself. They really should get those 3 goals – the problem isn't that, but more the Kraken and them having a chance to get them. Plus on the road. Not enough overwhelming metrics for me to back it myself.
Follow @BetNHL
BetNHL.ca » Tonights Tips »