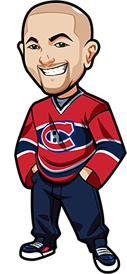 Written by Graeme on Sunday, January 20th, 2013
Follow @BetNHL
Man, am I glad hockey is back. From 3pm until midnight last night I was just glued to the TV watching game after game after game. After the long opening ceremony, the LA Kings came crashing back to earth as the Blackhawks ripped them to shreds. The Habs look to be suffering from the PK Saga, and the fans were quick to turn on them. And the Stanley Cup favourites, the Pittsburgh Penguins, disptached the Flyers with relative ease with a very solid team performance.
No rest for the wicked though, with 6 games today, January 20nd, 2013. We'll see the Oilers, Sharks, Flames and Sabres for the first time this season, while the Flyers face a tough road trip to Buffalo. Fresh off their win over the LA Kings, the Chicago Blackhawks are taking on the Phoenix Coyotes, who put in a very good performance against the Stars and probably would have won, if not for the standout performance of one Jaromir Jagr. Let's get on with the January 20th, 2013 NHL Betting Tips:
Flyers vs Sabres: Sabres -1.5 Puck Line
After defeat at home to Pittsburgh, the Flyers have to travel to Buffalo with low morale. They were simply outclassed by the Penguins – and when you lose in that manner, it's easy to have it affect your mental game. They're traveling to Sabre country, playing against a team that are going to be up for this – it's the Flyers that have ruined the Sabres last two seasons, and Buffalo want to get the season started with a bang.
Buffalo is a team that know this is going to be their season. Last season they were hampered by injuries. Everyone is fresh and ready for this one, and they're going to have an obviously huge crowd behind them. I'm predicting the Buffalo Sabres to win this game by at least 2 goals. That's why I'm recommending we bet the Puck Line – we are betting Sabres -1.5, which means they need to win the game by at least two goals. You can take advantage of this betting tip at BetOnline., which is currently offering -110 odds. All the other Vegas odds have them at -125.
Sharks vs Flames: Sharks To Score First Goal
With all the changes, the Flames are going to be a nervous team. It's going to take a bit of time for them to get sorted out.
Of course, the Sharks aren't going to sit around and wait. They're going to take advantage of this, and attack them from the get-go. Going on the road can be tough, and an early goal is key. You can bet the unique prop bet of the San Jose Sharks to score the first goal of the game at Bet365 (Americans: We recommend http://www.bovada.lv, home of the best props in NHL.
Follow @BetNHL
BetNHL.ca » Tonights Tips »