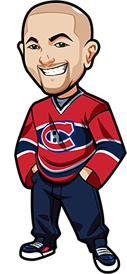 Written by Graeme on Friday, January 20th, 2017
Follow @BetNHL
Sorry for the delay in tips today. I wanted to spend some extra time going over everything and looking back at past results. I also wanted to wait to see what was happening with the Devils goalie situation as I was wanting to take them tonight. Things seem a mess there though so I'm going to give it a miss.
After much analysis there are no picks today. It's a nice little Friday night with exactly 6 games on the board but nothing that we really like. There's a few thoughts below though.
The Devils look to make it 4 in a row as they host the sliding Montreal Canadiens. The Red Wings visit Buffalo where they also hope to make it 4 in a row.
The underperforming Blackhawks go to Boston in what should be a good one and the Penguins hope they have their mojo back because it's a trip to Carlina. The Hurricanes are playing some damn solid hockey this season – especially at home.
It's been quite a weird season for a lot of teams in terms of inconsistency etc – and so many better teams unable to wrap games up in regulation etc. It could be simple variance but over the next little while you're going to see less tips out of us each day. We usually start with about 6-7 tips depending on the day then narrow it down to 3. However over the next little while we're going to aim to narrow it down to to 1 or 2 unless there's 3 games we really feel strongly about.
If you're restricted to at least 3 games for betting, feel free to ask in the comments and we can tell you what additional picks we'd advise.
Here are quick thoughts for today:
Blackhawks/Bruins: I love the Blackhawks at the 2.50+ odds you can get them at. While they're not playing optimally(especially their defense) they're still the better team here and have the ability to win against any opposition. Rask also is struggling a bit. However with lots of rumours about Julien being fired I'm wary of how that may affect the Bruins in a positive manner. There's also a ton of money going on the Over 5 and the bookies haven't changed the line so that concerns me that they're expecting an extremely tight 2-0 or 2-1 win. If that's the case it'd probably be for the Bruins so I can't advise it here, although will be betting the Hawks.
Canadiens/Devils: I'd bet the Devils here. Not that I believe they have turned a corner or any crap that the media are saying at the moment but just because the Habs have been punching above their weight and it looks to be catching up with them. Their offense is not looking good. However the Devils goalie situation is all up in the air and that's enough to put me off them.
Oilers/Predators: The Predators are one of those teams you feel should be doing so much better. They've had so many disappointing results. You can't bank on Oilers at all at the moment even moreso at home where they are unable to wrap it up in regulation. I like the value on the Predators to win tonight. Their inconsistencies are what are keeping me away but if you like to bet for value, the Preds is a good one in my opinion.
Mathematical/Experimental Betting Systems:
(All below systems are based mainly on mathematics and statistics with very little human input and are deemed experimental. Previous Records: OHL 15/16 28-15 (+17.15u)
WHL Betting Tips(22-21, -3.02u): Prince George Cougars in regulation at 1.75 odds.
OHL, WHL & AHL Betting:
Canadians: Bodog and 888 Sports.
Americans: Bovada.
Everyone Else: 888 Sports.
Follow @BetNHL
BetNHL.ca » Tonights Tips »