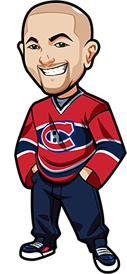 Written by Graeme on Saturday, January 20th, 2018
Follow @BetNHL
It was a disappointing 1-2 night in the NHL as only our 0.5u play on the Ducks came through.
We had the Caps, top of the Metro and #3 in the East going up against the extremely poor Montreal Canadiens, who were throwing the 0-5-1 Niemi to the wolves. So of course the Habs won. Habs actually looked like they were motivated to win a game for a change while the Capitals looked like they were still on vacation. Extremely disappointing performance from the Caps there and it's crazy how the bye week can affect some teams.
Pacioretty meanwhile did what he could to make himself look good in the shop window.
I've always hated betting against the Panthers at home and they were one of the bye week teams to come off fresh and get off to a good start. They kept going and battled all the way and got a big win over the Knights. It was a well deserved win for the Panthers and a rare poor performance from Subban.
Ducks/Kings was a bit of a sweat but the Ducks pulled out the W which was nice.
It's always good to look back at your losses(as well as your wins) and really dissect them and see if you can learn anything from them. For the Knights game, looking back I'd probably drop it to a 0.5u pick but would still have went with them. This is due to the Panthers home performances plus Subban not having played in 2 weeks – and his last two games saw a 3.5 GAA.
For the Capitals pick with the performances and quality of both teams, plus Niemi being in net and then the odds on the Caps – I wouldn't change a thing. Just too hard to anticipate that the 2nd game back the Caps would perform like that as most teams shake off the bye week after Game 1.
Flyers vs Devils Betting Tips:
Both backups in net tonight although really that's not that big a factor but it can be nice.
Flyers offense hasn't been too hot the last two games but they were high flying prior to that and the Devils have had a lot of goalfests lately.
Hoping this one is ripe for another.
Over 5.5 Goals
And if you're outside the USA, it's 1.86 at most places but a whopping 1.95 at BetOnline. – seriously sign up there if you want the best odds the majority of the time. They have the best odds for all 4 games we're advising today.
Canada: 1.95 Odds at BetOnline..
USA: Bet at Bovada.
Everyone Else: 1.95 Odds at BetOnline..
(Odds correct as of 2018/01/20 11:33:32 AM EST but are subject to change.)
Senators vs Leafs Betting Tips:
It's the "Battle of Ontario" which is always good for goals – present form be damned.
I think I said a similar thing a week ago when this game came about and I'm fine with it again. I think we'll see more of an effort from the Sens tonight. They seem motivated mentally and we'll put that Blues thumping down to bye week blues.
Their goals for and against at home are great and the Leafs are better at scoring on the road so seems good to me. Andersen called them out this week too so that should get them hyped up. Hopefully that doesn't affect HIS performance though.
Over 6 goals incl OT/SO
Canada: 2.08 Odds at BetOnline..
USA: Bet at Bovada.
Everyone Else: 2.08 Odds at BetOnline..
(Odds correct as of 2018/01/20 11:33:32 AM EST but are subject to change.)
Avs vs Rangers Betting Tips:
One of the first things I do when it comes to tips is read the media previews – just to get a feel for things and see what info is being fed to the general public. And I spat out my morning tea reading the preview of this one and talking about Rangers great away record going back to the 2016/2017 season and how they're "one of the best road teams in the NHL".
Sorry but when you've won just two road games in regulation all season long, you don't deserve that moniker.
Not to say they're horrible on the road or anything but when you're below .500 on the road it's silly to say something like that.
Avs are obviously on a tear and the bye week didn't affect them. Their home game performances are excellent at the moment and the Rangers are without Shattenkirk. Although in hockey I notice more often than not a key player loss actually affects a team positively the first game back – hopefully not here.
Not sure how much longer Avs can keep it up and really the Rangers will be a tough opposition in this one but we're going to hopefully ride the Avs streak. Avs win incl OT/SO.
Canada: 1.84 Odds at BetOnline..
USA: Bet at Bovada.
Everyone Else: 1.84 Odds at BetOnline..
(Odds correct as of 2018/01/20 11:33:32 AM EST but are subject to change.)
Unit/Confidence Betting Tips:
(We are experimenting with adding unit/confidence to our betting tips. For more details see this post.)
Sens/Leafs over – 1u.
Avs to win – 1u. Very tempting to go 2u on this one but always worried about complacency at this stage of a streak plus the matinee games are sometimes weird.
Flyers/Devils over – 1u.
Lightning to win in reg – 0.5u. We think this is a ripe spot for the Lightning to get a big W and get back on track. 2.50 at BetOnline..
OHL / WHL / AHL / KHL Betting Tips:
(All below systems are based mainly on mathematics and statistics with very little human input and are deemed experimental. )
OHL Betting Tips (19-7, +12.24u): North Bay Battalion incl OT/SO 1.65.
WHL Betting Tips (20-16, +2.44u): Kamloops incl OT/SO 1.74. Lethbridge incl OT/SO 1.97. Spokane Chiefs in reg 1.9. 0.5u for Spokane.
AHL Betting Tips (13-15, -2.22u): Toronto in reg 1.63. Ontario Reign incl OT/SO 1.98. 0.5u on Texas Stars 3.15 incl OT/SO.
KHL Betting Tips (19-14, +2.21u): Sibir incl OT/SO at 1.75.
OHL, WHL & AHL & KHL Betting:
Canadians: Bodog and 888 Sports.
Americans: Bovada.
Everyone Else: 888 Sports.
Follow @BetNHL
BetNHL.ca » Tonights Tips »