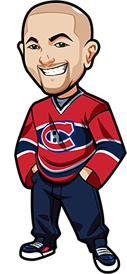 Written by Graeme on Friday, January 20th, 2023
Follow @BetNHL
Man, what in the blue hell happened to those LA Kings last night?
I was a bit concerned about them conceding goals as mentioned, but I really did not expect them to get shut out by Wedgewood.
The only bright spot for Kings fans will be that Quick at least came in and shut them down. Been awhile since I lost to a surprising result like that. I guess the days off ended up haunting LA.
Very glad I made that Flyers in regulation play goalie dependent. I wasn't quite sure about that one and when the Flyers went up early, I was regretting it. But they couldn't add to their lead and despite some great chances, came out with a big loss.
It's a quiet little Friday which is nice. Let's see if we got anything from the two games:
Penguins vs Senators:
I mean these two just played I never back these. On paper the over isn't too bad the problem really is GF/60 and SCGF/60. That wasnt a concern in the last game but it's enough to put me off.
Honestly probably Pens to win is fine. Sens relied on power plays in that one. Pens at home. Problem is Penguins have been pretty poor lately. I do think they bounce back here and get a solid win but not enough to back them.
Canucks vs Avs:
Bleh. The Avs are one of those teams where I don't want to quite back them yet. They're starting to produce like the metrics expected but it's tough to hop on a team early only for it to come crashing down.
I mean we saw that early November when they strung 4 wins together then it all came crashing down.
This is a very winnable game for them. I'm just not quite ready to back them especially against a pretty solid offense in the Canucks. And we did just see Vancouver beat them 4-2 a couple of weeks ago.
Yeah no bets today. Leans on Pens & Avs and maybe the over in the latter. I'm doing a two team parlay on Sens & Avs Over 2.5 myself at 2.10.
Follow @BetNHL
BetNHL.ca » Tonights Tips »