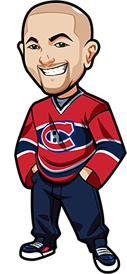 Written by Graeme on Thursday, January 21st, 2016
Follow @BetNHL
It was a relatively quiet night for goals in the NHL.
The Avalanche beat the Sabres in a tight game. We were expecting it to be tight – unfortunately we were expecting a lot more goals. It was competitive enough but even with the late goal in the 2nd period by the Sabres it couldn't go over 5, as the Avs threw in a professional and solid performance.
We DID win with the Ducks over the Wild thankfully. That one had me groaning early when the Wild went up 1-0 but thankfully the Anaheim Ducks came back and won 3-1.
A much busier night in the NHL tonight with 10 games as we get closer to the all star break. Can't wait for that – going to be so fun to watch.
It's one of those tough days for tips though where despite a lot of games it's hard to see a lot of betting opportunities. One of those days where you can easily argue both sides for a lot of the games.
Let's see what we can rustle up:
Penguins vs Flyers Betting Tips:
Penguins still have their troubles but they're looking at lot more solid at home lately which is nice to see.
They're going against a Philly team who have beaten them in their last 8 matchups – however the two have not faced off this season.
We like what's going on at home at the moment for Pittsburgh, and are going to bank on them being up for this game. We're going to take them in regulation – the reason for that is because the majority of their home victories lately have been very convincing. However with the Flyers history against them, and their ability to keep games tight(they haven't lost by 2 goals yet in 2015) we don't feel confident enough on the handicap.
The odds on the Penguins to win including OT/SO just weren't worth it we felt.
Penguins in Regulation.
Canada: 2.12 Odds at Pinnacle Sports.
USA: +100 Odds at GT Bets
Everyone Else: 2.12 Odds at Pinnacle Sports.
One quick thing I'd like to note is that the experimental overtime system Likes the Philly/Pens game to go to overtime. 3.50 odds for that. I figured based on the Flyers recent games it would suggest that. As mentioned previously – we won't be incorporating the experimental systems into our tips at this time because they're experimental. But if all proves well – this is something next season where it would be the deciding factor in betting on in regulation or not.
Blackhawks vs Lightning Betting Tips:
I do want to note that Scott – being a Blackhawks fan – finds it very hard to tip them in tight games like this. He couldn't bring himself to do it and suggested the Over 5 goals instead.
However I'm going to go with Blackhawks win. They're a nice price. They're keeping the run going – and I think with the all star break just a couple of games away that's something that will keep their run going. They have that in their sights and mentality is "Let's get undefeated till the all star break then go from there". Tampa to their credit have got their own winning streak going – but I really wasn't convinced on them in that game against the Oilers.
Blackhawks to win.
Canada: 1.99 Odds at 888 Sports.
USA: -101 Odds at BetOnline..
Everyone Else: 1.99 Odds at 888 Sports.
Jets vs Predators Betting Tips:
The Jets are a fairly solid team at home. They're going up against a Predators team who are horrible on the road. 2.09 GFG, 3.26 GAA. Predators haven't looked good in the last couple of weeks. Jets beat them last Thursday and that was a feisty game but the Jets came out top, and I think the odds make this one a relatively easy bet.
Jets to win.
Canada: 1.90 Odds at Pinnacle Sports.
USA: -110 Odds at BetOnline..
Everyone Else: 1.90 Odds at Pinnacle Sports.
Follow @BetNHL
BetNHL.ca » Tonights Tips »