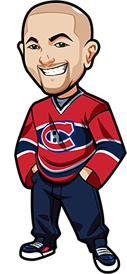 Written by Graeme on Saturday, January 21st, 2017
Follow @BetNHL
It was an interesting night last night in the NHL.
Like I said yesterday – the bookies were taking a ton of action on the Over 5 in the Blackhawks/Bruins game yet weren't changing the line. I saw some sportsbooks state as high as 97% of the betting was on that Over. Hawks won it in a tight 1-0 affair in a nice little reminder that the bookies know best.
The Hurricanes/Penguins game was Over 6.5 and that one had 8 goals in it. I believe that's the 4th game this week where the line was at least 6 and it went over every time.
The two big dogs I was leaning towards, Blackhawks and Predators, both won. Both were very tight games though so I'm not kicking myself. Talbot racked up 42 saves in that one and it was an exciting way to end the night. The Devils lost to the Habs.
Canadiens vs Sabres Betting Tips:
I'm not fully sold on the Canadiens at the moment but it's hard to argue against their statistics and record at the Bell Centre. This is expected to be a tight game but I think the Canadiens will prevail. Regardless of the struggles of Price at the moment I don't think the Sabres offense has what it takes to beat him enough to win this game.
I can see this being a close game but I'm going to take Canadiens in regulation.
Canada: 1.90 Odds at BetOnline..
USA: Best Odds at BetOnline..
Everyone Else: 1.90 Odds at BetOnline..
Leafs vs Senators Betting Tips:
These two teams are usually good for a high scoring game so we generally start with the Over 5.5 and then try to argue against it.
It's hard to argue against this one though. Leafs have had some tremendous performances lately however they're still conceding goals a lot and seeing lots of high scoring games. Senators are a solid team who will be a tough match-up for the Leafs and we can't see this one being a goalie clinic. Morgan Reilly is out still which is helpful too.
Over 5.5 Goals
Canada: 2.01 Odds at BetOnline..
USA: Best odds at BetOnline..
Everyone Else: 2.01 Odds at BetOnline..
Close Pick:
We were close to a third pick today but ultimately decided against it. But I wanted to write a bit about the thought process.
Initially we looked at Capitals in regulation. They're playing the best hockey of their season at the moment. They bounced back strong after that Penguins loss to beat the Blues 7-3 on the road.
The Dallas Stars continue to battle with inconsistency. The concern is that they can be highly competitive at times – like the Rangers and Wild and Kings games. With Capitals 1.71 at OT/SO we were tempted by regulation based on the Caps performances lately – they should wrap this one up in regulation.
What put us off was the Stars random competitive games lately, and their record over the Caps. They've won the last 9 games against Washington. While we're not going to make a pick based on a Stars 2-1 victory from 7 years ago it's still something we like to look into. It's an indicator that the Stars raise their game against the Caps.
More importantly when the Capitals were playing that amazing hockey last year, they had a 5 game winning streak busted by the Stars. Caps then went on to win 4 more so that's an indicator that no matter how the Capitals are performing, the Stars can bring it.
That made us look at the Over. However so many Capitals games this year have seen them win by shutting out their opponents. With the Stars inconsistent offense we could see this being a 6-4 game just as likely as we could see it being a 2-0 game. End of the day there's just enough negatives to put us off either pick.
Mathematical/Experimental Betting Systems:
(All below systems are based mainly on mathematics and statistics with very little human input and are deemed experimental. Previous Records: OHL 15/16 28-15 (+17.15u)
OHL Betting Tips(16-12, +3.08u): Owen Sound Attack -1.5 at 1.71 odds.
WHL Betting Tips(22-22, -4.02u): Brandon Wheat Kings incl OT/SO 2.33, Victoria Royals incl OT/SO 1.86,
AHL Betting Tips(21-14, +6.08u): Utica Comets incl OT/SO 2.10. Lehigh Valley Phantoms in regulation at 2.15 odds.
OHL, WHL & AHL Betting:
Canadians: Bodog and 888 Sports.
Americans: Bovada.
Everyone Else: 888 Sports.
Follow @BetNHL
BetNHL.ca » Tonights Tips »