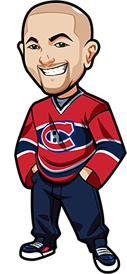 Written by Graeme on Thursday, January 21st, 2021
Follow @BetNHL
Hi guys,
Apologies for the delay in tips today. Big crisis at work that took most of my morning.
Speaking of a crisis – how about them Leafs? Scott's bad run continued with that game not going over. Honestly I had some concerns about that one but it was more about the Oilers. I really didn't think the Leafs offense would struggle like that.
Of course it was all the refs fault. I mean the most upvoted post on /r/leafs/ right now is:
"Phantom call on Muzzin that costed the leafs the game."
Yep that was what cost them right there. Just that one bad call. I mean I don't think their performance was overly terrible and there was SOME positives; but for a team with the Leafs calibre that just isn't enough.
COVID continues to wreak havoc throughout the NHL with a few Capitals players busted and out for four games apparently. I'm not sure the full story is out there yet but it appear all the Caps players did was hang out in a hotel room together. If that's true then that is just absurd in my opinion considering the rest of the time they are all around each other.
The entire COVID aspect of this season – which can't really be avoided – just makes it such a frustrating season both from a viewing aspect and a betting aspect. Players being called out at the last minute etc. I've got to assume it's really affecting some players mentality as well. I see a lot of people going on about the money they make but at the end of the day they're human beings. It's not like you can just throw $50,000 at someone and say "Hey stop being miserable." Doesn't work that way.
Also the lack of goalie confirmations until just before game time is very frustrating. While I can make goalie dependent picks it really helps me mentally knowing who is in net.
I'm not sure if Scott will or not but for me I am going to continue to do what I was doing last week. I'm going to go through the games one by one, give some quick thoughts and then if I see something I feel like betting, look into it more and advise it if so.
It just feels a more relaxed way to do things and I feel better advising things that way. Then there's also no pressure on my when it comes to trying to narrow it down tips wise. I hope you guys don't mind that – I feel better that way giving my opinion on games and bets without feeling obligated to analyze it and turn it into a tip. There was a couple of plays tonight – such as the Habs one – that in previous seasons I feel I would force into a tip. But in this weird ass season, I feel better putting it out there but not actually tipping it.
So with that said let's get into tonights games.
Bruins vs Flyers:
Bruins still seeking their first regulation win with 3 low scoring games. Flyers have that black mark against the Sabres. Flyers are fairly big underdogs here. I'd love to take the Flyers here regardless of the injuries. The Bruins just seem uninspired. But you have Gostisbehere out due to COVID, Frost and Myers both out, Couturier out.
Looking through the Flyers last game against the Sabres, Frost was the biggest factor that will be missing I expect. All the advanced metrics sites cone to the conclusion that the Bruins take this one. I actually have a sneaky suspicion that the Flyers take it but that IS a lot of injuries and I can't back against that.
The under is slightly tempting I've got to say. I never like backing unders but I do see a lot of reasons to back it in this game.
Islanders vs Devils:
Islanders are favourites. Odd start for them this season. Blow out the Rangers. Get blown out. Beat the Bruins in a 1 goal game. Devils yet to lose in regulation. Could they be a match for the Islanders?
Looks like two solid goalies in net here. Just feels too tight to call.
Senators vs Jets:
The Senators are coin flip odds and I like to see that. They seem like a team getting no respect this season.
I've said it before. There will be times where we just make straight bad picks. It happens. Then there are times where we make picks that in retrospect were completely correct, and just didn't work out due to the variance of hockey. That was the tip on Tuesday of Senators to beat the Jets.
Now the Sens have another chance. Difference is Brossoit will likely not be in net and Hellebuyck will be. Maybe. Does that make a difference? Sens still pounded the net against Laurent and racked up the shots and looked hungry as all hell.
I actually have a feeling that when we look at the Sens when the season is over, betting them in regulation every game over to win incl OT/SO will ultimately be the best value play. I get the feeling these boys will crack under the pressure of a 3 on 3 or shootout. Just a gut feeling.
Laine is doubtful to play. This pick comes with some risks – Murray in net is a tad concerning. Senators could come out fired up and get disillusioned if they concede an early goal etc. But based on everything I have seen so far this season, I feel this is a solid enough play based on the odds. I'd give them a miniscule edge in this game.
Senators Win incl OT/SO 350pm edit – only bet if murray in net
Canada: 2.08 Odds at BetOnline..
USA: +108 Odds at BetOnline..
Everyone Else: 2.08 Odds at BetOnline..
(Odds correct as of 2021/01/21 2:54:31 PM EST but are subject to change.)
Jackets vs Lightning:
Just not comfortable betting anything involving this game based on the almost week break Tampa have had.
Canucks vs Canadiens:
The Canucks finally put that big effort in, and they were able to beat the Habs in a shootout. Despite that, I personally thought the Habs were the better team there and were unlucky to lose.
I would set them as the favourite again here and the sportsbooks have did just that at the price I would estimate. The over/under is 6.5. I think the Habs have shown some consistent quality so far this season and the Canucks obviously have not. It's the question of whether the Canucks can bring it again tonight or not. I'd lean no, and kind of fancy Habs in regulation. I'm razor thin close to backing that one. I think if it was 2.20, I would. Best I can see though is 2.15 at BetOnline. so no bet for me. 0.05 difference in odds is how close that one is.
Kings vs Avalanche:
I don't think Kings should be as big underdogs, but I still think Avs have to take it. Avs were just in control that entire game. Kings did look slightly better that third period and if they bring that energy into tonights game it might be different. But even with that sort of performance all game, I still think Avs would take it.
Follow @BetNHL
BetNHL.ca » Tonights Tips »