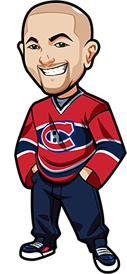 Written by Graeme on Friday, January 22nd, 2021
Follow @BetNHL
Well in our lone bet last night, it was an unfortunate shellacking for the Ottawa Senators. The Jets beat them 4-1.
I thought the Sens were good enough in the 1st and 3rd periods but it was just an awful period in the 2nd as they got dominated. It was a sharp contrast from the prior game. Jets came out motivated and deserved the win.
Win, lose or even if I didn't make a bet – I always go back and look at my thoughts and opinions from the game prior and try and learn from them. I think it's where we learn the most valuable lessons.
One thing that has stuck out to me the last couple of days is in regard to teams we can generally count on. I was so close to taking the Habs yesterday for example, and in the comments on Wednesday I said I really liked the Knights in regulation.
Those are two teams I feel I can generally count on based on what I'm seeing this season, and I may try and focus on that a bit more than the actual data from previous games. I think with no pre-season we're going to see teams adjusting more drastically in regad to performance.
Yesterday for example, almost all favourites got it done. They had to show some real grit(Tampa, Boston) but still got the job done. Lone exception was the Avs although that was primarily due to a long 5 on 3 and just some general sloppy defensive work. That won't be the only factor of course – but it will be a starting point for me.
Surprised that the Canucks kept with Demko in the 3rd period.
With that, let's run through all of todays games:
Capitals vs Sabres:
My first inclination for this one was that it was an easy skip. It's easy to do that due to the Capitals missing 4 players. Some might blindly bet against the Caps due to that, however I generally prefer to err on the side of caution. Sometimes injuries or star players being out has an adverse effect and motivates the rest of the team to perform that much better – or their opponents to be complacent.
But let's look at the Sabres. They played the Caps twice and lost both games. I tipped the Caps in the 2nd game and admitted that it was a lucky win as the Sabres dominated them. Based on those two games, I actually like Buffalo.
Then we look at their other two games against the Flyers. Big 6-1 win, Buffalo showed what they can be capable of. Although they lost 3-0 in the 2nd game, I thought they still played well. When they were 1-0 down I felt they were unlucky not to tie it up. I think it was Reinhart that had a big chance that could have changed the entire game.
I love the way the Eichel line plays as well. When those 3 are on the ice they look damn good with some great offensive possession. That's got to lead to many more goals if they can keep this up.
So like I said – not going to blindly bet. But I've looked into it enough that I generally like what Buffalo are capable of. Caps on paper are a better team even with Ovi & co out I'd say. There's certainly concerns. Caps have a lot of depth. Caps could come out fired up and angry like I mentioned. Vanececk now has a big opportunity.
But this is a great opportunity for Buffalo. Based on the majority of their performances so far this season, I think they're capable of it.
Sabres win incl OT/SO if Ullmark is in net (453pm edit: Ullmark is confirmed)
Canada: 1.91 Odds at BetOnline..
USA: -109 Odds at BetOnline..
Everyone Else: 1.91 Odds at BetOnline..
(Odds correct as of 2021/01/22 11:41:47 AM EST but are subject to change.)
Leafs vs Oilers:
Matthews out tonight. Thornton out too. I am staying far, far away from this game.
Penguins vs Rangers:
Pens yet to win in regulation. Rangers have been weird. Rangers are that team I have to remind myself to be wary of. I really enjoyed them last season and got into them. They're one of those teams I feel I try to justify backing. Thought they were quite unlucky against the Devils.
Honestly though – based on everything I've seen so far, I wouldn't mind having a bet on the Rangers here at all. I like what they've shown and I feel this is closer to a 50/50 game than the sportsbooks think. But I need more value than 0.25 on a perceived coinflip at this point in the season. This isn't like the Senators last night where I felt they had a better chance of winning. I think Rangers have the chance to make this a 50/50 game. I have no qualms about Shesterkin. But this Rangers defense concerns me greatly right now and the Pens offense obviously could light them up.
Blackhawks vs Red Wings:
Absolutely no idea. If I was to take a guess looking at the advanced metrics – I think the Blackhawks offense will be the deciding factor here. Feels like one of those tight 3-2 wins for the Hawks.
Wild vs Sharks:
At this point in the season I really don't have strong opinions about either team here. Wild just feel uninspiring. Sharks seem up for most games. Sharks defensively are a nightmare though and if Wild play their cards right they should be able to pick them apart. Wild top lines aren't really performing yet though other than Kaprizov.
Stars vs Predators:
No.
Coyotes vs Knights:
I always feel weird backing a team on an unbeaten streak. But like I said, I advocated for the Knights in the comments to win in regulation the other day and they pulled it off.
Coyotes are one of those teams you can't count on. Okay that might be the most obvious sentence in the world but it still bears mentioning. Sometimes you watch them and it's like damn this team is looking good and are dominating the puck. Damn this team is passing well etc. Then other times it's like they phone it in. They don't even look like they're on the ice.
At this point in this weird season, I feel it's easier to look for reasons NOT to take a bet. Probably would be different if we were crushing it rather than the opposite. Knights first road game is enough for me to be like "eh let's see how it goes". There's no actual evidence to support that (Sabres first road game they blasted the Flyers for example) so I think I am just a chicken.
Knights in regulation is close to a pick but can't quite pull the trigger.
Ducks vs Avalanche:
Ducks have had a few hard fought games. Avs are heavy favourites. If we were taking the Avs it would be based primarily on hype, not their actual results. Both Kings & Blues got a W off them.
Advanced metrics wise, Ducks are performing poorly. Lowest xGF/60, 3rd worst xGA/60. CA/60, FF/60, FA/60, HDCF/60, HDCA/60, you name it. They are trash. Avs meanwhile average about 9th for me when we combine all the metrics.
If you go by the advanced metrics, primarily based on the Ducks, this is a very nice little spot for the Avs. Of course Ducks have had Avs number in recent games and if you look at last seasons results, it wasn't the greatest for the Avs. Plus at this stage of the season, advanced metrics are always out of wack.
It could be lack of confidence or just being cautious that I am just going to stick with the 1 bet advisement today. But I am quite close to adding Knights in reg and Avs -1.5 to todays slate.
What do you guys think? Be sure to both post and read in the comments. Lots of great insight in there and some good discussions. This season more than any you should consider everyones opinions. I have a lot of fun with the comments too as it just feels more casual and I'm more relaxed in analysis etc. I had someone ask me yesterday about whether the Sens play was only if Murray was in net, and it got me to spend like 30 minutes analyzing Murray and his performances for the Sens to give me a bit of a fresh take. Always love that sort of thing.
Follow @BetNHL
BetNHL.ca » Tonights Tips »