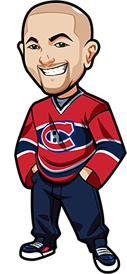 Written by Graeme on Sunday, January 22nd, 2023
Follow @BetNHL
A 3-1 day yesterday.
Oilers and Stars delivered their regulation and handicap wins with ease. Blues & Blackhawks went over with room to spare. Only loss was the Wings/Flyers that just never got going until the third period.
Pretty darn happy looking back at my analysis from yesterday as well. Flames/Lightning put up at least 3, I said the Panthers offense can counter the Wild attack and they did so, Blue Jackets got going offensively like I expected, and I dodged a big bullet with the Leafs.
We've got 5 games going today so let's get to it.
Devils vs Penguins:
The Devils had their winning run ended in OT against the Kraken, and now host the Penguins who are just coming off that back to back head to head against the Senators, where they split the games.
These two played 3 weeks ago with New Jersey coming out winners on the road. That was a nice win for the Devils and sort of helped get them back on track.
It's interesting looking at the metrics as it shows the difference in form, and af luck. The big thing right now though is that the Devils offense are performing. They're scoring aboe expectation by a decent amount but still have a nice high xG.
The Pens however have Jarry back which is a big return for them and a potential game changer. I do think this Devils offense may be too much for him, but you have to expect Jarry being back to give them confidence to revitalize themselves.
I assume Jarry is in net, but if not:
Devils in Regulation if Jarry NOT in net
Ontario: 2.15 Odds at Bet365 (Americans: We recommend http://www.bovada.lv
Canada: 2.15 Odds at Bet365 (Americans: We recommend http://www.bovada.lv
USA: +105 Odds at Bovada
Everyone Else: 2.15 Odds at Bet365 (Americans: We recommend http://www.bovada.lv
(Odds correct as of 2023/01/22 8:29:20 AM EST but are subject to change.)
Blackhawks vs Kings:
The Blackhawks continue to roll with a big 5-3 win over the Blues. THe Kings continue to struggle and are on a 3 game losing run now. The honeymoon period for Copley is over I would say.
Blackhawks still not getting any respect from the sportsbooks. I get it. They suck. But you have an offense that is overperforming and playing with confidence, against a team who already has a high xGA and is struggling with conceding goals.
Quick is in net but what does he really have going for him? That 7 save performance against Dallas that's about it at the moment. Looked alright yesterday.
So I am pretty conflicted here. I like a shot on the Blackhawks, but I also feel the Kings are going to have to start pushing offense first, knowing they are going to concede goals but try and score more. Much like the Panthers yesterday as an example. So that makes the over 6.5 goals line tempting.
Buuuut…either scenario, basically relies on Chicago keeping their offense going. I'd be surprised if the game went over due to like a 5-2 Kings win. So I'm going to go with the higher odds play.
Blackhawks to win incl OT/SO. And if the back to back is too much for the Hawks, or their offense starts to regress(which is 100% going to happen) then that is life.
Ontario: 2.92 Odds at Sports Interaction (SIA) - Non-Ontario bet $10 get $200
Canada: 2.97 Odds at BetOnline.
USA: +197 Odds at BetOnline.
Everyone Else: 2.97 Odds at BetOnline.
(Odds correct as of 2023/01/22 8:29:20 AM EST but are subject to change.)
Bruins vs Sharks:
Bruins on another solid run. Now at home hosting the Sharks who have been inconsitent at best. Just coming off the Jackets loss.
Sharks main plus is they are scoring, AND it's pretty close to the XG. And getting 5 past the Stars with their defensive metrics was impressive, especially with Oettinger in net there.
So yeah that one is a bit of a red flag for me – and the odds are pretty iffy anyway. I'm going to pass on this one.
Flyers vs Jets:
Ton'd treally see too much for this one. Fancy the Jets based on the metrics but not in regulation against a Flyers team who are getting in the results. I'm not really buying this Flyers team, and I think the Jets are going to get the job done – but the odds aren't there for me.
Coyotes vs Knights:
Nothing for this one. Knights in regulation is the only real play and I just don't feel like they are a team I can confidently back. By the metrics yeah it's probably a play. But that Coyotes offense has to start performing better and I mean the Knights defensive metrics? They could make this a game.
Follow @BetNHL
BetNHL.ca » Tonights Tips »