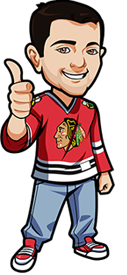 Written by Scott on Tuesday, January 22nd, 2013
Follow @BetNHL
Wow that was kind of a boring night in the NHL with a bunch of really low scoring games. The Grand Salami bettors who went with under must have been happy – the line of 50.5 was way above the goal count last night. And for people who stayed up for the late game, we got to see first overall pick Nail Yakupov score the first goal of his career in the real only exciting game of the night, well more exciting if you are a San Jose Sharks fan.
Well January 23rd is the slowest day of the NHL since we got started, there is only 4 games on the schedule for tonight. So although the game options to bet on are limited, the predictions are not. Great games are expected with the Flames playing one of their rivals, the Canucks,Crosby and the Penguins welcome the Maple Leafs into town as well as a battle of original 6 powerhouses when the Bruins travel to New York to face the Rangers. So fewer games but plenty of betting options available so here we go:
Maple Leafs vs Penguins Betting Tips: Penguins to score first
To much firepower here and it's near impossible to contain them. The Pittsburgh Penguins like to come at you fast and often. I think that when the Crosby welcomes the Leafs to town he always feels the pressure and loves playing with that kind of pressure. And the rest of the Penguins will follow suit in what is sure to be a high tempo game
If you want to 5Dimes offers great betting odds and this prop is no exception. No matter the outcome of this game, fans of goals are not going to want to miss this one.
Bruins vs Rangers Betting Tips: Bruins to win
The New York Rangers are a great team on paper and as the season progresses their record will show that. But it seems as though it will take them a few more games to really hit their stride. And when your playing a Boston Bruins squad that is almost completely the same as the one that won the Cup two years ago they defiantly have chemistry on their side. Plus Tyler Seguin seems to be developing into one of the games best players. Poor Brian Burke and that terrible Phil Kessel Trade.
So in a battle between two of the oldest teams in the NHL its only fitting to place your bet at one of the oldest and most trusted Sportsbooks out there in [geocode id=5 and take advantage of their always impressive betting odds
Follow @BetNHL
BetNHL.ca » Tonights Tips »