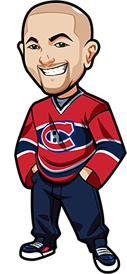 Written by Graeme on Saturday, January 23rd, 2021
Follow @BetNHL
Well the Buffalo Sabres put in the effort I expected yesterday against the Washington Capitals. Unfortunately it wasn't enough, and resulted in another loss for us.
I thought the Sabres were the better team for the majority of the game. The one problem is they just don't have the quality it seems. Washington were up for the game but man with those 4 players missing, and then the Capitals losing Tom Wilson? Sorry but that game was there for the taking and it's very frustrating they weren't able to pull it off.
What that generally means is that we shouldn't be backing the Sabres against the top tier teams. I am very curious to see how they perform against the Rangers and Devils over the next little bit.
In a rather fun fact, one strong NHL betting trend is that when teams face each other back to back, if the underdog wins the first game, the favourite wins the 2nd. That was 7-0 going into last night and despite missing a couple of players, the Leafs made it an 8-0 trend with their win.
Small data sample and doesn't really mean anything but I always love seeing and following those trends. I can't remember where I saw that one mentioned I think it was over at The Athletic.
That Sabres pick is one I can look back at and think eh – they performed as expected and alas it just wasn't enough. I'm happy with my analysis. But my gosh am I glad I didn't go with my two other strongest thoughts yesterday which was Avs -1.5 and Knights in regulation. In hindsight, those would have been two picks that would have been just plain wrong, and I'm glad I didn't back them.
The advanced metrics really didn't put the Ducks in a good light but I just haven't been confident enough in the Avs this season to "git r' dun". That coupled with the data being skewed due to so few games put me off and I was lucky there as the Avs couldn't even get the job done in regulation.
Knights was one of those picks where on paper there really seemed no reason not to back them. The change of venue for both sides was enough for me. I've no idea how to figure out home vs road this season and I decided to wait and see how it worked out. Knights still looked decent regardless, but man they have to sort out that power play. Both those results were a tad offputting though, and personally I'm strongly debating halving the unit amount I bet this season.
If that trend is any indication, I believe the Knights should win tomorrow. I'm not doing it because of that trend, but I am hoping the Knights line is decent tomorrow as I think this loss will motivate them.
How about them Stars? My gosh this season is bizarre at times. Good to see my read on the Rangers game was correct and their defense just couldn't hold up to the Rangers. A white open Blueger for the tie-up goal, and I've no idea what the hell Lindgren was doing on that 2nd goal.
Let's look at todays games. BTW could all nights please be this length? Six games is the freaking PERFECT amount for me in terms of analysis. I love it and wish most days were like this.
Lightning at Blue Jackets:
Jackets have been underwhelming thus far. Tampa needed OT to beat the Jackets but certainly looked the better team and more deserved of the win.
Lightning took a bit to get going in that game which is understandable considering the rest. It also didn't help that the Jackets scored so fast and it is a credit to Tampa that they didn't self-implode Jackets have some issues in the locker room it seems particularly in regard to Dubois.
Tampa are one of those strong teams that I just believe in right now. I said yesterday I'm looking for those sort of teams to back. In theory, Knights and Avs were those teams yesterday but I didn't have the confidence to pull the trigger. As of right now – I do have that confidence with Tampa.
Tampa in Regulation if Vas is in net. (1056am EST update: This big Jackets/Jets trade – LOL. Fuck sakes. This could be a massive confidence booster for the Jackets who easily got the best of this trade and got rid of that waster in the process. Your call if you want to bet this one or not. I don't even know anymore lol.)
Canada: 2.00 Odds at Bovada.
Everyone Else: 1.95 Odds at Casumo
(Odds correct as of 2021/01/23 7:48:14 AM EST but are subject to change.)
Canadiens at Canucks:
The Habs are pretty darn strong favourites here. We've been awesome this season so that's fair. Canucks I feel though still have the quality to match and the ability to spring the upsets.
I'm not advising any tips on this one but from just a quick look at it, I actually lean Canucks just based on the odds. I think they have value.
Flyers at Bruins:
Game 1 between these two teams shows how little I know. Based on the data I was leaning the under. Didn't take it and thank F for that because I would have been humiliated as these two had an 8 goal thriller in regulation.
The data is all over the place for these two. I actually think Flyers have some value here. They beat the Penguins twice, had a great bounce back game against the Sabres and went toe to toe with Boston. But so many injuries.
Kings at Blues:
A fresh matchup this season. Kings fresh off their win over the Avs. Kings look to be a troubling team this season for a lot. Pushing the Wild to OT both games, tight game against the Avs then beating them.
They're a whopping 2.75 odds here. Straight up I think that line is great value and it makes sense to bet it. Although Berube sounds like he is well prepared for this game and is ready to beat the shit out of the Blues if they don't get going.
Blues just aren't clicking right now. But I feel that can change with a moments notice in this bizarro season.
For me it's not good enough to just say whether a bet has value or not. I also want to back it with a strong enough confidence it can win. I just don't have that confidence. Too much "gamble" in this one ofr me.
Senators at Jets:
The two switch venues now. Sens first road game of the season. We all saw how that went for the Knights. Jets are actually not a bad price at about 1.76. In saying that – I backed the Senators the other day and despite that loss, my opinion of them hasn't changed yet. No bet on this one.
Follow @BetNHL
BetNHL.ca » Tonights Tips »