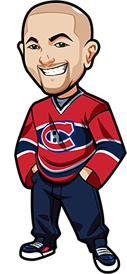 Written by Graeme on Saturday, January 23rd, 2021
Follow @BetNHL
Hi guys,
Just wanted to do a quick post to say that there will be no tips for Sunday, January 24th.
The primary reason is actually that I am doing a zoom call for the McGregor fight/my 40th with a bunch of friends. It's going to go well past 1am or 2am and I am going to be in no shape to be analyzing the hockey on Sunday ha.
There's also friends from Scotland joining the call who will be up until about 6am or 7am their time.
With that sort of commitment, I really don't want to be that guy saying sorry lads have to go – have to analyze the Detroit Red Wings xGA early in the morning.
I also think it's a good little time to take a couple day break (with only one game on Monday) and reevaluate teams. It's something I like to do multiple times per season. We do those season previews for example where we give our thoughts on the teams etc. Last thing I want is to have that opinion stuck in my head.
The Oilers for example – a team I really thought would compete for the North Division. At this point that really doesn't seem to be the case. So it's nice to hit the reset button, and sit back and look at it and decide how I feel about them going forward.
That way I don't go into any games with preconceptions. As it's very easy to do that. You see that a lot in hockey just with the odds too – teams like the Penguins heavy favourites in games even if their current play doesn't warrant it. More due to name value.
I'd also like a day off just to assess things. There's been quite a few games this season where I have been wrong in my thinking – be it or bet or a lean – and looking back I am not quite sure exactly where I was off or why.
There's certainly some that can be explained. For example that Oilers/Leafs over the other night. I had my concerns about that one due to the Oilers offense. But that one can be explained – both teams came out and put defense at the forefront. That was a big surprise to us. I saw some in the Toronto media considering the game a defensive clinic. Personally I just found it boring as piss.
But there are a little too many games lately where I am scratching my head about the result. Even games where I haven't had a bet or a lean – still sitting there surprised. There's also been a few bets I think I have missed that I want to go back and look at. If you read my Rangers/Pens analysis yesterday for example – I think based on my thoughts there I should have backed the over. A couple of days at looking back at them retroactively.will be good.
Ther's no odds up for Sundays games. A quick look at it – I like the Knights in regulation. I think Rangers vs Pens should probably be high scoring. I could see the Wings having a bounce back game.
Enjoy the hockey. I'll be enjoying it hungover on my couch!
Follow @BetNHL
BetNHL.ca » Tonights Tips »