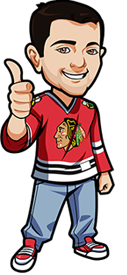 Written by Scott on Thursday, January 24th, 2013
Follow @BetNHL
Wow have the Toronto Maple Leafs ever came crashing back down to earth after they beat the Penguins Wednesday night. How do you have a 3-1 lead then allow the lowly Islanders to score 5 unanswered goals? Either way big loss for the Buds who finished the game losing 7-4. One point of optimism for Leaf fans is that Nazem Kadri scored again, looks great for the kid who kept getting sent back down for the last couple years much to the displeasure of Maple Leaf fans.
Lots of games to watch and bet on tonight including 3 where the end result was a blow out the last time they played: Anaheim vs Vancouver where just 6 days ago the Ducks beat the Canucks badly 7-3,Ottawa vs Tampa Bay also ending with a score of 7-3 for the Sens the last time these teams met and Pittsburgh vs Winnipeg where the last time they played it was the Penguins stomping the Jets 8-4
So will some of these teams be able to get some revenge? Or will the beat downs they took last time be a sign of things to come? We will soon find out but for now lets get to some predictions:
Ducks vs Canucks: Canucks -1.5 Puck Line
After the game they played less then a week ago you know the Vancouver Canucks would rather just forget all about it. If I was coach Alain Vigneault I would tell the boys to go out and kick the crap outta these guys.
And I think they will do just that. Being that the Ducks won the last time they played and that the Ducks are home, the Ducks are favored to win this thing!!
Crazy right?
This is a big game and big games call for BIG odds so head to 5Dimes and Bet the Canucks to cover the Puck Line spread and LOVE the fact that the odds are currently set at +425 I still can't believe it.
Grand Salami 35.5: Grand Salami over
The Grand Salami Bet is a bet that covers ever game being played the night you place the bet. In this case the number is 35.5, which means that the combined score of all games played tonight has to be over 35.5. So mathematically each game would need to have a combined goal total of 5 with one game having six goals to go over the 35.5.
And with the teams and players involved in game tomorrow night its almost a given that this will happen. Stamkos, Ovechkin, Crosby, Malkin, Tavares and Parise are just some of the big guns playing tomorrow night. Also a trend happening so far this year is that almost every night there is at least one blow out game so this works in our favor here
Go to BODOG to bet that the Grand Salami will be over and enjoy BODOGS always amazing betting odds with the Grand Salami over bet currently paying +110 . This is my betting tip of the night
Penguins vs Jets: Penguins to win
You'll get used to hearing this "The Penguins Win!!!" but we just have to accept it. And when they are the visiting team the odds will always pay better for the Pens to win as home ice is an advantage. But unfortunately for Winnipeg fans this game won't end well for the home team. Remember the last time they played the Pittsburgh Penguins won 8-4. This happened last year when the Penguins were dealing with a bunch of injuries to star players. Now the Penguins are healthy….uh o
And with the odds Follow @BetNHL


BetNHL.ca » Tonights Tips » January 25th, 2013 NHL Betting Tips