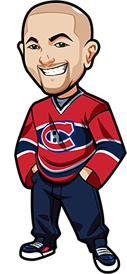 Written by Graeme on Thursday, January 25th, 2018
It was a 1-0 night last night with our 0.5u NHL play. We also went 2-0 with our WHL/AHL Plays.
The combined results of the OHL/WHL/AHL/KHL bets this season is 77-53, a 59.2% winrate, for 18.67 units profits.
Great to see that. If you're American, you can bet all of those at Bovada, if you're Canadian bet at Bodog and if you're outside of North America, I recommend 888 Sports for the others.
No tips in those today BTW so take the day break to sign up at one of the above sportsbooks, claim the bonus and get ready for tomorrows tips!
Very happy with yet another 0.5u play coming in and games like last night are one of the reasons we added 0.5u plays this season which have been killing it so far.
We had the LA Kings at a big price of 2.55 and it was a tight one but they pulled through. Down 1-0 from the 1st, Muzzin got a PPG early in the 3rd and then Pearson won it in OT. It was good to see the Flames continue their point streak as well and if they can figure out how to own at home, they could be a force to be reckoned with come playoff time.
It's all star break time! Must admit neither of us can be bothered with it this year. Not sure why that is – used to get excited for it and the skills and would get together for it. But neither of us are that interested in it this year. Oh well it is what it is.
Anyway it's January 25th, 2018 and a nice quiet day with just 15 games to analyze. Yay. That's why tips are late today – so bloody much to go through. Looked through historical data pre all star break and really didn't see too much.
Unfortunately after looking through everything we only have the one pick. A lot of potential picks the odds just weren't good enough like Penguins or Stars. Then there's a few decent underdogs that we couldn't pull the trigger on like Sens vs Bruins (Marchand is obv a big loss but the Sens the last couple games haven't shown anything at all), and Panthers over Capitals (Generally like the Panthers at home but they've been poor all January and need a much better price against the Caps).
Hell we can't even bring ourselves to back over 5.5 goals at 2.05 in the Battle of Alberta. Knowing the way those two play when going head to head it's probably a value play but after their last few games – ugh.
So only the one pick:
Lightning vs Flyers Betting Tips:
The Tampa offense needs no introduction. They've been a bit cold lately but there's certain match-ups that seem to bring out the best in them and we saw that late December when they put up 3 against Philly….only to lose 5-3. They'll be out to prove something here.
Philly themselves have showed many times this season that if you want to come out offensively with them, they'll match it. Just look at the first few games in January for them where they thumped the Islanders 6-4, Blues 6-2, Devils 5-3.
Tampa are the best offense in the league but Philly are the best at winning faceoffs and Tampa 2nd worst. So that should give Philly enough of the puck here while against high face off percentage teams, that rarely stops Tampa.
Tampa do have one of the best defenses and that's a slight concern – some of the top defenses for GAA have shut the Flyers out. But not all the time and at home, you'd expect more from Philly.
The last three between the two have went over 5.5 as well.
1 unit on Over 5.5 Goals
Canada: 2.00 Odds at Bodog.
USA: +100 Odds at Bovada.
Everyone Else: 2.00 Odds at Bet365.
(Odds correct as of 2018/01/25 1:10:33 PM EST but are subject to change.)
Best America Sportsbooks for NHL
BetNHL.ca » Tonights Tips » January 25th, 2018 NHL Betting Tips