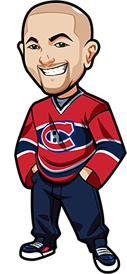 Written by Graeme on Thursday, January 26th, 2023
Follow @BetNHL
Sometimes you really gotta thank the sportsbooks for saving us from losing money.
I mean take that Oilers vs Blue Jackets game last night. We were priced out of anything on that one but if the odds were good, Oilers in regulation or even Oilers -1.5 were mathematically a no brainer bet.
Heck even the -2.5 was close to it actually looking at the metrics. And what happen? They don't even won. Lose in overtime.
Sad.
My buddy Dan (big AEW fan) mentioned that the Oilers are yet to win with the reverse retro jersey this season. Always love bizarre stats like that. They are wearing it on Saturday so we'll see if they can break that hoodoo.
I see the Tocchet honeymoon is over. That went well.
Let's get on with Thursdays tips.
Lightning vs Bruins:
Tampa bounced back from their tough Alberta trip to beat the Wild 4-2. Boston continue to just steamroll teams. Bookies have this as a coinflip. The Bruins have won the past two games this season.
Bit of a tricky one. They are evenly matched in a lot of the advanced metrics. Goaltending is a big saver for the Bruins at the moment but Tampa are scoring well and deserve to score great.
I went into this hoping to back the Bruins, but the Tampa offense concerns me. I won't be surprised if the Bruins get the win here, but this Tampa offense is performing very well.
Canadiens vs Red Wings:
Montreal come stumbling in. But hey we beat the Leafs – that was pretty awesome. Now we host a struggling Detroit team at a decent underdog price.
I actually don't hate the Habs here. By the metrics I'd say it's a bit closer to a flip and there's some value on them. Their offense is underperforming. Their defense is still terrible though.
Red Wings have stopped being a big goalie dependent team, although Husso has did good in his last 3.
Alas – Habs have pretty much confirmed that Jake Allen is in net. If Sam was in net I think I'd take 'em. Hope Allen steps up but not gonna risk it on a returning goalie under a bit of pressure who had some torrid performances last time we saw him.
Capitals vs Penguins:
Caps come in playing horrible. Penguins – eh. Neither team really has anything going for them. It's one of those you hope both offenses light it up and have a classic game. But the line is 6.5 and the metrics don't lean towards that at all. With DeSmith likely in net I don't hate it though.
Jets vs Sabres:
Winnipeg lost to the Preds to stop their two game winning streak. They return home where they have posted an excellent 17-6-0 record. Now they host Buffalo who have a beastly away record of 14-1-1.
The Sabres are coming off a big win over the Blues and have a four game winning streak going on in some high scoring affairs.
Bar a few slip-ups, the Jets have been reliable at home. Complacency always seems to be an issue with them but hopefully that Nashville loss was a slap in the face for them. Craig Anderson is projected and hasn't been too shabby.
I feel like as long as the Jets don't get complacent, they should be able to get the convincing win here.
Jets in regulation if Hellebuyck is in net
Ontario: 1.90 Odds at Bet365 (Americans: We recommend http://www.bovada.lv
Canada: 1.90 Odds at Bet365 (Americans: We recommend http://www.bovada.lv
USA: -110 Odds at Bovada
Everyone Else: 1.90 Odds at Bet365 (Americans: We recommend http://www.bovada.lv
(Odds correct as of 2023/01/26 10:56:45 AM EST but are subject to change.)
Predators vs Devils:
Neither very appealing right now for this particular matchup. Would give the edge to the Devils and price it at about the same as the bookies.
Wild vs Flyers:
3 tough games for Minnesota and they come home hoping to end their losing streak. Sportsbooks expect them to do so against Philly. By the metrics – I do not agree with that at all.
But it's still so hard to back Philly. Hart keeps getting lit up. Minnesota should be scoring more (as should Philly) and this could be the perfect matchup for them to do that. They have a brutally low SCGF/60 of 1.87 over their last 10, and that drops to 1.02 for 5 vs 5. Abysmal.
But their Corsi is starting to trend upwards in 5 vs 5 so that's a sign they should be getting it going I think and this could be the game for them.
No bet, although I do think Philly have some value.
Avalanche vs Ducks:
Would have to be Avs -1.5. No thanks.
Flames vs Blackhawks:
As expected, the Blackhawks offense eventually regressed. Bookies have priced us out of anything for this game though. Looking at the data – eh, it's not huge indicators that the Flames even cover 1.5 anyway let alone 2.5. Although with the Blackhawks offense regression, tis likely.
Coyotes vs Blues:
Interesting one actually. BOth teams have brutal defensive and goalie metrics. Offense over the last 10 is interesting though. Coyotes xGF/60 of 2.76, GF/60 of 1.69. Blues xGF/60 of 2.38, GF/60 of 3.2.
Blues drastically overperforming, Coyotes drastically underperforming. Is this the game where it all comes to a head?
I think so. The only concern is that Krug and Tarasenko have both returned. It can take time for teams to adjust but that might be the one thing the team needs to get going. Plus if the Blues want to keep their playoff hopes alive, these next few games before the all star break is where they need to wake the F up.
But while I do have that concern over those returns – I think we're getting enough value on Arizona.
Coyotes incl OT/SO
Ontario: 2.35 Odds at Sports Interaction (SIA) - Non-Ontario bet $10 get $200
Canada: 2.40 Odds at BetOnline.
USA: +140 Odds at BetOnline.
Everyone Else: 2.40 Odds at BetOnline.
(Odds correct as of 2023/01/26 10:56:45 AM EST but are subject to change.)
Follow @BetNHL
BetNHL.ca » Tonights Tips »