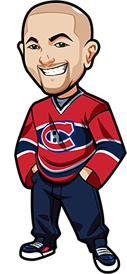 Written by Graeme on Friday, January 27th, 2023
Follow @BetNHL
It was a winning night last night thanks to the Arizona Coyotes, and their solid 2.40 underdog price.
I felt particularly happy at that one because there's been a few times this season where I've written that one team is overperforming and another is underperforming and it could all come to a head. It's one thing to write that but it takes a lot to actually advise it.
It was a big thumping by the Coyotes and will be interesting to see if they can build on that.
Jets were the Jets. Comes with the territory. When betting the Jets, we know that sometimes they just don't show up. Honestly Comrie being in net was probably a detriment; it allowed that Jets complacency to step in and they barely threatened him. Such a frustrating team but I don't even blink when Winnipeg have one of those nights.
We've got a busy Friday with eight games on the board. Lovely. Let's get to it:
Islanders vs Wings:
Wings on a B2B after the Habs game. Islanders terrible. Many thought the Sens game would be where they got back on the winning track. They are heavy favourites tonight.
The metrics lean towards it, but not enough. It's no secret that the Islanders should be scoring more goals. Buuuut they should also be conceding more than they are, and the Wings offense isn't too shabby.
Gut says that the Islanders get the job done tonight in regulation. Hockeyviz have them at 59% to win wow. Moneypuck have them at 63.4%. This is a tricky one as I mean THIS should be the spot for the Islanders tonight, so I'm trying to justify it.
Thing is their offensive output against the Leafs, Sabres & Hurricanes was fine but then it was pretty piss poor against the Sens. Like a real dismal effort and only an HDCF of 7.
Bah. This is one where I feel like I'd be kicking myself tomorrow if I don't back it. The metrics lean more towards an OT win for the Islanders and the odds aren't there. The Wings actually have a good xGA/60 last 10, although conceding.
Nah. Can't do it. Islanders had their chance against the Sens, who have worse defensive metrics than the Red Wings. I really do think it will happen and want to trust my gut, and I'll bet it myself. But the math does not add up to it being an +EV play.
Panthers vs Kings:
Panthers coming off that fun game against the Penguins, where both teams played with Babcock sized nets. Kings got that tight win over the Flyers but really aren't blowing anyone away at the moment.
I generally like the metrics for the over here. SCGF for the Kings is lower than I'd hope and SCGA is below 3 for both teams though.
I've went back and looked at similar metrics and the Panthers you don't really have to worry about for the goals, but the Kings are a slight concern albeit not with a lot of data.
I'm going to go with Panthers win the race to 3 goals Copley if is not in net and Bobrvosky is in net. Not that Bobrovsky is a brick wall or anything but I prefer him over the alternatives.
Ontario: 1.95 Odds at Bet365 (Americans: We recommend http://www.bovada.lv
Canada: 1.95 Odds at Bet365 (Americans: We recommend http://www.bovada.lv
USA: -120 Odds at Bovada
Everyone Else: 1.95 Odds at Bet365 (Americans: We recommend http://www.bovada.lv
(Odds correct as of 2023/01/27 12:50:48 PM EST but are subject to change.)
Leafs vs Senators:
With Matthews out, Leafs are probably unbettable for the next few weeks. Just look at their metrics from a couple of weeks ago when he missed some games. Such a key player.
Hurricanes vs Sharks:
Yeh I think it's fine to take the Canes here. Goals conceded is pretty much on point and won't surprise me if Sharks score a couple. But think Carolina can overcome that. Sharks goaltending been an issue for them.
Raanta is a tricky one I mean he came in and played well against the Stars but boy did he get lit up against the Jackets and Devils. Then prior to that two shutouts in a row but Philly put 5 past him? Man.
Slavin might not be back tonight either. Aaaagh. Yes I think there is just enough to take em here.
Hurricanes -1.5 if Raanta in net
Ontario: 1.85 Odds at 888 Sports.
Canada: 1.85 Odds at 888 Sports.
USA: -115 Odds at BetOnline.
Everyone Else: 1.85 Odds at 888 Sports.
(Odds correct as of 2023/01/27 12:50:48 PM EST but are subject to change.)
Rangers vs Knights:
Slight edge to Rangers and bookies have given them that. No bet.
Stars vs Devils:
Tough one honestly. Nothing for it.
Kraken vs Flames:
Nothing here. I do like Seattles odds and I think they will take this one. But Calgary are such a weird team. They can bounce back from last nights horrific performance to travel here and have a banger. Don't feel confident enough in the Kraken although I'll be surprised if they don't get the job done.
Canucks vs Blue Jackets:
Avoiding at all costs. By the metrics Canucks should win especially if they can get some actual goaltending going but yeah I am NOT prepared to take Vancouver in regulation against anyone. Maybe if instead of all bran for breakfast I smoked some crack instead.
Follow @BetNHL
BetNHL.ca » Tonights Tips »