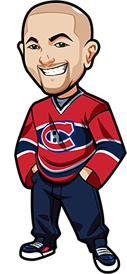 Written by Graeme on Thursday, January 28th, 2021
Follow @BetNHL
Welcome to Thursdays NHL Tips.
First a quick note that The Athletic added a Sports Betting section. If you're looking for an awesome sports resource I can't recommend The Athletic enough for practically all sports.
The difference between this and other sites is they are getting paid to write so they actually write content just for the sake of writing content; as opposed to writing it to try to get people to click etc. Well worth checking it out. We don't make anything for referrals or anything like that I just personally read it constantly and think it's one of the best resources for sports fans.
Now onto todays games. I have to admit I am feeling a bit optimistic. While the start of the season was bizarro land, I think it is really starting to settle down. If we go by how the season started, the Senators would have turned around from that 7-1 loss to the Canucks and given them a leathering of their own. That was certainly not the case last night.
Even looking back at our two picks from Tuesday. Sabres/Rangers didn't go over but that was just your typical variance. Stars in regulation didn't work out but technically Stars are where the majority of teams were like 10 days ago. I am thinking we can write the first couple of weeks off to a lack of pre-season.
Of course I may be completely wrong and it might end up being upset city. Let's look at all of the games. How the hell does Scott get a night with 1 game and another with 2 games and I get one with 14 freaking games. Rigged.
BTW after going through the games I'll put all games with tips at the top to make it easier.
January 28th, 2021 NHL Betting Tips:
Canadiens vs Flames:
This is the first game for the Habs in the Bell Centre. I wonder if that is going to bring us into bizarro land territory. Oh the Habs are amazing on the road but bring em home and watch them lose 6-1. Bear in mind they WERE a better road team than home team last season. Although that was an anomaly.
They're certainly displaying a lot of strength. Looking great. Toffoli crushing it. Then you have the Flames. Look at that first period against the Leafs my gosh. What the hell was that.
Flames aren't a bad team by any stretch of the imagination and if they bring the heat tonight it wouldn't surprise me. But I'm happy to bet the Habs. The thing with Montreal is I don't think they're overperforming or anything like that. I think this is what we're going to see from them for the majority of the season. ANd so far they don't really look like a team where it's goalie dependent.
Canadiens win incl OT/SO
Canada: 1.81 Odds at BetOnline..
USA: -123 Odds at BetOnline..
Everyone Else: 1.81 Odds at BetOnline..
(Odds correct as of 2021/01/28 10:37:39 AM EST but are subject to change.)
Knights vs Blues:
Knights were unlucky in that last game, hitting the post and crossbar a bunch. Still put up 4 goals.
Blues got lucky early too with all those goals to begin the game and it's impressive that the Knights were able to come back from that.
Blues without Bozak. There's a ton of weird stuff happening in Vegas right now due to ghood ol COVID. With McKrimmon having to coach there etc and having to close the Summerlin facility.
Weird circumstances. Despite all that, Vegas overcame them all and put in a solid performance. I mean two too many men on the ice penalties etc. Yeah I think the Knights are worth a play here. I'm tempted to take em in regulation but we'll play it safer.
Knights win incl OT/SO – although pay attention to Knights news in case any new COVID crap pops up
Canada: 1.73 Odds at BetOnline..
USA: -139 Odds at BetOnline..
Everyone Else: 1.73 Odds at BetOnline..
(Odds correct as of 2021/01/28 10:37:39 AM EST but are subject to change.)
Canucks vs Senators:
Canucks likely blow them out again right? I mean I see no other way. Canucks ML is about 1.60 which seems nuts.
Sens started the last game strong. So freaking strong. But then they ended up behind early in the 2nd period and that was it for the Sens pretty much.
They have some serious issues.
Canucks might roll with Holtby tonight. I looked into his metrics and based on the data so far he is a slight liability but not a big deal.
Honestly I can't pull the trigger on it myself as an advisement – but I see no real reason not to bet the Canucks in regulation again today. Back to back on a trifecta of games is a slight concern as it's bizarro land territory but we just saw similar with Canucks vs Habs and it worked out fine. Actually we just saw that with Sens and Jets and same deal.
Actually based on everything – I do think Canucks in regulation needs to be a play. I feel there is enough value there. If Sens can bring that 1st period energy to the entire game? Or if they can actually finish off the chances they create? Good stuff. I'm certainly cautious and you better believe I don't have a ton of faith in the Canucks. But you've got to think they will be motivated for these games knowing they have the likes of the Habs, and the worlds greatest team in the Maple Leafs, upcoming.
Canucks also looked like a team who had shaken off that early season slump and were just connecting much better ya know? Hope they roll with that.
Canucks in Regulation – I should note that money is coming in on the Sens and the Canucks odds line is drifting. I am not sure why that is the case at this point but might be worth waiting in case there is some late team news.
Canada: 2.20 Odds at Bet365 (Americans: We recommend http://www.bovada.lv.
USA: +100 Odds at BetOnline..
Everyone Else: 2.20 Odds at Bet365 (Americans: We recommend http://www.bovada.lv.
(Odds correct as of 2021/01/28 10:37:39 AM EST but are subject to change.)
Sabres vs Rangers:
Both teams go into this one at coinflip odds. The over/under is 6. Like I said above – we were on the wrong side of variance in that last game in my opinion. In saying that, Rangers xG was surprisingly low.
I quite like the over again here. However I am going to stay away from it for a couple of reasons. Primarily:
– Sabres goals are reliant on power plays at the moment. That's gotta regress.
– Rangers just aren't creating the quality of chances I'd like to see.
Strong lean towards the over. Sabres are actually very tempting too with Shesterkin confirmed based on his performance thus far. They burnt me though on that Capitals game last week and I don't have the confidence in them to back them to win.
Hurricanes vs Lightning:
Game takes place in Bizarro land. No picks.
Devils vs Flyers:
I mean based on what we've seen so far Flyers should be favourites. But 1.60 odds? Really? They did look electric against the Devils so I guess I could see it. Bookies have more confidence in them than me. Devils have bounced back every loss but I'm not seeing enough to back them.
Stars vs Red Wings:
Based on what we have seen from teams with no pre-season, and all the injuries on the Dallas Stars? I actually don't hate the Wings here. Stars do seem to relish the challenge though. No bet.
Capitals vs Islanders:
Caps are probably that sorta team that despiote being underdogs and missing everyone will just flex their muscle and win. No bet here though. Man Islanders and Trotz seriously gotta take this one.
Bruins vs Penguins:
No bet. I'd prefer the underdog but that's the Penguins and if it was a flip I'd take the Bruins. They seem like the team we can trust more to get the job done.
Blue Jackets vs Panthers:
Panthers straight outta Bizarro land. No bet.
Wild vs Kings:
Honestly based on the way the three games between these two have gone – Kings at like 2.50+ odds just seems like a smart value bet. If you break it down more by the advanced metrics….I dunno. I think Kings are razor thin value here.
Avalanche vs Sharks:
Avs inconsistency is too concerning. Bookies except them to wipe the floor with the Sharks and I could see it. Hopefully the Avs go from strength to strength.
Coyotes vs Ducks:
Was nice seeing Gibson with the Kobe tribute mask on recording the shutout. That sort of thing drives a dude and I loved seeing it. I think Coyotes get clicking here but I'm not going to back it.
Oilers vs Leafs:
Leafs have demonstrated that they are the stronger team thus far. They are about 1.76 to 1.80 odds and that is pretty much exactly where I would put them. No pick.
Follow @BetNHL
BetNHL.ca » Tonights Tips »