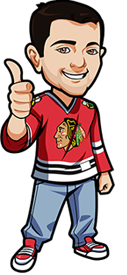 Written by Scott on Sunday, January 27th, 2013
Follow @BetNHL
Well my Tip Of The Night was good again as the Flyers didn't need 9:30 of the first period they needed just over 50 seconds to score. Ovechkin FINALLY scored geez about damn time, remember when he was good? And wow the Blackhawks win again. My good buddy is a Hawks fan and after they went 3-0 I bet him a pitcher they wouldn't go 4, then a pound of wings they wouldn't go 5, then another pitcher they wouldn't go 6…. So needless to say next weekend for the Super Bowl we are having lots of beer and wings on me.
A relatively slow day of games as there are only 5 on the scheduled for tonight. Notable games include the Vancouver Canucks vs the Los Angeles Kings, two struggling teams face off with the Nashville Predators in Arizona to play the Phoenix Coyotes and the Dallas Stars take on the Nash-less Columbus Bluejackets.
So with out further ado, Lets get to tonight's tips
Stars vs Bluejackets: Stars to win
I love it when a good team is facing a bad team and the bad team is at home. Always helps with the betting odds and the decision of who to bet on. Now this game isn't a for sure thing, but the Dallas Stars are considerably better than the Columbus Bluejackets both on paper and on the ice.
Talk about opposites: One team is full of veterans the other youngsters. One team has their eye on the playoffs the other next years draft. Seth Jones, Welcome to Columbus.
Predators vs Coyotes: Game Total 5.5 – Under
These teams have a few things in common; 1) They are both led by their incredible goalie 2) They are both struggling and 3) They never seem to score a lot of goals
Lets hope none of those 3 things change for tonights game.
Consider the last time these teams met a sign of things to come as the final score was a 2-1 victory for the Coyotes
The often imitated, Never duplicated [geocode id=5 ,as always, offer consistently great odds and this game is no different. So bet the Under 5.5 . This is my Tip of The Night.

Bruins vs Hurricanes: Bruins to win
Consider this a battle of Joe Corvo's 2 most recent teams. This shouldn't be much of a challenge for the Boston Bruins as they seem to be cruising along nicely right now.
And for the Carolina Hurricanes things aren't going as smoothly . Maybe it's all the roster changes but I thought at the beginning of the season that the Hurricanes would do some damage this year. They still may be able to do damage but it won't start tonight
888 Sports has the Odds for a Bruins win at -117 which is outstanding. Most other books have it at or around -130 and in the world of sports betting every little bit helps. So take advantage before they come to their senses and adjust the betting odds.
Follow @BetNHL
BetNHL.ca » Tonights Tips »