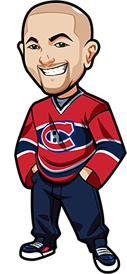 Written by Graeme on Saturday, January 28th, 2023
Follow @BetNHL
Disappointing game from the Hurricanes last night, who looked flat after going up 2-1 and allowed the Sharks back into it. Heck of a comeback though and funny seeing a fair amount of people leaving the arena who obviously missed that epic comeback.
Carolina just looked messy then at the end showed what they can be capable of. Raanta had one of those games unfortunately. Think he is someone we have to avoid as you just don't know what you're going to get.
There was no bet in the Panthers/Kings game as both goalie projects didn't end up happening. Leafs without Matthews got thumped by the Sens.
Islanders won in regulation. I wanted to take that one so bad but couldn't pull the trigger.
It's Saturday and there's a ton of games. Looking forward to a more chill schedule next week and then Thursday-Sunday off.
Let's get to it:
Avalanche vs Blues:
Avs comiung in off that loss to the Ducks. The Blues got thumped by the Coyotes. Avs scoring a bit more than expected, as are the Blues.
Yeah I feel the Avs should be able to get this one handled. They had a good winning streak going, and it's just one of those games where nothing really jumps out not to back them.
Avs in Regulation if Georgiev in net
Ontario: 1.76 Odds at Bet365 (Americans: We recommend http://www.bovada.lv
Canada: 1.76 Odds at Bet365 (Americans: We recommend http://www.bovada.lv
USA: -140 Odds at Bovada
Everyone Else: 1.76 Odds at Bet365 (Americans: We recommend http://www.bovada.lv
(Odds correct as of 2023/01/28 11:33:48 AM EST but are subject to change.)
Panthers vs Bruins:
Not going to take the Bruins in regulation here which is what it would have to be. Panthers are top notch at creating goalscoring chances and scoring against them. Lightning were able to get 3 past the Bruins and it won't surprise me if Florida are able to get a few past them too.
It makes the over appealing but with the Bruins overall defensive metrics, I'm not confident enough in it.
Lightning vs Kings:
Tampa coming in off that fine Boston win. The Kings just beat the Panthers last night. The over/under of 6 is appealing here. My initial thought was Tampa to win, but I prefer that instead. Both with GF/60, GA/60, xGF/60 and xGA/60 all above 3. Some overperforming and underperforming but it all balances out. I mean the Kings did well yesterday at penalty killing but still conceded 3.
Over 6 incl OT/SO
Ontario: 1.83 Odds at Sports Interaction (SIA) - Non-Ontario bet $10 get $200
Canada: 1.93 Odds at BetOnline.
USA: -107 Odds at BetOnline.
Everyone Else: 1.93 Odds at BetOnline.
(Odds correct as of 2023/01/28 11:33:48 AM EST but are subject to change.)
Senators vs Canadiens:
No bet here. It would have to be Sens in regulation and although they are on a two game win streak, I don't have the confidence in them. Their GA/60 and SCGA/60 makes them an easy no bet.
Jets vs Flyers:
Fine skipping the Jets here. Honestly I expect they bounce back and get the win. But it's too much of a gamble for me. Just one of those teams though where over the years I feel you can kind of predict stuff by your gut and this seems like a ship righting spot.
Penguins vs Sharks:
Eh no. Would have to be Penguins -1.5. Their defensive metrics are horrific. Not worth it.
Islanders vs Golden Knights:
Completely fine skipping this one. It's all about that Islanders offense, and if they can get going. This is a great matchup to do so. Knights have very poor defensive metrics. If I had a better price on the Islanders they would be a play but 2.00 isn't enough for me. If you're thinking about it, I'd probably go for them in regulation instead. Feel like if they get the job done it's that way.
Wild vs Sabres:
Wild are big favourites and I don't really see it to be honest. This doesn't really seem reflective of the way the teams are playing. I said that I felt they would struggle against Philly and that happened, and I feel similar here.
Problem is there's just not enough to really come out and back Buffalo. The +1.5 isn't worth it. They're scoring more and actually are slightly underperforming. But then you look at the opponents both teams have played over the last 10 and there's a bit of a difference.
No bet here but Minnesota aren't playing like a team who deserve such high odds. Could be a tight one.
Oilers vs Blackhawks:
I mean I'm just not going to take Edmonton -2.5. No thank you.
Kraken vs Jackets:
Big loss for the Kraken at home to Calgary. Jackets coming in off a thumping by the Canucks.
Would have to be Kraken -1.5 and there are just a few red flags on that. Their xGA and CA, their SCGF/60. I'll pass.
Ducks vs Coyotes:
Nothing in ths one. Ducks offense and defense both just ludicrous. Good chance this goes over like it did on the 24th. Coyotes offense like I said should be scoring more and maybe after that last game they do so. Don't hate the over here actually.
Vejmelka coming in after two good performances but I mean this team should light him up easy enough.
It's close but I just don't feel super great about it.
Follow @BetNHL
BetNHL.ca » Tonights Tips »