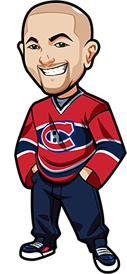 Written by Graeme on Thursday, January 2nd, 2020
Follow @BetNHL
Well it's a new month, and we can finally say goodbye to Disastrous December. It was a horrible month to end the year on, and hopefully we can get back to winning tips.
It was our worst picked month since starting this site, with a 9-21 record. Luckily last season we implemented unit sizing specifically for slumps like that and it saved our bacon. We went -5.79u for the month, which I think is only our 5th worst month since starting the site back in 2012.
Amazingly despite that we're still in the positive for the season.
While obviously, just because it's January it doesn't mean some magical switch is going to be flipped and things are going to change, as we break it all down by the month I do believe it will be a factor mentally. I mean you guys saw it yourselves – in the last couple of weeks of the month when I was sticking to one tip a day, I was posting "leans" to see if I was on the right track and I was for the most part.
On any normal day they would have been actual tips however our bad run had affected us and we were being cautious with regard to plays. While long-term it doesn't make sense, sometimes it's just to just stop the bleeding and limp to the end of the month.
So Thursday, January 2nd. 12 games on the board today. Not too many teams going into today with 3+ winning or losing streaks. The Blackhawks are one of those teams with a 3 game winning streak which is hilarious, as just a few days ago they were be written off all over the internet due to the injuries etc. I kind of think Canucks take that one but I learned last year that when the Hawks are playing like this, you can't really bet against them.
There's no real consistency in regard to the first game of the new year. Last year a ton of games went over which suggested both teams in the games were fighting to get the year off to a good start. However the year prior it was a lot of unders and a lot of 5-1 or 4-1 drubbings which suggested some teams were still suffering from hangovers. Interestingly it was often the road teams performing there.
Big game for the Pens today with Jake Guentzel out. Will be interesting.
Lot of games with iffy odds today. Ones where I think one team will win but they're too heavily favoured, and I don't have the faith in the underdog. Islanders vs Devils for example.
Let's do a poll on the dogs:
[poll id="64″]
I really want to take the Jackets today. We had them at 3.00 odds last week in a similar situation against the Capitals and it was the right play. Alas that one is too fresh in the mind. A solid value bet in my opinion though.
Anyone else think that the Leafs played one of their best games of the season against the Wild? They looked a little shakey after giving up the goal but Keefe called that time out, got them settled down and they looked great after that. I thought it was a very solid defensive performance and will be interesting seeing if they can build on that.
Plays that were almost tips today also include the Tampa/Habs over and Leafs/Jets over. Tampa offense still concerns me, and I think Leafs will win more than anything else. Curious if their defense is able to continue playing well.
Flames vs Rangers Betting Tips:
When it comes to overs, the New York Rangers are generally a team you can count on at the moment. They have a rare off game like against Philly or the Kings, but overall their offense has the firepower while they can't stop leaking the goals.
They're coming in off that interesting Oilers game where they were down 6-0 only to make a big comeback. Man that would have been amazing. Flames were similar as they were down by 4 against the Hawks.
I'd like to think after the way both games ended, both teams will be fired up and coming out for this one.
Rangers have put in solid performances on the road and their offense has been doing well on this Canadian trip. Flames are a little bit more iffy. They haven't had as many games go over lately and for the past couple of weeks have been in a bit of a slump.
Neither team is good defensively. Overall this season Flames are quite poor on the offense but hopefully the Rangers defense cancels that out. This will be their first meeting this season. Flames haven't played too many teams in the bottom 10 for GAA recently, and it's hit or miss whether they're able to bring the goals or not.
However I do think both teams will show a lot of fight and want this win. Plus both have the "comeback" ability going on right now after those last games. Rangers also have a lot of games on home ice coming up so should push them more.
0.5u on Over 6.5 Goals incl OT/SO
Canada: 2.06 Odds at BetOnline..
USA: +106 Odds at BetOnline..
Everyone Else: 2.06 Odds at BetOnline..
(Odds correct as of 2020/01/02 9:26:33 AM EST but are subject to change.)
Senators vs Panthers Betting Tips:
The Panthers were a big disappointment in Columbus the other night, but I like their offense to bounce back here.
Last time they kickstarted a road trip off with a loss (2-1 to the Islanders) they bounced back in an 11 goal thriller with the Rangers. Their offense has went on minor slumps before but overall it's usually one and done then they get going again.
Good opportunity to do that here in Ottawa. They thrashed Ottawa 6-1 on the 16th.
Their road offense is a bit iffy so it's a big test for me here. If they don't bring it tonight then it's a lesson learned and I can put a big "X" when it comes to backing the Panthers on the road to bring the goals going forward.
As for Ottawa they finally lost in regulation against the Penguins. They've been fighting hard at home. One of the worst defenses in the league. Their offense overall this season is poor but they have been excellent lately and I especially like their battling performances at home. I mean you have to go back to October to find a game where the Senators lost by 2 or more at home. That's solid.
So a strong home performer who never gives up against a team looking to redeem themselves. Both of whom have very shaky defenses and goaltenders. Ripe for goals.
0.5u on Over 6.5 Goals incl OT/SO
Canada: 1.92 Odds at BetOnline..
USA: -108 Odds at BetOnline..
Everyone Else: 1.92 Odds at BetOnline..
(Odds correct as of 2020/01/02 9:26:33 AM EST but are subject to change.)
Follow @BetNHL
BetNHL.ca » Tonights Tips »