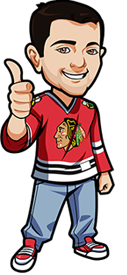 Written by Scott on Monday, January 2nd, 2023
Follow @BetNHL
No tips yesterday.
The Canes beat the Devils 5-4 in a shootout. Bratt scored twice for the Devils and Stepan twice for the Canes.
The Rangers beat the Panthers 5-3, the Kraken beat the Isles 4-1 and the Sens beat the Sabres 3-1.
Only 3 games today and I couldn't find anything for a tip. The Pens vs Bruins game starts early so I have to keep these short.
Penguins vs Bruins
The NHL Winter Classic here. Its an outdoor game at Fenway which will look cool.
With outdoor games it's really tough to predict as the conditions are much different and unpredictable.
The Penguins have lost their last 4 games and are 5-3-2 over last 10. The Bruins are 7-0-3 last 10 and are at "home" for this one where they still haven't lost in regulation. If this was a normal game inside a stadium I would take the Bruins but I can't.
I'm skipping this game.
Knights vs Avalanche
The Knights are 5-4-1 over last 10 and are on the road where they have gone 14-3-2.
The Avalanche have lost their last 3, are 6-3-1 over last 10 and 9-6-3 at home.
There are so many injuries for these teams that it is really tough to predict a winner.
I would lean towards a Knights win with their road record and the Avs on a 3 game skid but again it comes down to all of the players missing for both teams.
Flyers vs Ducks
Both teams have had bad seasons. Both are near the bottom for most stats.
The Flyers have won 2 straight and are 4-4-2 over last 10, the Ducks have gone 3-6-1.
I have no idea who wins this game as either team has shown us anything that could give us confidence in them.
Follow @BetNHL
BetNHL.ca » Tonights Tips »