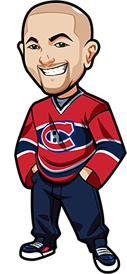 Written by Graeme on Saturday, January 30th, 2021
Follow @BetNHL
Welcome to the NHL Betting Tips for January 30th, 2021.
We had no tip yesterday in the Jackets vs Blackhawks game. It ended up being the tight game I expected although opened up a bit when the Hawks were 2-1 down. Blackhawks offense looked good in the 3rd even if they couldn't get the goal with a lot of solid chances.
Busy slate today with the first game at 1pm EST then 8 freaking games all at 7pm EST.
Let's get right into each game and unfortunately we just have the one tip – and even that is a pick I am a tad concerned about due to the Panthers being so close to bizarro land. But I came up with this one nice and early so it's not like I was sitting here with no tips and decided to force it in.
NHL Betting Tips: January 30, 2021
Red Wings vs Panthers:
I'm wary of the Panthers as they're still in pre-season territory with just 4 games on the board. Red Wings of course are a dumpster fire. Panthers in regulation seems like the play here but they're still hovering on bizarro land territory a little too close for my liking.
I might regret this one strongly. It would be too easy for me to say I don't quite trust the Panthers yet based on the way this season started and move on. But looking at everything it's a solid spot. Panthers with that first loss they'll be motivated to bounce back from too.
If this one ends up being bizarro land stuff then so be it. I'd prefer Driedger in net over Bob right now but Bob is projected. This one is really giving me a headache. But sometimes I like to look past the game and see how I would feel. If the Red Wings win or it goes to OT? I think I am fine with that knowing the risk due to the Panthers schedule thus far. If Panthers win in reg and I didn't back it? I think I would be frustrated as all hell.
There's probably a trend that says Panthers lose this one then win tomorrows game. Regardless of the result I won't double dip tomorrow. We'll go one and out today with Panthers in Regulation. I'd take it at 1.85 as well although not 1.80 and definitely not 1.74 (which is what bet365 have it as right now)
Canada: 1.90 Odds at BetOnline..
USA: -110 Odds at BetOnline..
Everyone Else: 1.90 Odds at BetOnline..
(Odds correct as of 2021/01/30 11:47:30 AM EST but are subject to change.)
Sabres vs Devils:
Buffalos fairly heavy favourites at about 1.64. Do they deserve to be? I really don't think so. Devils I actually think have had their fair amount of bad luck and should make this a competitive game.
Buffalo are a team I just can't look into backing yet. No confidence in them to get the job done. In saying that, the advanced metrics point to this line being dead on. This is one where my gut says the Devils actually have a better chance than their odds suggest, but the numbers just don't jive. No bet.
Canadiens vs Flames:
We won with the Habs the other night. Has much changed? Not really. I think it was generally a tight game with some clinical finishing by the Habs the difference maker. I just always feel weird going back to back on team bets like this.
Yet I just can't pull the trigger on this one. I feel like we'll see a better performance by the Flames. PPGs were the difference maker early and it looked like Flames juset kinda gave up after that point. I think we see more fight from them here.
Hurricanes vs Stars:
I consider both teams in bizarro land territory. No bet. My gut says this ends up being a good game which ends up going over but the data doesn't back that up.
Flyers vs Islanders:
Islanders coming off that pitiful game against the Caps. They had a similar situation last year in Jan and had an underwhelming 2-1 shooutout loss.
This actually looks like a pretty good spot for the Flyers. But when I look at the overall data – I wouldn't count out these Islanders. Despite the Flyers results they still have the injuries. No bet. I think I'd rather be on the Islanders here when all is said and done.
Lightning vs Predators:
I expect Tampa to get it done. Preds have not impressed me at all this year really. Yet there's something holding me back from it. I guess it's just Tampas last 3 performances. Overall I know they're better than that but I am going to stay away from this one.
Rangers vs Penguins:
Coinflip odds for this one. My gut says we see a better game from the Penguins and they take it. But I've thought that many times before and learned that I cannot trust the Pens in this spot. No bet.
Capitals vs Bruins:
And no bet here. I actually think as underdogs the Caps are a solid price. But not enough to warrant a bet.
Oilers vs Leafs:
Over/Under line too high at 6.5. Leafs too heavily favoured. No bet.
Wild vs Avalanche:
Avs are that team with all the potential etc and should be crushing everyone. But very inconsistent results. I mean they won two on the trot before and then lost to the Kings. I liked the line changes the Wild implemented last game and they looked better. Now Fiala is out though. I'd rather my money on the Wild here at this price but it's very hard betting against the quality of the Avs.
Ducks vs Blues:
In my head I feel like as the Blues had the Knights game postponed they come out on fire here and make an example of the Ducks. Ducks have proven tough this season though. No bet.
Jets vs Canucks:
The way both these teams are going, the over looks good doesn't it? 6.5 though. Odds seem on the money for who will win – Jets have proven themselves more.
Have to wonder about the Canucks., They might come in pretty darn confident and realize that oh there is a bit of a difference from playing the Sens 3 games in a row and the Jets. That's the type of thing we have to worry about this season. SO easy for a team to be complacent.
That's the type of thing that makes this season that much tougher. But man – have you ever played against the AI on Rookie on NHL 20 for a few games, then jumped online? That sort of thing is a concern.
So no bet. I'd like to think the Canucks are competitive and this one goes over but my concern is after that Sens series, complacency sets in in a big way.
Follow @BetNHL
BetNHL.ca » Tonights Tips » January 30th, 2021 NHL Betting Tips